Trending:
Occupants intensify repressions on the peninsula after a series of Ukrainian army strikes on military facilities in Crimea: details emerge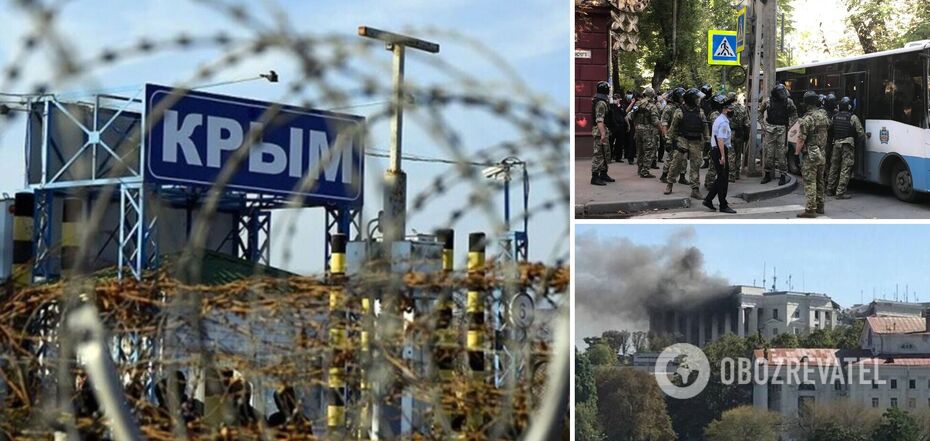 After the Armed Forces attacks, the occupiers in Crimea intensified repressions against the population
After a series of strikes by the Ukrainian Defense Forces against military facilities in the temporarily occupied Crimea, the invaders have stepped up repression on the peninsula. Almost every day the occupiers detain Crimean residents on suspicion of "espionage".
The detainees are accused of collecting and transmitting information to Ukrainian intelligence about the movement of Russian troops and their locations, and there are also accusations of "treason". This was reported by "Krym.Realii".
Against the backdrop of successful attacks by the Ukrainian military on the facilities of the Russian Armed Forces in Crimea, the occupiers have intensified terror against local residents. They detain people almost every day on suspicion of "espionage".
"On Friday, the Russian Federal Security Service announced the detention of a resident of Kerch on suspicion of 'espionage'. The 45-year-old man was allegedly taking photos and videos of the movement of military equipment on behalf of the Main Intelligence Directorate of the Ministry of Defense of Ukraine and passing this information to a "curator," the journalists described one of the latest cases of detention.
The day before, the journalists write, a man was also detained in Sevastopol, whom the occupiers accuse of "treason."
"He 'evaded mobilization' and went to one of the CIS countries, after which he contacted a representative of the GUR. Then, "on the instructions of the Ukrainian intelligence", the man got a job building fortifications in Crimea," - "Krym.Realii" writes.
At the same time, the journalists state that they have no reliable information to verify the occupiers' statements.
Earlier it became known that the Russian occupiers are trying to "seal" Crimea and keep hostages. After a series of successful strikes on the occupiers' military infrastructure in Crimea, the situation on the peninsula has become very tense. Despite the occupation authorities' assurances that "everything is under control," no one believes it - including the Russians who have "come" here. They and the few tourists who still risked a vacation during this "hot" season on the peninsula have organized a mass exodus in recent days.
Meanwhile, Russia is doing everything it can to prevent civilians from fleeing Crimea - essentially making them hostages. The occupation authorities are making new promises every day - that in a year or two there will be a "real paradise" on the peninsula, and a lot of tourists, that "very soon" they will resume the supply of water from the Dnipro, which stopped coming after the Kakhovka hydroelectric power station was blown up, and much more.
Only verified information on our Telegram channel Obozrevatel and Viber channels. Don't fall for fakes!