Trending:
Maliar on the strike on Chernihiv: Russians are pestered by everything successful that we have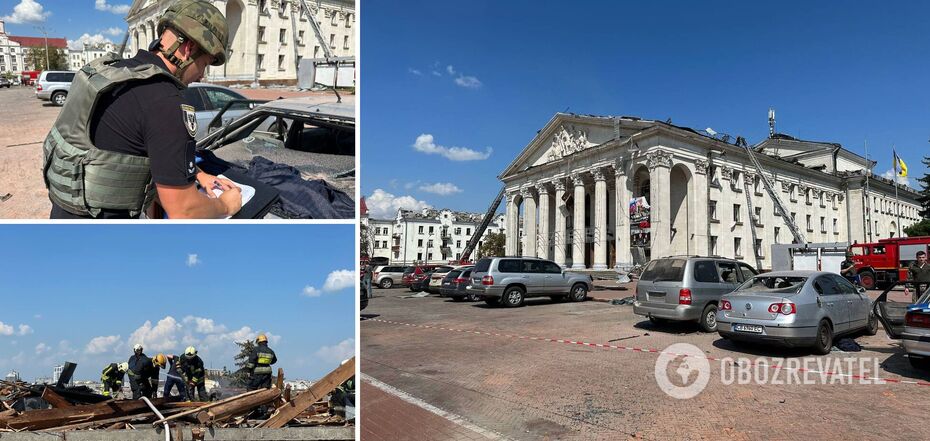 Consequences of Russian missile strike on Chernihiv on August 19
The Russians are deliberately targeting civilian targets in Ukraine. They are looking for those that are most symbolic and vulnerable to Ukrainians. One of the key criteria in adjusting a strike is how much pain it will inflict.
Deputy Defense Minister Anna Maliar said this while commenting on the strike of Russian troops on the center of Chernihiv on August 19, which led to the death of at least seven people and wounded more than a hundred civilians. She emphasized that the war had left no safe place on the territory of Ukraine, so Ukrainians should be conscious and take into account the realities of everyday life.
The strike on the center of Chernihiv, which resulted in the deaths and injuries of a huge number of people, was carried out by Russia for terror.
"Russians fight very emotionally. They don't just aim at civilian targets, they pick out the ones that are most symbolic or vulnerable to us. The Russians are pestered by anything successful that we have. They have already launched missiles at exactly those objects that had public information," the deputy minister said.
The point here is not that the enemy learns about the location of this or that object through public information. The point is the desire of terrorists from the Russian Federation to inflict as much pain on Ukrainians as possible.
"They know where the object is located without publicity, but the emotional component is of particular importance for them. They try to cause as much pain as possible. Some events were held without public announcement and coverage, but they were still targeted" Maliar said.
She emphasized that any mass event always increases risks. She urged Ukrainians to get used to the fact that shelters are the only safe places in Ukraine due to Russian aggression and to change their daily habits based on this information.
"Public events are always a risk and a lottery, whether information about them is public or not. It is a risk for both organizers and visitors (or their legal representatives, if we are talking about children). Yes, there is no safe place in Ukraine today. It is safe only in a shelter. Therefore, everyone should learn to take this factor into account in everything they do and where they go", Maliar said.
The Russian army launched a missile strike on the center of Chernihiv on August 19. It was known about seven dead and 117 injured as of 15:30, including many children. A 6-year-old girl was killed, her mother is in serious condition.
The moment of the missile attack on the center of Chernihiv was caught on camera. Footage that appeared online shows a powerful explosion.
Ukrainian President Volodymyr Zelensky reacted to the Russian attack by publishing the aftermath of the strike and saying that "Russia must lose". To ensure that this will certainly happen, Ukraine will increase efforts to consolidate the world against Russian terror.
Only verified information from us on the Telegram channel Obozrevatel and Viber. Do not fall for fakes!