Trending:
Learned to fly with his pain: Colonel Ihor Parkhomenko avenges the occupants for his dead son-pilot. Photo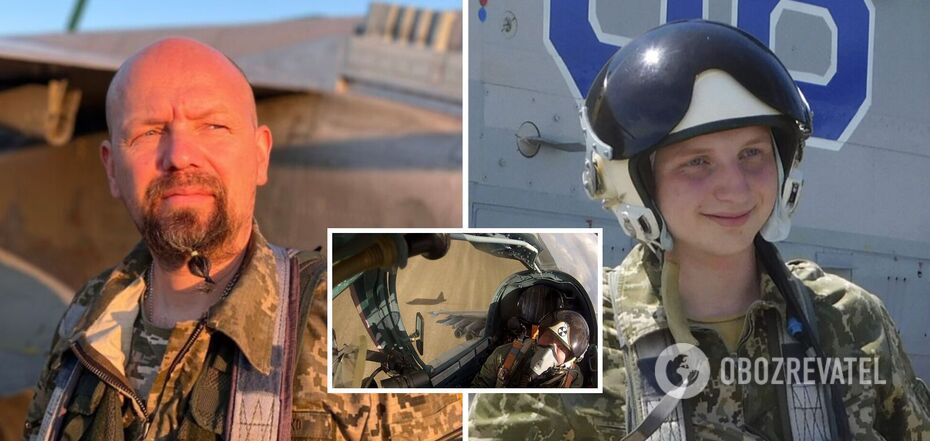 Pilot Igor Parkhomenko flies for both himself and his son who died in combat
Colonel Ihor Parkhomenko and his son Serhiy both chose the profession of military pilots and defended Ukraine from the full-scale aggression of the Russian Federation. Last May, Serhiy Parkhomenko did not return from a combat sortie.
Now his father destroys the occupants with double force: one flight he does for himself, the second - for his hero son. The poignant story of a military man who lost his son was told by ArmyInform.
Captain Serhiy Parkhomenko was killed on May 14, 2022 while performing a combat mission in an Su-25 near Gulyaypole in Zaporizhzhya. On May 20, he was posthumously awarded the title of Hero of Ukraine.
Since then, Serhiy's father, Colonel Ihor Parkhomenko, has been fighting for two.
"Yes, I'm flying for two now. I make one combat sortie for my dead son, one for myself," says Parkhomenko Sr.
Ihor Parkhomenko told reporters that by the time the Russian aggression began in 2014, he had served in the tactical aviation brigade for almost 20 years. After graduating from the Kharkiv Higher Military Aviation School of Pilots in 1995, he rose from senior pilot to deputy commander of the brigade.
His son followed his father's path: he graduated in 2019 from the Ivan Kozhedub Kharkiv National Air Force University and joined the brigade where Ihor Parkhomenko served.
"My son stayed to serve in the brigade, and after 26 years of service I transferred from the brigade to KNUPS, to the faculty located in Mykolaiv. I stayed on my own Su-25s, when flying. There were offers from the command to transfer to higher positions, but I do not represent the service where there is no airplane cockpit, so I stayed at the airfield, continued to perform flights in the same sky with my son as a pilot-instructor, performing the duties of an instructor for the training of cadets and flight personnel of the brigade", - said the colonel.
Parkhomenko Sr. began flying combat missions after the war began in 2014 in June. Then he made 23 combat sorties in Lugansk and Donbass. When he took to the skies over Donbass for the 24th time, his plane was shot down by a missile from a Pantsir 1-C launcher fired from Russian territory.
Igor managed to eject. Six days later, he was taken to the controlled territory by special forces fighters.
And since September 5, 2014, Ukrainian aviation has stopped active work on targets in the east.
"When the great war began, I was not involved in getting the equipment out of harm's way. I already knew 24 hours in advance what was going to happen. With my eldest son Serhiy the day before, we flew together in the flying shift. Everyone was ready, of course, the first call was to my son, but he was already not picking up the phone. After the first arrivals, they were busy taking out equipment, and he was not up to talking. I, of course, was very worried about my son, and I am proud that he not just coped, but on all 5 points, because we did not lose a single airplane. From the very moment he joined the brigade I monitored his combat training course, but I never interfered in his flying work, it was a principled position: he had to learn on his own, he had his own instructor. Sergei, like his other brothers, flew and performed the assigned combat missions," Ihor Parkhomenko said.
He recalls: the military pilot in him often struggled with his father.
"I remember how, acting as a senior task force officer, at one of the operational airfields had to send a pair on a combat mission. And had to make a decision on who to send. I did not behave like a commander, but rather like just a comrade. I came into the room and asked: "Guys, who's going to fly?" To which my son volunteered instantly. It was the first days of March 2022. I didn't know how to react, but I tried not to let it show. He had an experienced leader, a senior comrade, but situationally it turned out that the leader for this combat mission was my Serhiy. After the arrival, he smilingly asked: "Daddy, can I now get an authorization to lead?" - The military pilot shared his recollection with the journalist.
"I remember how for the first time in March, he and I survived a rocket attack on the airfield in the shelter of the two of us. After that shelling, people died and airplanes were damaged. Then my son was transferred to another point, he fought, and I served as a flight instructor. Serhiy talked to me often and for a long time on the phone, I understood that he needed to talk, I knew where he was tense, I saw how he was worried when he was on the verge of a breakdown... In addition, in those days he had a son, whom he never saw," the warrior added.
Serhiy had already been fighting for a month and a half, while his father was still serving as an instructor at one of the airfields, training pilots, sending them to the front, and staying behind to train the next group. Later, having been cleared for combat work, Igor began flying in the same squadron with his son.
"I think God helped me with combat work, because the last 11 days of my son's life I was flying combat missions alongside him. I came here, managed to make several combat sorties. Serhiy and I have never flown in the same pair. I can see why - God forbid, one of the two is shot down, how can the other one come back? In his last combat flight Sergey was a wingman in a pair with his classmate Alexey. Two classmates - young guys who had been through the war," says Igor Parkhomenko.
His son never returned from that flight. Captain Serhiy Parkhomenko was killed when he was 25 years old. He flew a total of 38 combat missions. After the 28th he was awarded the Order of Bogdan Khmelnitsky III degree.
"I left here then, buried my son, and came back after 40 days... As I was told, must learn to fly now with my pain. I learned and went back to the airfield to do combat missions next to pilots like my son. They were all almost the same age, but very quickly all these guys grew up, changed a lot, became real men before my eyes. As in the famous movie "The oldest guys go into battle" - young guys grow up quickly, but in our real "movie" almost only young guys went into battle. In fact, they are all my children by age, because I was born in 1974. So I simply cannot leave them, I have no moral right to do so," the colonel said.
He admits: he stays in formation to give as many young warriors as possible, like his son was, a chance to live.
"There are times when I make two sorties every day, but those days, unfortunately, are few. When burying my son, we were all saying goodbye here, and I said: "Guys, if you let me, I will come back and fly." The principle was the same: the more I fly, the less they fly, young people need to be preserved to the maximum. They risk every sortie, but the guys are such that they fight for every combat sortie. God forbid, who will not fly out of turn, everyone takes offense. This is our family," says Ihor Parkhomenko.
Now he destroys the occupants both for himself and for his fallen hero son.
"That's what I said then: "Son, you are not dead to me, you are alive, you will fly and you will be in a combat family to continue to fulfill tasks. If I do one sortie a day, it's yours. If I do a second one that day, it's for me." It's important for me to count "son's" flights, I don't count mine. I have his photo in my tablet all the time. So we are always together in flight, he is my guardian angel". - admits Colonel Parkhomenko.
"Therefore, today the Hero of Ukraine Captain Serhiy Parkhomenko has already 197 combat sorties", - added the journalist who recorded this poignant story of heroism and irresistible love.
We will remind, earlier it became known that Anatoly Varvar Tegza died near Bakhmut. The warrior gave his life, saving his brothers.
It was also reported that the 22-year-old hero Roman "Khimik" Ilyuk died in the war. A month before his last battle he got engaged to his favorite girl.
Only verified information from us in Telegram-channel Obozrevatel, Threads and Viber . Do not fall for fakes!