Trending:
Latvia to transfer its entire fleet of helicopters to Ukraine - Prime Minister Kariņš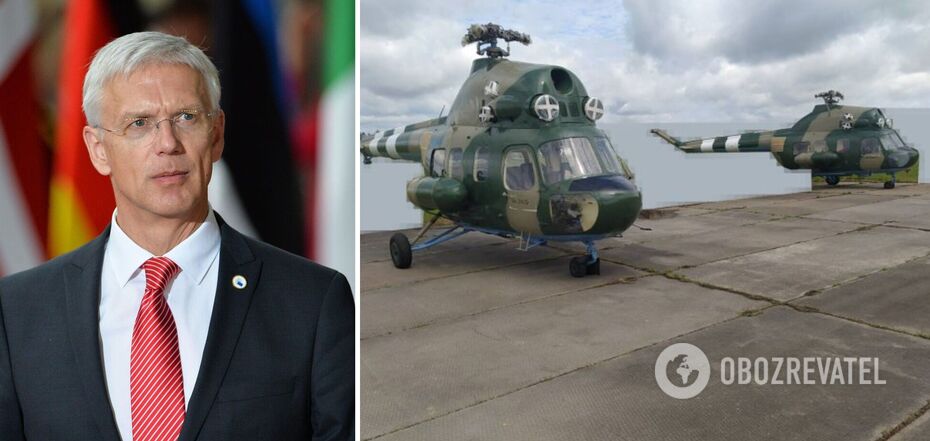 Latvia decided to give Ukraine its entire fleet of helicopters
Latvia has decided to hand over to the Ukrainian Armed Forces all of its combat helicopters. Earlier this state gave to the Ukrainian army, which is deterring Russian aggression, all portable Stinger air defense missile systems, which were in service with the Latvian army.
This was announced by Latvian Prime Minister Krišjānis Kariņš at an international conference on the resumption of Ukraine in London on June 21. Overall, this small country with a big heart has only provided Ukraine with military aid worth more than 1% of its GDP.
The head of the Latvian government began his speech by stating a simple fact, but little understood by Western Europe until February 24, 2022: "Latvia has never had any illusions about Russia. That is why even before the full-scale invasion of Ukraine by the Russian Federation, when the aggressor state was moving its troops to the Ukrainian border, in December 2021 Latvia decided to transfer a batch of Stinger MANPADS to Ukraine. Only after receiving permission from the U.S. to transfer these American weapons did the Latvian government make the delivery.
According to Kariņš, the Stingers "arrived in Ukraine just one day before the full-scale invasion, and fortunately they were part of the solution to prevent the Russians from taking over the airport, which was part of their original plan".
Since then, Latvia has made great efforts to help Ukraine stand and win. And now the Latvian government has decided to hand over to Ukrainian soldiers all the combat helicopters the country has.
"Our government has spent more than 1.3% of our GDP on all kinds of aid to Ukraine, of which more than 1% is just for military needs. So, all of our Stinger missiles are now in Ukraine. We have a fleet of helicopters, all these helicopters - the latter are being repainted now to be usable and look good - we are sending to Ukraine," Kariņš said.
Latvia is also actively involved in the training of Ukrainian soldiers, and constantly transfers ammunition and drones to the Ukrainian army. In addition, both the state and the Latvian people are providing swift and effective humanitarian and financial aid to Ukraine.
"As a nation, we understand the Ukrainians. Because what are they fighting for? They fight for many things, but you can boil it down to three values: freedom, democracy, and the rule of law. We all talk about these things all the time. We're all freedom fighters. But, friends, Ukrainians are freedom fighters, and we are the ones who support freedom right now," the Latvian prime minister said.
Kariņš is convinced that partner countries must increase their support for Ukraine. And fully integrate our state both into the European Union and NATO.
As for the post-war reconstruction of Ukraine, in the opinion of the Latvian prime minister, it would be fair to direct all frozen Russian assets to it. He also stressed that the Russian leadership must answer to the law for all the committed crimes.
"So, united we will stand. We will stand with Ukraine, ... and in the end we will win. Glory to Ukraine!" - Kariņš stated.
Recall, on June 21, it became known that Germany has transferred a new package of military assistance to Ukraine.
Among the weapons provided are two MAN HX81 tank tractors and trailers, one thousand 155-mm artillery ammunition, six border patrol vehicles, and an unspecified number of 155-mm Vulcano high-precision guided munitions.
In addition, Berlin plans to provide Ukraine with Patriot air defense missiles. The government announcement did not specify the number of missiles, but the country's Defense Minister Boris Pistorius said that Germany would provide Ukraine with 64 missiles for the Patriot, get them from the Ukrainian army "immediately".
It was also reported that the AFU helicopters will be equipped with the AMPS anti-missile system. This system developed by the German company is capable of protecting the crews of combat vehicles from a wide range of threats, especially against air-to-air and surface-to-air missiles.
Only verified information in our Telegram channel Obozrevatel and in Viber. Do not be fooled by fakes!