Trending:
Kakhovka HPP explosion had two additional goals, - Major Hetman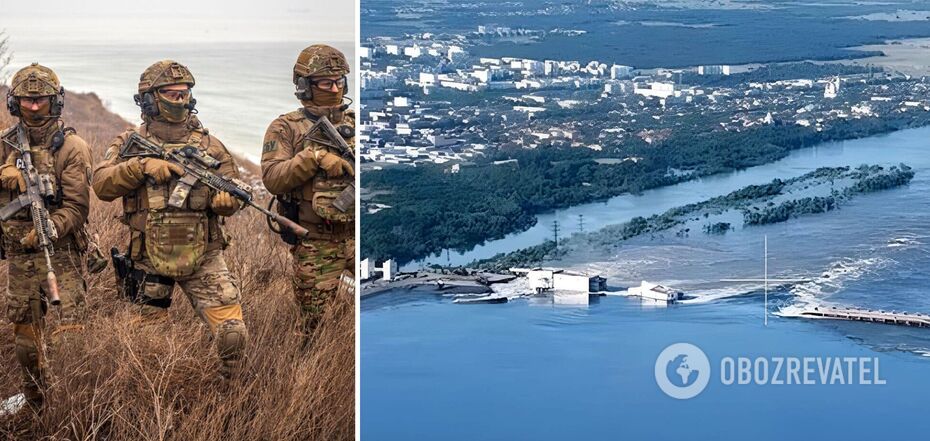 Russia had two additional goals in blowing up the Kakhovka HPP
The blowing up of the Kakhovka hydroelectric power station dam by Russian occupation forces could have been carried out for a number of reasons, including to justify their withdrawal from their positions on the eve of the Ukrainian army's counter-offensive. This is an alternative to a "goodwill gesture" that the Russians will not understand.
This opinion was expressed in an exclusive interview with OBOZREVATEL by a veteran of the Russian-Ukrainian war, Major of the Armed Forces of Ukraine, Oleksiy Hetman. According to him, the main reason for the attack on the Kakhovka hydroelectric power station was to prevent the Ukrainian army's counter-offensive. However, there were several additional motives.
"Another reason for blowing up the Kakhovka hydroelectric power station dam is that the occupiers understood that they were unable to withstand our offensive, and it was not very appropriate to make a 'gesture of goodwill', because even people zombified by Russian propaganda would hardly believe it," the war veteran said.
"Now they have an excellent excuse to claim that our Armed Forces allegedly blew up the dam and now they are forced to withdraw from the positions they held before," he said.
The hetman added that the terrorist attack on the Kakhovka hydroelectric power station could have been used by the occupation "authorities" of Crimea to have a pretext for "evacuation" - to flee the peninsula. "This could be done in order to evacuate the occupation 'leaders' - Aksyonov and others - who needed the pretext to justify their escape under the guise of evacuating civilians," he suggested.
And finally, another additional goal of the occupier could be an attempt to deploy its sabotage and reconnaissance groups to the government-controlled territory of Ukraine.
"Under the guise of allegedly injured civilians, saboteurs can also enter and try to carry out certain sabotage on the government-controlled territory. But we have counterintelligence and the Security Service. So, it is not a big problem for our special services to identify this person," the major said.
The full version of the interview with Oleksiy Hetman will soon be available on OBOZREVATEL.
As OBOZREVATEL previously reported, on June 6, Russian occupation forces blew up the dam of the Kakhovka hydroelectric power station. This caused a large-scale environmental disaster in the occupied and government-controlled territories of Ukraine along the Dnipro River. Dozens of settlements were flooded, and evacuations of local residents are underway.