Kadyrov was visibly nervous at the meeting with Putin: ISW pointed out interesting "nuances" of the negotiations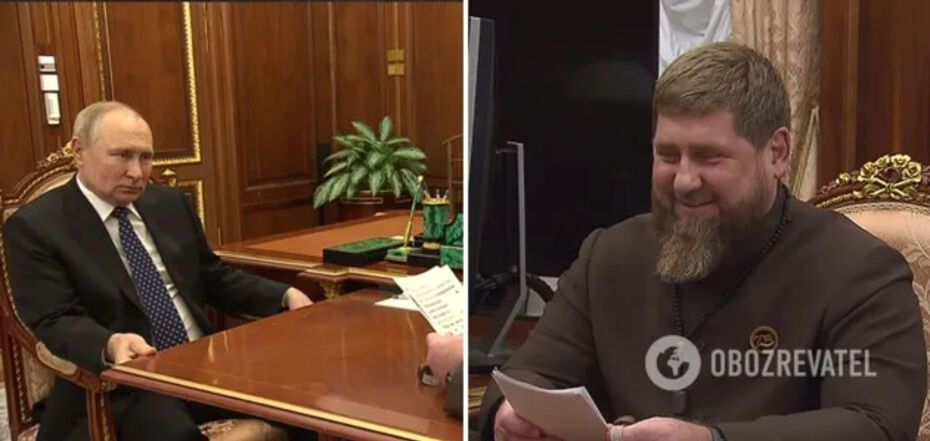 Ramzan Kadyrov does not want to upset Vladimir Putin
At his meeting with Kremlin dictator Vladimir Putin, the head of the Chechen Republic (RF), Ramzan Kadyrov, appeared visibly nervous. He probably wanted to prove his usefulness and feared that he was losing the support of the Russian president.
The American Institute for the Study of War (ISW) voiced this assumption in a report dated March 13. On that day, the head of Chechnya appeared in Moscow with a "cheat sheet" about his "successes" and asked Putin for permission to "brag a little" (to watch the video, scroll to the bottom of the page).
Analysts believe that Kadyrov was under considerable pressure at the meeting and did his best to present Chechnya, himself, and his troops in a positive and productive light.
He also took advantage of the meeting to praise the success of Chechen militants in the war against Ukraine and emphasized that they were dutifully fulfilling Putin's orders and "aim to act to the bitter end". The Kremlin leader thanked the politician in response.
However, at present, troops from Chechnya are playing a very minimal role on the frontline. They mostly conduct offensive operations near Bilohorivka, Luhansk region, and perform law enforcement tasks in the rear areas of occupied Ukraine.
"Kadyrov may therefore fear that he is losing favor with Putin because he has very little to show in terms of Chechen combat gains, and likely hoped to correct and bolster his reputation over the course of this meeting," the ISW report says.
As for Putin's goals, he most likely hoped to add pressure on the Chechen leader to increase the intensity of his troops' use of the so-called "special military operation", especially due to continued heavy losses of Wagner mercenaries and conventional Russian forces.
As OBOZREVATEL reported:
Rumors about the illness of 46-year-old Ramzan Kadyrov are spreading online. It is suspected that he has kidney problems. Over the past few months, he has gained a lot of weight, and his face is puffy, including in the eye area.
He did not appear in public for quite a long time and only on March 6 "came out". A medical device was noticed on his arm. It should be noted that the pulse oximeter could also be seen on March 13 during Kadyrov's meeting with Putin.
Earlier, the media wrote that Kadyrov, while Russian soldiers were dying at the front, spent the New Year holidays in Dubai, where he flew in on his own $80 million jet.
Only verified information on our Obozrevatel Telegram channel and Viber. Don't fall for fakes!