Trending:
HIMARS worked: "Mobiks" from Chuvashia were defeated in Ukraine, with losses reaching 120 people. Photos and videos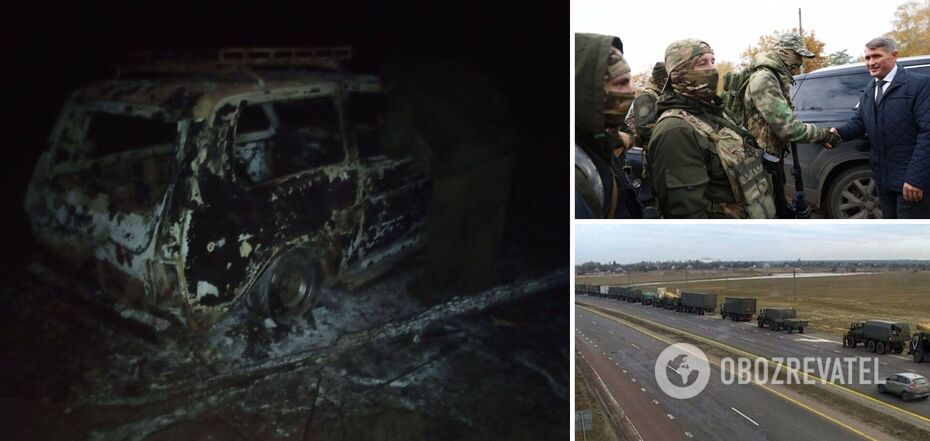 HIMARS worked: ''Mobiks'' from Chuvashia were defeated in Ukraine, with losses reaching 120 people. Photos and videos
The Russian Chuvashia announced the defeat of the Chuvash battalion "Attil", which consisted of mobilized residents of the republic. The Ukrainian military used HIMARS to smash a column of occupiers into pieces.
Up to 120 invaders were killed and wounded, and at least ten cars were burned, but those who speak about it are threatened with criminal liability. This was reported by the local Telegram channel "Angry Chuvashia", which published photos and videos (to see them, scroll down to the end).
According to the public, "the Chuvash battalion of mobilized soldiers was defeated," and the occupiers suffered heavy losses in killed and wounded.
"On Sunday, October 29, while preparing to move, the 1st Battalion of the 1251st Motorized Rifle Regiment came under fire from Haimars missiles. Residents of Chuvashia serve in this regiment, and the regiment is commanded by Vladislav Matuzas, a native of the republic," the statement said.
The invaders' convoy consisted mainly of KAMAZs and VAZs, which transported personnel of the occupation army.
" there is no confirmed information about the losses at the moment, but according to volunteer chats, the number of killed and wounded is up to 120 people, 10 vehicles burned down. It is also specified that the "Attil" battalion was almost destroyed," the local publicist noted.
Chuvashia's chief military officer, Bakhior Kholikov, has already responded to the reports of the defeat, threatening criminal liability for those who spread information about the defeated Chuvash unit.
"Inaccurate mentioning of rumors is considered spreading false information, and reposting dubious materials can lead to liability," Kholikov said, among other things.
There was no other reaction to the defeat of the convoy and the elimination of the occupiers from Chuvashia from local authorities, according to a local public.
The day before, the irreversible losses of the Russian army in manpower during the full-scale aggression against Ukraine exceeded 300 thousand occupants and 5200 tanks. This is evidenced by the updated statistics of Russian losses, which was published by the General Staff on the morning of October 31.
It has also been reported that Russia is throwing Storm-Z infantry into frontal attacks near Avdiivka, and in a few days the enemy is losing up to 70% of its personnel. According to one of the Russian propagandists, in a matter of days, the units of the occupation army are "grinding to a halt."
Only verified information is available on our Telegram channel OBOZ.UA and Viber. Do not fall for fakes!