Trending:
"Hidden" in a rock: a secret Russian military depot was found near Simferopol, which could be a target for "Hrim". Photo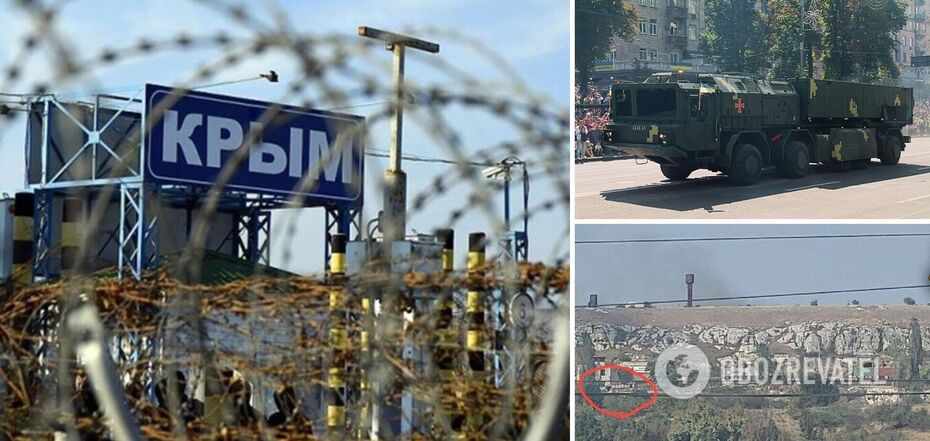 A secret warehouse of the Russian Armed Forces has been discovered in Crimea, and Hrim-2 is in a position to get it.
Agents of the Atesh military movement of Ukrainians and Crimean Tatars have discovered a secret Russian warehouse near Simferopol in the temporarily occupied Crimea. The invaders hid it in an abandoned vegetable depot located in a rock.
According to the guerrillas, the discovered warehouse is a "fat target" and they passed its coordinates to the Ukrainian Defense Forces for possible destruction with the help of Hrim-2 air defense systems. The details were published on the military movement's Telegram channel.
According to Atesha, the warehouse is located in the village of Mazanka, Simferopol district: it was there that a long-abandoned vegetable depot in a rock was located. The guerrillas also provided the coordinates of the warehouse: 45.0066749337001, 34.26194089114725.
Having chosen the vegetable depot as a location for the warehouse, the invaders reinforced the entrance with shell rock and built temporary fortifications.
"There are tents with personnel downstairs from the main entrance. And at the entrance to the village, military police posts have been set up to inspect civilian vehicles and local residents. Probably a very fat target that requires Hrim. All the information has been transmitted - we are waiting for the results," the guerrillas noted.
The Ukrainian Hrim-2 or Sapsan tactical missile systems have been developed by the Pivdenne Design Bureau since 2013 and are still under development.
The system is based on a solid-fuel ballistic missile. The declared range is from 280 km in the export version to 500 km for samples intended for the Armed Forces of Ukraine. The minimum range is 50 km.
The system is designed to create a non-nuclear deterrent shield against the aggressor.
The missile used in the Hrim-2 was also developed at KB Pivdenne and has universal characteristics: when used in other systems, the missile is capable of hitting land, sea and air targets, depending on the warhead and guidance system installed.
Given the declared characteristics and the fact that the distance from Mazanka to, for example, liberated Kherson is just over 200 km, the discovered Russian warehouse is a completely achievable target for Hrim.
Earlier, military intelligence said that the Main Directorate of Intelligence's special forces landed on the peninsula and struck at the enemy. During a fierce battle between Ukrainian soldiers and Russian occupants, the enemy suffered significant losses in killed and wounded.
Unfortunately, there are losses among Ukrainian heroes. The Main Directorate of Intelligence called them "incomparable" to the losses of the invaders, but the life of every Ukrainian soldier is priceless.
Only verified information on our Telegram channel Obozrevatel and Viber channels . Do not fall for fakes!