Trending:
He was afraid of Russia's reaction, but changed his position: Biden decides on ATACMS for Ukraine in September - New Yorker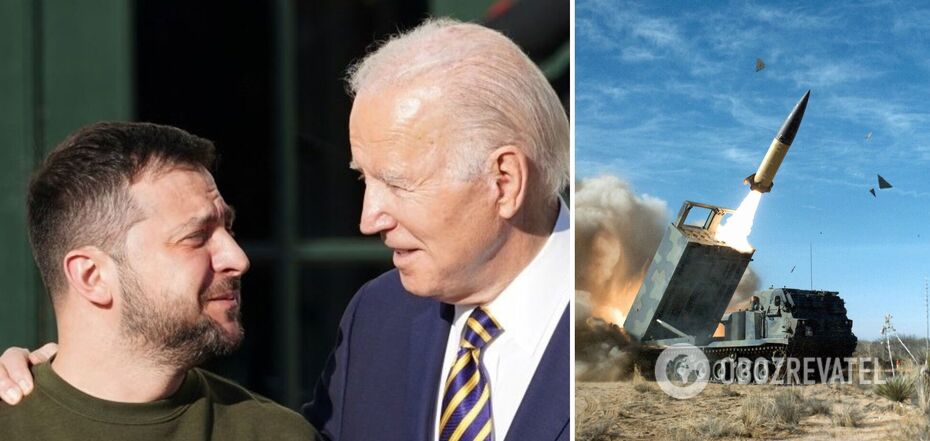 Biden allegedly made the decision to transfer ATACMS to Ukraine
After much hesitation, US President Joe Biden decided to supply Ukraine with long-range ATACMS missiles. This allegedly happened back in September, on the eve of Ukrainian President Volodymyr Zelenskyy's visit to Washington.
Previously, Biden rejected the idea of such supplies, fearing that the introduction of American missiles into the Ukrainian army, which could destroy targets not only in all the occupied territories of Ukraine but also in Russia and Belarus, could lead to the outbreak of World War III. Biden's fears and the decisions he made to overcome them are described in an article by The New Yorker.
The publication notes that throughout the year, Biden categorically refused to make a decision on the transfer of long-range ATACMS missiles to Ukraine because he was afraid of the Kremlin's reaction: according to the American president, such a step by the United States "would mean an unacceptable escalation for Putin," as these missiles are capable of reaching not only all the territories of Ukraine occupied by Russia, but also targets in Russia or Belarus.
"The other key goal is to make sure we don't end up in a situation where we're heading toward World War III," Biden's national security adviser, Jake Sullivan, explained the president's position.
At the same time, after the United Kingdom and France gave Ukraine their long-range missiles, the argument about the threat of World War III became far less convincing.
"What was holding us back was that it would deplete our stockpile at a time when we would need those missiles for a contingency, whether it was with Iran or North Korea or China," a senior Pentagon official explained to the New Yorker this summer on condition of anonymity.
Meanwhile, another source noted that by December 2022, Sullivan was trying to convince the US president to use the threat of sending ATACMS "as leverage over the Russians."
"He was pressuring Biden: why don't we at least say that we will send ATACMS if you don't stop shelling cities? He's been making this argument for at least six months, and the president hasn't wanted to do it," the unnamed official said.
Now, according to The New Yorker, the decision to transfer ATACMS to Ukraine has been made: Biden approved the assistance on the eve of Zelenskyy's visit to Washington on September 19.
Depending on the modification, the US ATACMS missiles have a range of 140, 165, 270, or 300 km. Thus, it is expected that Ukraine will be able to use them to hit enemy targets in all occupied territories, including Crimea and the Kerch Bridge, and sometimes even reach targets located in Russia and Belarus.
The ATACMS is launched using a modernized M270 MLRS or HIMARS launcher.
These missiles are designed to engage enemy targets. These can be command posts, missile launchers, air defense facilities, communication centers, ammunition depots, etc.
In addition, ATACMS can operate in any weather conditions and at any time of the day.
Earlier, the US made a new statement on ATACMS for Ukraine. The Pentagon noted that the US Army has been preparing for the transfer of ATACMS for some time now and is ready to send the missiles as soon as the president makes the decision.
It was also reported that NSDC Secretary Oleksiy Danilov answered whether Ukraine would be able to fire ATACMS missiles at Russia.
Only verified information on our Telegram channel Obozrevatel and Viber channels. Do not fall for fakes!