Trending:
General Romanenko: We have two permits for F-16s, but F-18s can be obtained in one go. Interview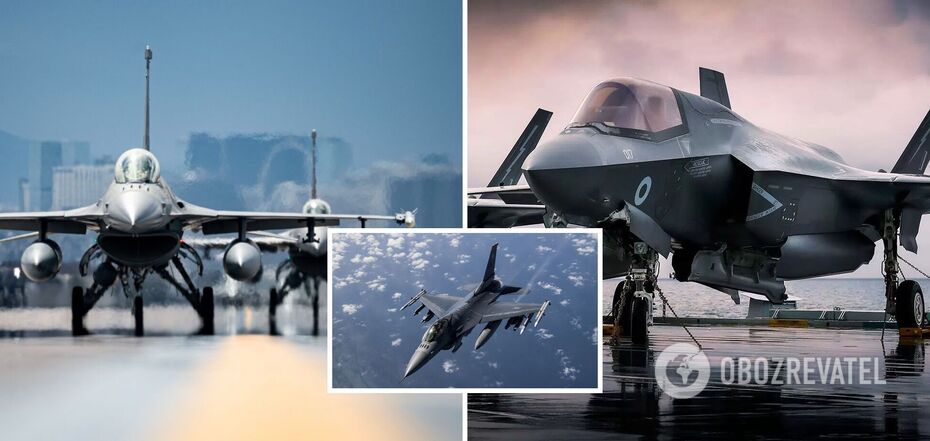 F-16s for Ukraine: the general named the main problem
The story of providing Ukraine F-16 fighter jets is very much like the story of providing the Ukrainian army with modern tanks, including American Abrams tanks. oday our country has two of three possible U.S. approvals - to train Ukrainian pilots and to supply F-16s from other countries. However, Ukraine's allies have other fighters in service whose supply would not be so problematic. For example, Australia has 48 F-18 Hornet attack and fighter planes, the purchase of which "can be solved in one go".
But the main question is whether the allies intend to help Ukraine to such an extent that it will win this war with Russia? Judging by the military assistance to our country, we can conclude that the partners are not ready to ensure that the Ukrainian army will quickly reach the borders of the state as it was in 1991. This opinion in an exclusive interview with OBOZREVATEL was expressed by former Deputy Chief of the General Staff of the Armed Forces of Ukraine, Lieutenant General Igor Romanenko.
- The Russian occupiers have once again claimed that allegedly Ukrainian Bakhmut has been taken. Nevertheless, according to Deputy Minister of Defense Anna Malyar, the AFU has taken the town in a semi-enclosed position. According to your assessment, what is actually happening in Bakhmut? What about the occupation Wagner? What will happen there in the near future?
- In my opinion, it is necessary to separate the military-political and moral-psychological assessment of the situation. The enemy needs to show at least some result, because their strategic offensive operation over 1200 kilometers is going on for four months already. So a block here, a block there - it's not a question for them. For them Bakhmut has "sacred" military-political significance. Hence the statements that the city has been captured because there is fighting in the middle of the city.
But the purely military situation is that the "Wagnerians" had significant losses. Their forces were insufficient to fight in the middle of the city and to hold their positions on the flanks. So they wanted to keep the laurels of "winners" for themselves, Prigozhin needed, and gave the flanks of Bakhmut to regular units of the Russian armed forces. Although they are called elite, airborne and other units, they have less experience of urban warfare and are obviously less trained.
So our Defense Forces have taken into account these changing circumstances and, while they continue to fight hard inside the city, they are launching counterattacks and offensives on the flanks. In doing so, they pose a certain threat to everything inside the city. This is recognized by the enemy as well.
What is important is that the Ukrainian army has moved forward and taken certain heights on the flanks and has been able to fire. This means that militarily, despite the fact that the enemy has occupied most of the city, it has no prospect of advancing on Konstantinovka, Chasov Yar, Kramatorsk and Slavyansk. This is very important. This position remains with us.
But we need additional forces and means to cover Bakhmut itself - ammunition, weapons. Because going head-on, as the enemy has acted in recent months, is not our option. It is necessary to consider and implement asymmetric actions. We need about five more brigades, if not more.
So the question arises: should we conduct this kind of offensive action here or wait until the preparation of large-scale offensive operations is completed and use these forces there. For now, the situation around Bakhmut needs to be contained.
- Do you admit that the enemy can simply wipe Bakhmut off the face of the earth through massive missile strikes? What would that give him in such a case?
- In fact, there is not much left there in terms of the city. At one time they did the same in Popasna, Rubizhne, and so on. I don't know if it makes sense for them to undermine Bakhmut. They no longer have the same strength. They understand this and are trying to create reserves of manpower.
There is information that on the eve of our offensive the enemy has formed a corps, three divisions and a regiment of marines. They are putting in reserve high-precision missiles, the production of which has increased by a third since the beginning of the invasion. But they have very high costs of these missiles. And so one way or another, they are going to save money, so that they can have something to influence us to conduct the operation. So right now it's not militarily feasible to waste resources, but the enemy may have their own views.
-Sean Bell, British Air Marshal and Military Analyst, speaking about the transfer of F-16fighters to Ukraine , mentioned two main factors - training of pilots and delivery of aircrafts. According to his estimates, the first one can be organized in four months, and as for the second one, there are difficulties, because there are different F-16 units with different radars, electronics and so on. How do you assess such projections?
- Let's start with the main thing. If you want to achieve a goal, you look for ways and means to achieve it. If you just want to justify why you're not doing it, you're just looking for the right arguments - that it's difficult, long, and so on.
Thanks to the British, they initiate the resolution of the issue here as well, but here the position of the United States is fundamental. Here I see parallels with the way they behaved in the issue of granting tanks to Ukraine. Let me remind you that for a long time they were saying that Western tanks are very complicated, that they have gas turbine engines, that they require specific maintenance and logistical support and so on. Then the U.S. agreed that the tanks would be transferred to other countries. And thanks to Scholz's tough stance and the initiative of the British, the question has moved on. The Americans had nowhere to retreat, and Biden was forced to declare that the U.S. would also supply tanks to Ukraine.
As many as 31 Abrams in the presence of a thousand. Everyone who could, has already delivered the tanks to Ukraine, and the Americans have problems. Instead of supplying Ukraine with the Abrams they have, they have started production and plan to provide them only when they are ready. Since they have depleted uranium, it is necessary to change the hulls. It was stated right away that they do not give the depleted uranium shells to Ukraine and so on. While there are tanks from all who wanted and could, there are still no American tanks.
A similar story can be seen now with aircraft. It is necessary to get three approvals. The first for pilot training, the second for re-export, and the third for permission to supply their own planes.
Because of such political activity of our president, military and political leadership, and diplomatic efforts we managed to get permission for training. The British, Danes, Portuguese, and Poles also undertook to train our pilots.
Thanks to pressure on the U.S. leadership, including from the Republican Party in Congress, a political statement was made that the U.S. is not against training pilots and supplying F-16s from other countries.
And here again we can draw a parallel with tanks. As we remember, Spain was one of the first to announce that it would supply Leopard 2 to Ukraine, but some time later a new announcement was made - that there were technical difficulties. The same situation with the F-16s - someone declares something and then they say that the timing is wrong, that there are obstacles and so on.
But I would like to talk about the most appropriate aircraft for our airfields, the F-18s. They say that Ukraine needs 3-4 squadrons. Australia alone has 48 F-18 Hornet aircraft in storage. They are adapted to heavier conditions of operation - both as a ground attack aircraft and as a fighter. The question of their purchase can be solved in one fell swoop. Besides, Spain and Finland have such planes. They could also transfer them to Ukraine, since they are rearmed for F-35. And this is only one example. The situation with F-16s is similar.
So I see the problem mostly in the political approach. And then, of course, it is necessary to solve the issues that the U.S. air marshal said.
- You said that often it is the political approach rather than the purely military approach that plays a decisive role. We saw the meeting between Presidents Zelensky and Biden on the sidelines of the G7summit , where a new package of military assistance to Ukraine was announced. The head of the Ukrainian Defense Ministry announced the new, 12th Ramstein. According to your estimates, today Ukraine's Western partners are helping it to defend or to win?
- Of course, our allies have already gone from perceiving a situation where it is necessary to provide assistance so that Ukraine will not lose, to a level where it is necessary to provide assistance so that Ukraine will win. But there is the vision and approach of Ukraine itself, which wants to win quickly and decisively. This requires the appropriate amount of armaments and equipment. And there is the view of the allies, primarily the Americans, who see this process as gradual and slow, with victory in some distant perspective. The example of providing Ukraine with F-16s and tanks just confirms this.
Generals Zaluzhny and Zabrodsky said that this amount of equipment would be enough to liberate the occupied territories of Ukraine captured since February 2022. But we raise the question that we will fight and fight for the complete restoration of our territorial integrity within the borders of 1991. Much more equipment and weapons are needed to achieve this goal. There must be both F-16s and ammunition.
Europe has already agreed to allocate 2 billion munitions to Ukraine, one billion will be delivered by the end of this year. But Russia spends 50-70 thousand shells a day. Calculate how long this one million will be enough. For 15 days? That answers the question of what goals can be achieved through this approach.