Trending:
"F-16 will become the main aircraft of the Air Force of Ukraine": Zelensky shared the details of receiving Western fighter jets. Video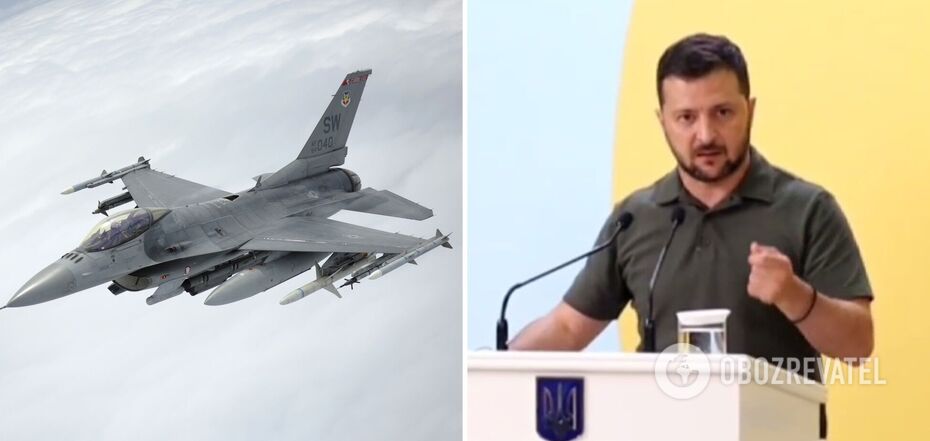 Zelensky revealed details of receiving Western fighter jets
President Volodymyr Zelensky has officially stated that Ukraine had hoped to receive only 12 US F-16 fighter jets from its Western partners in the beginning. However, the successful negotiations led to the transfer of a much larger number of these aircraft.
The head of state said this at a briefing on the results of the third summit of the Crimean Platform on August 23. It is the F-16 that will become the main aircraft of Ukraine's future fleet.
"F16, the main aircraft of our future fleet. There is a clear agreement with Denmark to receive 19 fighter jets, they will go in different stages ... Regarding the situation with the Netherlands. We have agreed that we can count on 42 airplanes, they have no more. We will be training on 18 of them. When we learn to fly, we will be able to get these 18 airplanes. All in all, this is a very serious number of airplanes. I will tell you frankly, when we talked to our partners, we were counting on at least 12 airplanes," Zelensky said.
He noted that this is a very serious number of airplanes.
He also added that he had discussed with partners the transfer of at least 12 F-16 airplanes in the beginning.
The president emphasized that the transfer of the planes would depend on pilot training and infrastructure.
"Unfortunately, it will not be quick, and it depends on us because we have to provide our pilots, specialists, engineers. Let me tell you. Pilots are served by dozens of specialists. So we need to select the right men and send them. I am not talking about interpreters and so on. In addition, we need to prepare the infrastructure. You understand that our infrastructure is not suitable for F-16s," he says.
Zelensky also reported on agreements with Greece to provide a site for training pilots.
Danish Defense Minister Jakob Ellemann-Jensen said that his country had put restrictions on the use of F-16 fighter jets by Ukraine. According to him, they will not be able to launch strikes on the territory of the terrorist state of Russia after the Ukrainian military receives these aircraft.
A Ukrainian pilot with the call sign Moonfish, who is currently undergoing training on an F-16 fighter jet, said that the allies took Ukraine's wishes into account when drawing up the training plan. According to him, more attention will be paid to missions that correspond to the realities of the Russian-Ukrainian war.
Earlier it was reported that the Netherlands and Denmark are committed to transferring F-16 fighter jets to Ukraine, but the deliveries will take place after certain conditions are met. These conditions include trained Ukrainian personnel, the necessary permits, infrastructure and logistics.
Only verified information from us on Telegram Obozrevatel and Viber. Do not fall for fakes!