Trending:
Explosions heard near Crimean bridge again: traffic blocked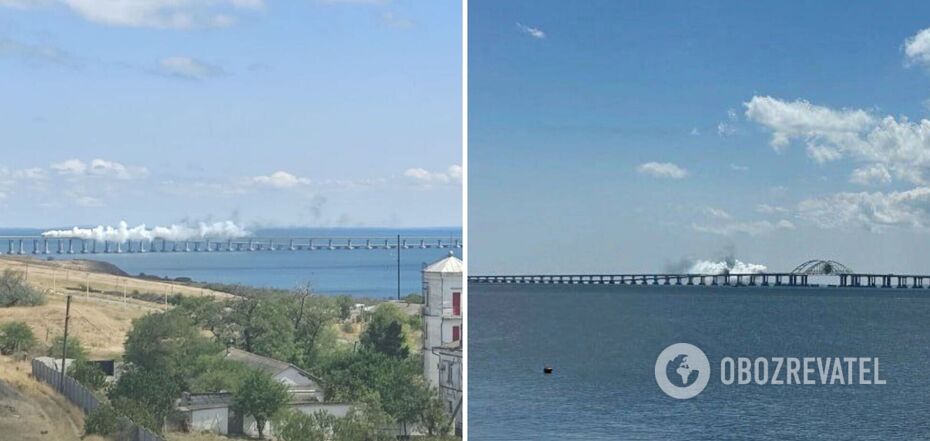 Explosions heard near Crimean bridge again: traffic blocked
In Kerch, for the second time on 12 August, explosions were heard near the Crimean Bridge. Eyewitnesses report at least eight explosions.
Traffic across the bridge is again blocked, according to Crimean and Russian publics. The occupiers reported another, the third missile shot down in a day.
Crimean publics, followed by Russian propagandists, started reporting about the explosions near the Crimean bridge around 3pm. While Russian propagandists reported two explosions, local residents claimed that there were at least eight.
Russian air defence systems can be heard in Kerch. The invaders also put up a "smoke screen" again.
Already at 15:19, the occupiers' appointed "head of the government of Crimea" Sergei Aksyonov reported on another "success" of Russian air defence. Unlike the first "round" of today's attack, when he claimed two allegedly downed missiles, this time the spokesman limited himself to one.
"Another enemy missile was shot down over the Kerch Strait. Thanks to our air defence forces for their high professionalism and vigilance!" - said the traitor.
At the same time, as already mentioned, local residents spoke of at least eight explosions.
The Russian Ministry of Defence stated that the explosions were allegedly related to an attack by the 'Kyiv regime' with an S-200 missile converted into a strike version. They made a similar statement during the first wave of explosions.
"On 12 August, at approximately 15.00, the Kyiv regime made a new attempt to launch a terrorist attack on the Crimean bridge with an S-200 anti-aircraft guided missile converted into a strike version. The Ukrainian missile was detected and shot down in midair by Russian air defence systems. There was no damage or casualties," the occupiers said.
The Ministry of Foreign Affairs of the aggressor state has already issued threats against Ukraine.
"The Crimean bridge is a purely civilian infrastructure facility, and attacks on it are unacceptable. There can be no justification for such barbaric actions, and they will not go unanswered," said Russian Foreign Ministry spokeswoman Maria Zakharova.
Pro-Russian Crimeans and tourists from the Russian Federation are so proud of the "Russian air defence" that they boast about it in their photos and videos.
"What's this? These are the coordinates of the air defence complex," noted the Crimean wind channel.
Occupants detain a man for "filming air defence operations"
After 16 hours, the occupiers announced the resumption of traffic across the Crimean Bridge.
We would like to remind you that around 1pm on 12 August, explosions were heard in Kerch. Then, according to Aksyonov, two missiles were allegedly shot down. According to him, the bridge was not damaged.
Only verified information is available on our Obozrevatel Telegram channel, Threads and Viber. Don't fall for fakes!