Explosions at Nord Stream pipelines: Zelenskyy explained who benefits from rumors about the "Ukrainian trace"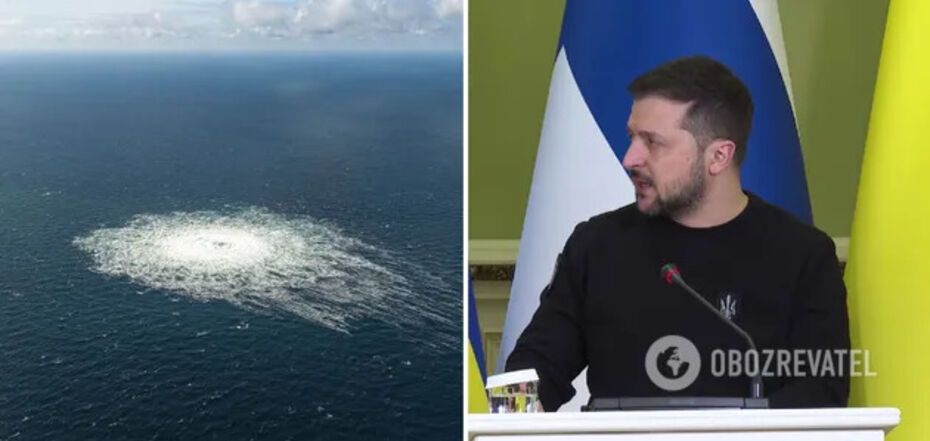 Zelenskyy denied Ukraine's involvement in Nord Stream pipelines explosions
Rumors about Ukraine's involvement in the explosions on the Russian Nord Stream-1 and Nord Stream-2 gas pipelines are being spread on purpose. Moreover, such reports benefit not only Russia, but also its foreign business partners, who may be behind the disinformation.
President of Ukraine Volodymyr Zelenskyy stated this at a joint press conference with Prime Minister of Finland Sanna Marin in Kyiv. The Head of State directly denied Ukraine's involvement in the sabotage of gas pipelines.
"We have nothing to do with it. Ukrainians definitely did not do it," Zelenskyy said.
According to him, those who are not interested in imposing sanctions on Russia may be spreading lies about Ukraine's alleged involvement. "I think it's wrong, it plays into the hands of the Russian Federation or business groups interested in not imposing powerful sanctions because their business suffers," the Head of State said.
He clarified that he was referring to business groups that may not be located in Russia. "We are fighting the enemy. There is only one enemy - Russia. But we are also fighting those who see nothing but money. Their business is suffering because trade with the terrorist state has decreased," Volodymyr Zelenskyy explained.
Zelenskyy's statement came after The New York Times wrote about the "possible involvement" of some pro-Ukrainian groups in the Nord Stream-2 undermining. "It is very dangerous when some independent media, which I have always treated with respect, take such steps," Zelenskyy commented.
At the time, the NYT wrote that the saboteurs who blew up the Nord Stream pipeline were citizens of Ukraine or Russia or "some combination of the two." "Ukraine and its allies have been seen by some officials as having the most logical potential motive to attack the pipelines," the article said.
As OBOZREVATEL reported, three of the four pipes that make up the Nord Strea-1 and Nord Stream-2 subsea gas pipelines from Russia to Germany were destroyed in September 2022. Denmark later showed a video of the destruction of Nord Stream-2, and Sweden - of Nord Stream-1.
Germany, Sweden, and Denmark launched an investigation into the incident, which was soon recognized as a case of sabotage. Germany believes the Nord Stream-1 and Nord Stream-2 gas pipelines were blown up remotely using a device launched from a ship. The main suspect is Russia. As expected, Russia itself accused the West and Ukraine of these sabotages.
Russia is currently planning to preserve the damaged Nord Stream gas pipelines to Europe, as it is not going to repair them.
Only verified information on our Telegram channel Obozrevatel and Viber. Do not fall for fakes!