Trending:
Equipment for IRIS-T, Gepard self-propelled guns and more: Germany handed over another aid package to Ukraine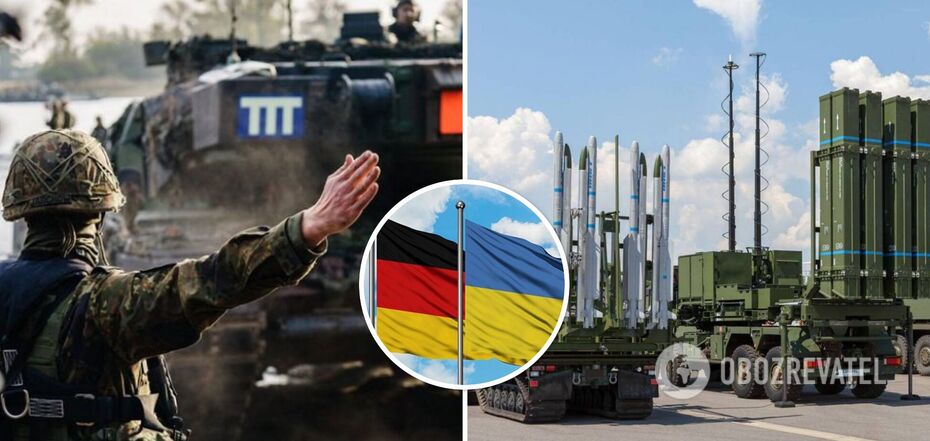 Germany hands over new batch of military aid to Ukraine
The German government has decided to provide Ukraine with a new additional batch of military aid. It includes equipment for the new IRIS-T SLM anti-aircraft missile systems, heavy transport vehicles, six Gepard systems, anti-aircraft guns against Shahed-136 and other drones, ammunition, and more.
The German government's website published a public part of the new military aid package to Ukraine on 13 July.
In total, Ukraine received from Germany:
6 Gepard self-propelled anti-aircraft guns;
6,000 more rounds of ammunition for Gepard;
10 fire control points for the IRIS-T SLM surface-to-air missile system;
10 laser targeting systems for the IRIS-T SLM surface-to-air missile system;
Biber bridge paver and an additional bridge to it;
5 armoured vehicles for border protection;
8x8 HX81 truck tractor;
4 semi-trailers;
3,230 rounds of 155 mm ammunition;
1184 rounds of 155 mm smoke ammunition;
24,192 rounds of 40mm ammunition (previously 83,520);
2 sets of spare parts for Vector drones.
As a reminder, at the NATO summit in Vilnius, Germany announced that it would provide Ukraine with a new military aid package worth €600 million. The package will include two Patriot systems, 40 Marder infantry vehicles, 25 Leopard 1A5 tanks, 5 Bergepanzer 2 repair vehicles and 20,000 pieces of artillery ammunition.
As reported by OBOZREVATEL:
- In June, Germany handed over a new military aid package to Ukraine, which included tank tractors and 155 mm artillery ammunition. In addition, Berlin said it plans to provide Kyiv with about 64 missiles for Patriot air defence systems.
- Earlier, the German Ministry of Defence said that Germany would supply Ukraine with 15 Gepard self-propelled artillery systems in the coming weeks and another 30 by the end of 2023. In addition, to strengthen its air defence, Kyiv is to receive two additional IRIS-T SLM systems this year, and four more next year.
Germany has also announced that it will increase the supply of Leopard 1 tanks to Ukraine.
If you want to get the latest news about the war and events in Ukraine, subscribe to our Telegram channel!