Trending:
"Don't even think about going back, you will be shot": a captive mercenary complained about the occupier's barrier troops. Video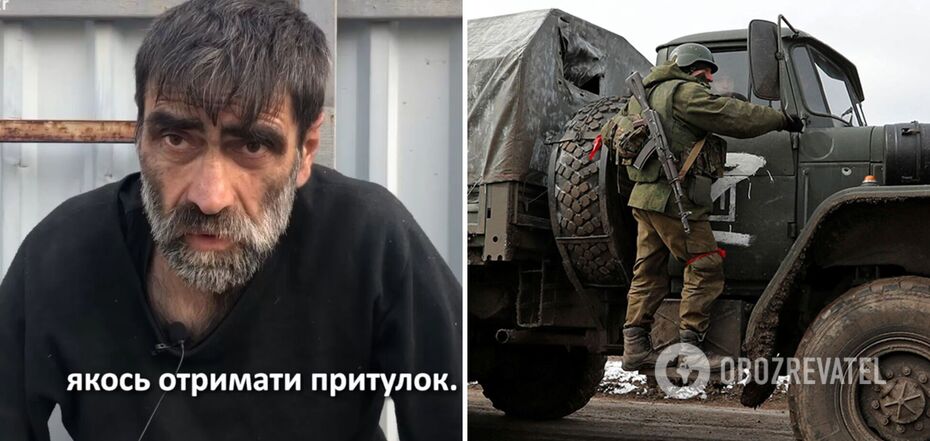 He says he was in a Russian prison for a murder he did not commit
A mercenary of the Russian PMC Veterans has been taken prisoner by the Ukrainian defenders. A man of Georgian nationality named Nodar Bakhturidze said that he initially wanted to surrender, but the occupiers threatened barrier units which would shoot him if he tried to escape from the battlefield.
A video of the prisoner's story was released by the press service of the State Border Guard Service of Ukraine. According to the mercenary, he was in a Russian prison for nothing, so he had the idea to surrender to the Ukrainians immediately (to see the video, scroll to the end of the news).
"This was originally the idea - to surrender when I was still on my way here. And ask for asylum from my homeland, Georgia. To apply through the Ukrainian consulates of Georgia or some non-governmental organizations and somehow get asylum. My attempt might have been desperate, silly, but it seemed to me there was a chance," the man said.
According to him, the occupiers intimidated the mercenaries with barrier troops, which shoot "traitors":
"We were warned: 'Don't even think about going back, you will be shot'. They came in before the storm, as they say, they treated us with propaganda. Although no combat tasks were set, just go, and that's it. When we arrived at the place where we slept, two of the boys were shot by their own people. An alcoholic was sitting with me in a trench, he can hardly walk, and I was telling him not to get up, do not get up, you will be shot. He does not listen, does not understand. They walk and roam as if on an avenue."
The captive mercenary also complained about Russian "justice". He said that he had been in court for four years, but had not been able to prove his innocence to the murder.
"Here's if there was a crime that I didn't commit and the person who did, I probably won't sin, I wasn't present, I left there an hour early. He has a foster daughter who is the head of the investigation department. Who do you think will sit, me or him?" - said Nodar.
In his opinion, the Russian army can turn around and go to Russia to solve their own problems if a revolutionary situation arises.
"People in Russia are quite submissive, a slave psychology. I have lived in that country for 30 years. Everything that was told in history about the revolutions, there is no such thing in Russia. It's very difficult, believe me. As I understand it, the number of dissatisfied people may only increase when the consequences of the war will affect everyone, and noticeably. In this case there will be a motive," says the prisoner.
The State Border Service said that the Ukrainian Defence Forces took him prisoner in one of the front lines.
As is well known, barrier troops are deployed behind the main troops to prevent fleeing from the battlefield, catch spies and return fugitives and stragglers. The most "famous" barrier troops were in the Red Army and the People's Commissariat of Internal Affairs troops of the USSR Army.
As reported by OBOZREVATEL:
- A captured occupant described the crimes of the Kadyrovites in Tokmak and Molochansk in Zaporozhye. He called himself "nothing" and a "pawn".
- Another prisoner complained of commanders and losses. There were 120 men in his company, but only half of them remained.
- An occupant from the PMC Veterans in captivity described how he had been sent to the front without training and threatened with death for refusing to fight. He claims that he hoped to go to the rear and joined the army because of alimony debts.
Only verified information in our Telegram channel Obozrevatel and Viber. Don't be fooled by fakes!