CyberLux K8, Altius-600 and Jump 20: What kind of combat drones are in the new US aid package for Ukraine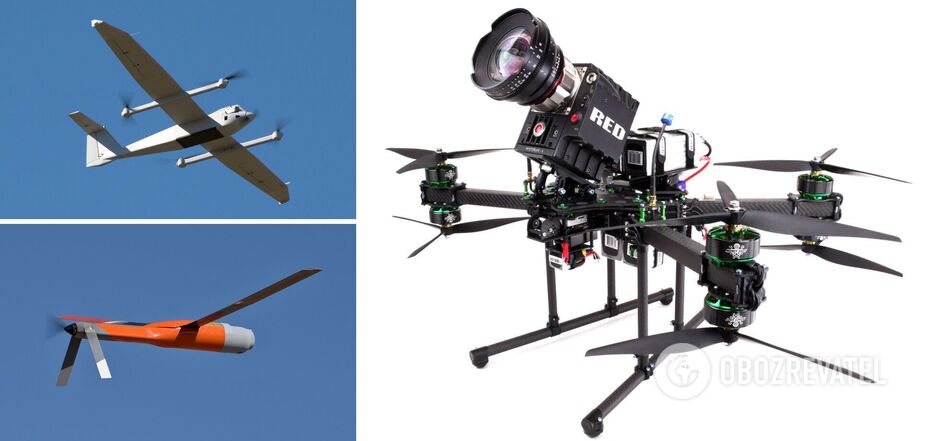 On February 24, the anniversary of the start of Russia's full-scale invasion, the United States announced a new $2 billion military aid package for Ukraine. It included four unmanned systems at once: Switchblade 600, CyberLux K8, ALTIUS-600, and Jump 20. And while the first one has already been delivered to Ukraine before (open data shows the number of 700+ units), the other three will be transferred for the first time.
OBOZREVATEL figured out what kind of combat drones they are, what they can do, and how they can influence the course of the war in Ukraine.
Jump 20 UAV
The Jump 20 is a tactical reconnaissance UAV with vertical takeoff and landing manufactured by the American company AeroVironment. This is a brand new drone developed only in 2021 and put into service in 2022. The U.S. Army plans to replace its runway-dependent RQ-7B Shadow drones.
The Jump 20 drone is designed like an airplane with a 190 cubic centimeter nose piston engine that drives a propeller. Vertical takeoff and landing are provided by four additional electric motors with horizontally mounted lifting propellers on two additional beams.
The Jump 20 UAV is 2.9 meters long and has a wingspan of 5.7 meters and a maximum takeoff weight of 97.5 kg, of which 13.6 kg is the payload. The flight duration is claimed to be more than 14 hours, the range of operation under the conditions of control from a ground station is up to 185 km, and the maximum flight altitude is 5.1 km.
The drone is equipped with a standard ARCAM-45B electronic optical station and a payload compartment that can be used to install reconnaissance systems such as WESCAM MX-8, Trillium HD80, or TASE 40 LRS. The drone also has secure high-resolution data transmission equipment.
At the same time, Jump 20 is not used individually, but in complexes. The Jump 20 complex includes six aircraft, ground data terminals and ground control stations. The cost of one complex is USD 8 million.
ALTIUS-600 UAV
The ALTIUS-600 is a versatile UAV manufactured by the American company Area-I that can both perform reconnaissance missions and engage targets.
Thanks to its modular design, the drone can be equipped with various equipment: reconnaissance devices, electronic warfare equipment, or a warhead to turn it into a kamikaze drone.
At 1 meter long, the ALTIUS-600 UAV has a wingspan of 2.54 meters and weighs 12.25 kg, including a payload that can be up to 3 kg. The drone can stay in the air for up to 4 hours and fly up to 440 kilometers.
ALTIUS-600 can be launched from aircraft, ground vehicles and even offshore platforms using a common launch tube, pneumatic integrated launch system or other systems.
After being ejected from the launch tube, the drone quickly deploys its wings and starts the engine with a push-pull twin-blade propeller in the tail section.
The nose of the drone can carry a payload: a variety of equipment for gathering intelligence, electronic warfare equipment, or explosives.
The ALTIUS-600 can be controlled manually using the remote control system of a ground control station. It can also fly along a pre-programmed route.
CyberLux K8 UAV
CyberLux K8 is a highly specialized reconnaissance UAV of the quadcopter type manufactured by the American company CyberLux. It is positioned by the manufacturer as "the world's first FPV drone for widescreen cameras".
The weight of the drone does not exceed 6 kg, of which 4.6 kg is the payload - a powerful MONEY SHOT X8 camera with a circular view. At the same time, it can reach a speed of over 160 km/h. In fact, this is the only information about it that is publicly available - the rest of the aircraft's technical characteristics are kept secret by the manufacturer.
In general, this is a new modern, powerful reconnaissance drone that, due to its small size and weight, can be carried and launched in the field by hand.
Theoretically, 4.6 kg of explosives can be attached to the camera, and it will turn into a combat drone for sabotage behind enemy lines. For example, as was the case when a Russian A-50U UAV was disabled at the Machulishchi airfield in Belarus.
Interestingly, a simplified civilian version of this drone can be purchased in the public domain for $11,000, which looks promising for volunteer organizations and charities that support the Ukrainian Defense Forces.
Prospects
The prospects for these unmanned aerial vehicles in Ukraine should be viewed from two perspectives: when they will be made available to the Armed Forces and how they will be used. With regard to the first point, it is known that they will not be provided to Ukraine from the US Army's warehouses, but will be specially purchased or ordered from manufacturers. This may take several weeks or several months.
As for the potential use, all three UAVs, although they are basic reconnaissance drones, can be used as attack drones (even Jump 20 - the only question is whether it is feasible in terms of price and profit), depending on the tasks that a particular military formation will face at a particular time.
Although, of course, the Ukrainian army will never be short of additional "eyes" on the front line, as high-quality and timely intelligence increases the effectiveness of combat operations and minimizes losses.
Only verified information is available on our Telegram channel Obozrevatel and Viber. Do not fall for fakes!