Trending:
Chernyk says Kerch bridge will sink several hundred meters if hundreds of pillars are damaged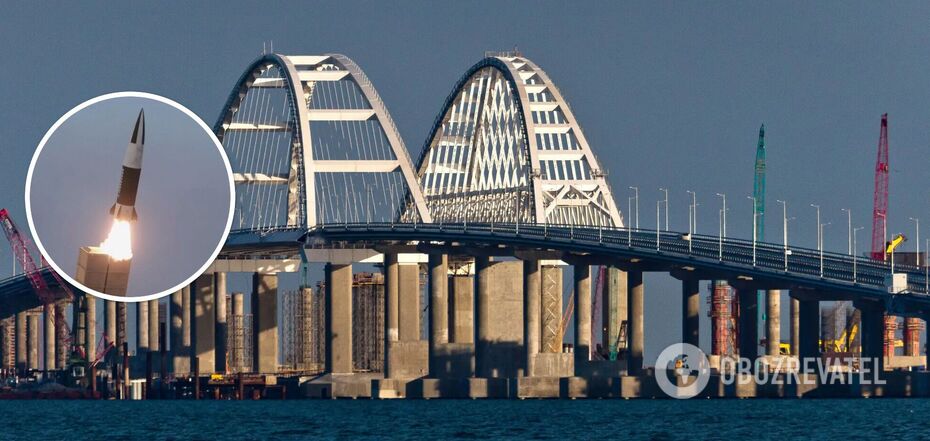 Colonel explains how to destroy the Crimean bridge
The destruction of the Kerch Bridge must be comprehensive. It is not enough to blow up one pillar. There must be hundreds of them so that the bridge goes underwater for hundreds of meters.
To accomplish this task, long-range missiles are needed, which include not only ATACMS but also missiles for F-16 fighters. This opinion was expressed by military expert and retired colonel Petro Chernyk, in an exclusive interview with OBOZREVATEL
"The bridge needs to be underwater. But there is a nuance: it needs to be submerged for several hundred meters. It is very long, making 18 kilometers. Destroying one of the sections does not solve anything, because after a while it will be repaired and it will be operational again," the expert said.
According to his estimates, "We need several hundred pillars to make it fall underwater so that they cannot repair it, that is, we need to take the bridge under fire control."
Chernyk emphasized that "this issue can be solved only by long-range missiles," as the distance from the current nearest positions of the Ukrainian Defense Forces to the bridge is about 250 kilometers.
"Conventionally, it is 250 kilometers from Kerch to Hulyai-Pole. ATACMS has a range of 300 kilometers. ATACMS can handle this task. As well as long-range missiles that can be equipped with F-16, in particular, AGM-158 JASSM," the expert explained.
He also noted that missile strikes should be massive, not single, and carried out regularly. "A barge comes to repair the bridge, the it is hit again. Another one comes and it's destroyed again. And so on for several months. Only then will real problems begin in Crimea," he summarized.
As OBOZREVATEL previously reported, the head of the Main Intelligence Directorate of the Ukrainian Defense Ministry, Kyrylo Budanov, hinted at new strikes on the Kerch Bridge. He predicted that Kremlin head Vladimir Putin would be "upset again."