Trending:
"Cheered everyone up": Prigozhin commented for the first time on the "march" on Moscow, he was called a "clown". Video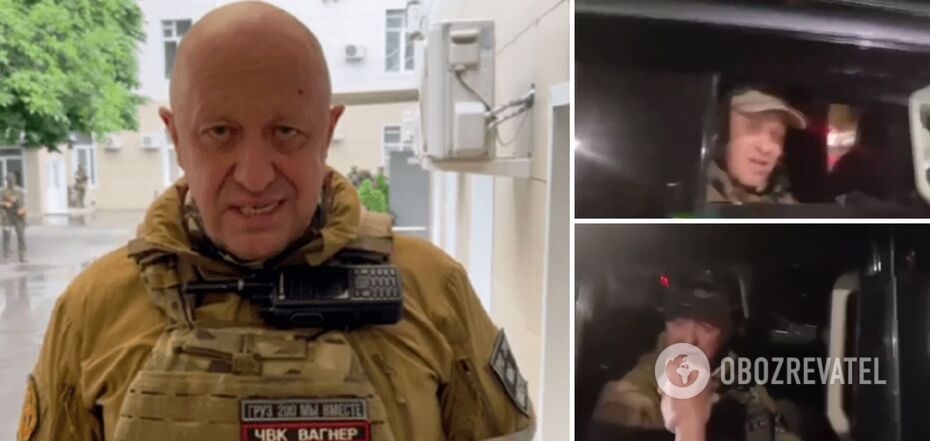 The mercenary leader commented on his ''march'' on Moscow
Owner of the PMC "Wagner," Evgeny Prigozhin, fled to Belarus after the failed military coup attempt on June 24. Thus, the mercenary leader recently commented for the first time on his "march" on Moscow.
Video of Prigozhin circulated in one of the Russian Telegram channels. Thus, in the video the leader of the mercenaries said hello to the Russians from the car window and also answered a question about what he thought about the result of the riot he had organized.
Prigozhin said that he was satisfied with the result of his so-called "march" on Moscow, despite the fact that he did not achieve the goals he stated at the beginning.
"It's okay, cheered everyone up," Prigozhin stated.
At the same time, comments from network users were not so optimistic. Many expressed their dissatisfaction and outrage at the events of June 24 and the result of the riot.
"Yes, it would be better to bring it to the end", "Clown", "Especially the pilots cheered up", "Too bad he deflated", "Profneprigozhin", "Disappointment of the year", - they wrote in the network.
Recall that on June 24, Evgeny Prigozhin with the mercenaries of PMC "Wagner" in the morning "captured" Rostov, passed Voronezh region and reached Yelets in the Lipetsk region. There the march to Moscow, proclaimed by "Putin's cook", was stopped: Prigozhin announced the return of mercenaries to the "field headquarters", ostensibly because of the unwillingness to "spill Russian blood". The columns turned back, and late in the evening the "Wagnerites", led by Prigozhin, rolled up their military equipment and left Rostov.
Putin's press secretary Dmitry Peskov explained that agreements were reached with the mercenaries, under which the criminal case against Prigozhin was closed and he left for Belarus.
However, statements about "mutually beneficial agreements" and "avoiding bloodshed" look a little strange against the background of reports that the Wagnerians destroyed an airplane and six helicopters with crews within a day. A total of at least 13 pilots of the Russian Air Force were eliminated. It also became known that there were ten Russian servicemen in the plane.
Only verified information in our Telegram channel Obozrevatel and in Viber . Don't be fooled by fakes!