Trending:
British intelligence assures Putin is bluffing when he threatens with MIG fighter jets carrying Kinzhal missiles over the Black Sea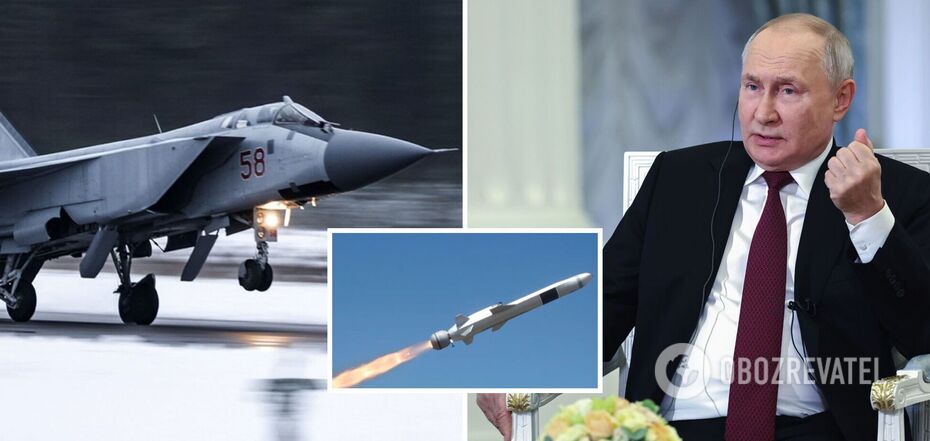 Putin's threats of MIG fighter jets carrying Kinzhal missiles in the Black Sea are probably a bluff
Russian dictator Vladimir Putin is most likely bluffing with his loud statements about the MiG fighter jets with Kinzhal missiles patrolling the Black Sea. This is typical Russian rhetoric, which regularly accuses Western countries of aggression.
At the same time, missiles of this type are currently showing low performance in Ukraine, while on paper they remain "super-powerful." These are the conclusions reached by British intelligence in a report published on the X (former Twitter) of the UK Ministry of Defense.
In this way, they commented on Putin's statement of October 18 that Russia would begin fighter patrols in the eastern Black Sea using MiG-31I interceptor aircraft. These fighters are carriers of X-47M2 Kinzhal air-launched ballistic missiles.
The dictator explained this decision by the increased US naval presence in the eastern Mediterranean.
"Putin's specific mention of the Kinzhal missile and its capabilities was almost certainly made for strategic messaging purposes to demonstrate that Russia remains capable of producing and using new weapons despite the ongoing Ukrainian conflict," the intelligence agency said.
They emphasized that these weapons remain at the stage of operational testing and are not currently productive in Ukraine.
"They remain very powerful, capable of flying at hypersonic speeds and evading modern air defense systems only on paper. They also almost certainly require significant improvement to be used in practice," the intelligence officers noted.
As a reminder, Putin has reacted to the US transfer of ATACMS missiles to Ukraine. The dictator claims that this will not change the situation on the front line, calling the "special operation" announced in 2022 a war. At the same time, he called to "take ATACMS away and come to the tea party". The dictator called the transfer of ATACMS a "US mistake" and said that US missiles would allegedly prolong Ukraine's "agony."
As reported by OBOZ.UA:
- Putin condescendingly praised Western representatives for their desire to end the war diplomatically and advised Kyiv to abandon its earlier decision not to negotiate with representatives of the Putin regime.
- DIU said that Russian President Vladimir Putin's visit to China did not create the "furor" that the Kremlin had expected. China's position on the war that Russia started in Ukraine remained unchanged.
Only verified information is available on OBOZ.UA Telegram and Viber. Do not fall for fakes!