Trending:
ATESH: Russians want to initiate mobilization in occupied Luhansk region after pseudo-elections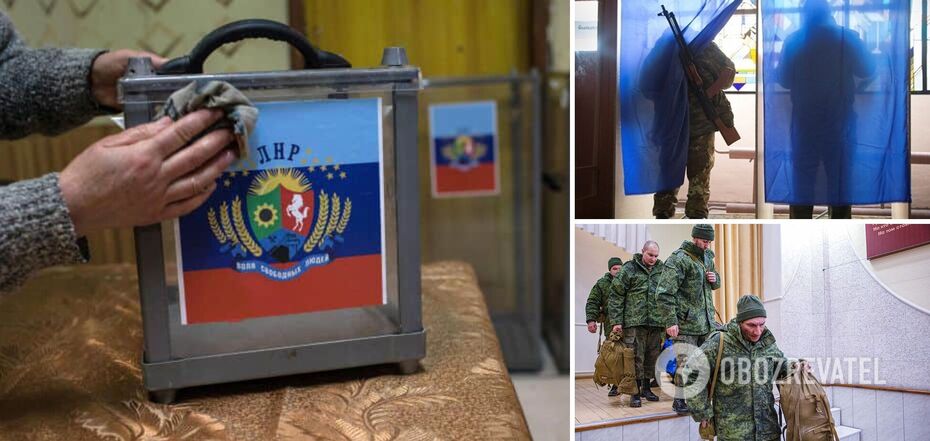 Occupants prepare ''mobilization'' in Luhansk region after pseudo-elections
Russia is holding fake "elections" in occupied Luhansk region. After its completion, the occupiers intend to begin "mobilizing" the local population to join the ranks of the Russian Armed Forces, which have been significantly thinned out by the Ukrainian military.
Pseudo-elections allow the invaders to update the lists and "mobilize" people who previously successfully avoided conscription into the occupation army. This was reported by the ATESH military movement of Ukrainians and Crimean Tatars.
The guerrillas said that the information about the preparation of mobilization in the Luhansk region after the completion of pseudo-elections arranged by the occupiers was shared by the head of one of the "police departments" created by the Russians in Luhansk.
"The ATESH agent passed us the information that the occupation authorities plan to mobilize people to replenish the ranks of the Russian Armed Forces after the pseudo-elections in the Luhansk region. These "elections" allow them to update the lists of soldiers, which they throw as cannon fodder for slaughter into the hands of the AFU," the report noted.
ATESH urged the residents of the Luhansk region to ignore the fake "elections" organized by the Kremlin and its puppets in the region again, as this will increase their chances of survival without turning into expendable material for the invaders.
ATESH guerrillas said that the occupants burn the bodies of their dead in a pigsty in Zaporizhzhia. They set up an improvised "crematorium", filling the surrounding area with the stench of burning flesh. They are using a farm in the village of Pryshyb in the Vasylivka district.
Residents see trucks with the sign "200" approaching the pigsty regularly, after which smoke begins to rise above the building. The occupants are trying to convince people that they are burning "pig carcasses".
Only verified information from us on Telegram Obozrevatel and Viber. Do not fall for fakes!