Trending:
AFU makes tactically important gains in Zaporizhzhya, while occupants complain about lack of equipment - ISW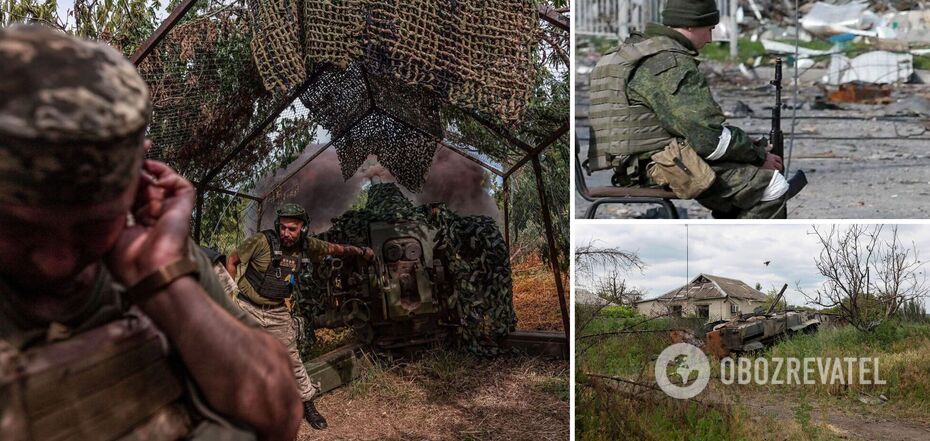 The AFU continues to scorch the enemy from Ukrainian soil
The Ukrainian Defense Forces made tactically important advances near the village of Robotino and eastward in the west of Zaporizhzhya on August 20-21. They are continuing counter-offensive operations on the administrative border of Donetsk and Zaporizhzhya regions and in eastern Ukraine.
Against this background, Russian bloggers do not cease to complain that their occupation troops lack equipment and suffer from low morale along the entire front line. The Institute for the Study of War (ISW) presented an analysis of the fighting.
The WSU's successes
"Geolocation footage published on August 20 and 21 shows that Ukrainian forces have reached the central part of the n. Robotino settlement and have broken through part of the Russian defenses south of Malaya Tokmachka," the summary said.
The day before, Ukraine's Deputy Defense Minister Anna Malyar said that the defenders had succeeded in the direction southeast of Robotine and south of Mala Tokmachka, while Russian forces unsuccessfully counterattacked east of the first settlement. Both it and Russian sources said fighting continued in Robotine.
A Kremlin-affiliated pro-war blogger claimed that Ukrainian forces had captured some Russian positions in part of the forward defense lines after intensive attacks at the Robotine-Verbove line. And some propagandists reported that Russian forces had retreated from some positions near Verbove as part of a flexible defense, probably in response to an AFU offensive south of Mala Tokmachka.
"We have previously assessed that the Ukrainian attacks on Robotine are of tactical importance, as an offensive in this area could allow the Defense Forces to begin operating past the densest Russian minefields. Ukraine's successes in this area likely support this assessment. A persistent advance in this area is also likely aimed at weakening Russian forces, which have invested significant effort, resources, and personnel to hold positions around the village," ISW noted.
It emphasized that the AFU has also advanced in the Bakhmut and Kremenka directions over the past week and continues counter-offensive operations south and southeast of Velyka Novosilka in western Donetsk and eastern Zaporizhzhya regions.
According to Malyar, Ukrainian forces have recaptured three square kilometers of territory around Bakhmut over the past week and 43 square kilometers in total from the beginning of operations.
The head of the Ukrainian city administration of Severodonetsk, Andriy Vlasenko, added that Ukrainian forces have made some sort of gains south of Kreminna, conducting an active mobile defense in the area.
Occupiers' complaints
A Russian blogger stated that Russian troops, especially the 20th Combined Arms Army (Western Military District) and the 2nd Combined Arms Army (Central Military District) operating in eastern Ukraine, lack light vehicles, which prevents them from using equipment and operating effectively and lowers their morale.
He claimed that Russian soldiers have to register their personal vehicles with the Russian Ministry of Defense (MoD), after which the vehicles disappear or are transferred to another location.
He also continued that Russian commanders regularly punish soldiers who use their own cars for minor administrative offenses, so those soldiers feel as if they are "at war with their commanders."
On August 21, the Russian propagandist complained that the authorities did not provide the military from the Kherson direction with boats and had been ignoring the incessant appeals of bloggers on this issue since July 2.
Terrorist Aleksandr Khodakovsky said that Russian troops continue to face problems in counter-battery operations after they began to experience a shortage of artillery systems, and claimed that the occupiers began receiving "outdated" D-20 towed howitzers that are "not suitable for counter-battery combat."
Many supporters of the Russian war claim that their army lacks adequate counter-battery capabilities, especially after the dismissal in early July of Major General Ivan Popov, commander of the 58th Combined Arms Army.
However, one Russian blogger said that troops are improving their artillery tactics, so Russian artillery "has become much more accurate than a year ago." According to analysts, he was referring to the fact that Russian "mobilizeds," who had no military experience, "have learned how to hit targets accurately."
"The constant complaints from the Russian military indicate that the Russian Defense Ministry is unwilling or unable to address the constant shortage of equipment and those related to low morale. However, Russian forces may be improving tactics and learning from previous mistakes as the war continues. The protracted conflict, caused in part by delays in Western aid to Ukraine, gives Russian forces time to correct themselves and learn from their mistakes," ISW stated.
As reported by OBOZREVATEL, the Deputy head of the Ministry of Defense of Ukraine Anna Malyar told how the leak of data on the movement of the brigade of the AFU turned out. She warned of responsibility
Only verified information from us in Telegram-channel Obozrevatel and Viber. Do not fall for fakes!