Trending:
A Russian "war correspondent" stated that Russian troops escaped from Klishchiivka, the capture of which was boastfully reported by Prigozhin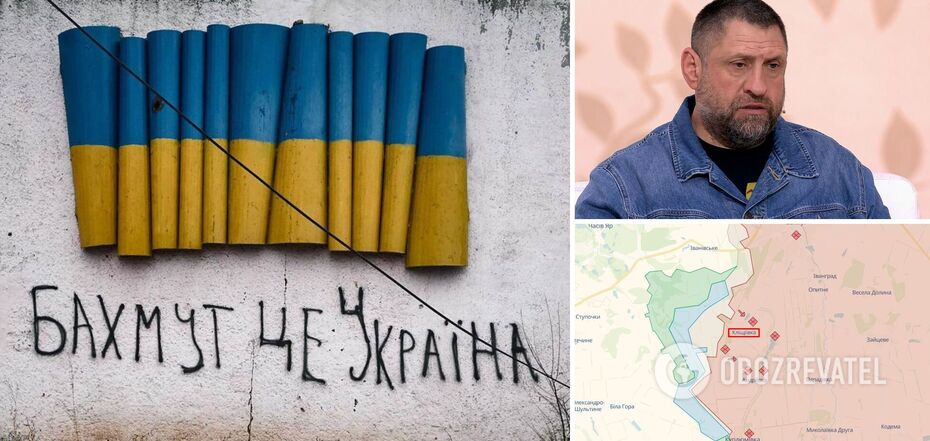 ''Bakhmut is on the verge of assault,'' complained Sladkov
On July 5, Russian propaganda "war correspondent" Aleksandr Sladkov stated that the occupants had allegedly fled from Klishchiivka near Bakhmut. Earlier, the owner of the Wagner PMC, Yevgeny Prigozhin, had bragged about capturing the village, where several thousand of his mercenaries had reportedly died.
"We left Klishcheiivka. It's near Bakhmut. We have to check it out, if they refute it, I'll be glad. If it is true, it is bad. Bakhmut under the fire control of the AFU," the propagandist complained on his Telegram channel.
He also claimed that Bakhmut is now "under the threat of an assault," and expressed doubt that Russian troops would be able to hold the Ukrainian city.
"I can't say a bad word about our guys who withdrew. According to my information, it's a shell diet again. I'll be glad to be wrong. You can't be strong without strength. The weak do not win. The town of Bakhmut is under attack. Can we hold it? Who knows," said Sladkov.
We remind that Prigozhin announced the "complete taking of control" of Klishchiivka on January 19 of this year. He then complained that "The Ukrainian Armed Forces are working in a precise, coordinated manner" and the Wagner soldiers "have something to learn from them".
In intercepted conversations, the occupiers repeatedly complained of heavy losses in this section of the front.
Klishchiivka is about 10 km southwest of Bakhmut . A railway station on the Horlivka-Bakhmut line is located there, and to the northwest of the village is a road connecting Bakhmut to Konstiantynivka.
As OBOZREVATEL reported:
- On the morning of July 5, the General Staff of the AFU said that the Ukrainian defenders achieved success as a result of the offensive near Klishchiivka. They are pushing the enemy back from the south and north of Bakhmut, the occupiers are suffering significant losses and are forced to use reserves.
- Oleksiy Danilov, secretary of the National Security and Defence Council, said that the number one task for Ukrainian troops now is the maximum destruction of the enemy's manpower, fuel and equipment. According to him, the recent days have been especially fruitful for the soldiers of the AFU.
- The ISW noted that the "slow" counterattack by the AFU is focused on creating an "asymmetric depletion gradient," which keeps Ukrainian manpower alive. In doing so, our military is accomplishing its primary objective.
Only verified information we have in the Telegram channel Obozrevatel and in Viber. Do not be fooled by fakes!