Trending:
"A Nuclear Missile on Kyiv!" British defense minister caused hysteria among Russians by appearing in Kyiv and talking about Putin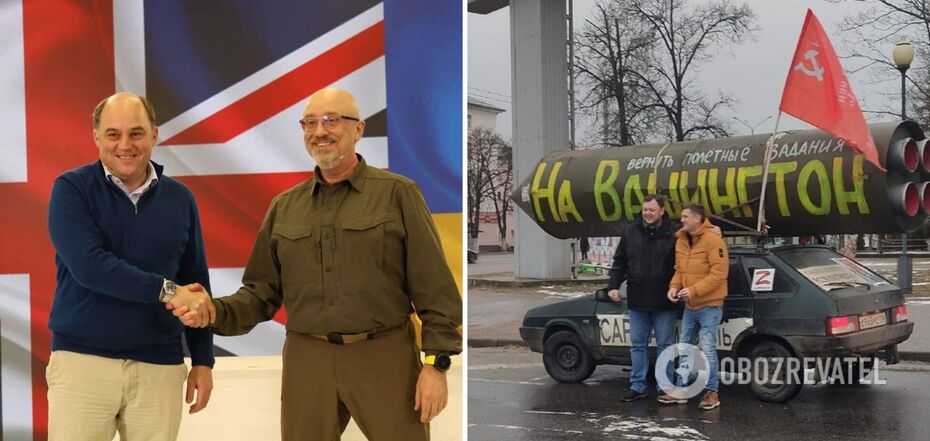 Wallace arrives in Kyiv to meet with Reznikov: Hysteria in Russia
On Wednesday, May 24, British Defense Secretary Ben Wallace arrived in Kyiv on an official visit. He met with his Ukrainian counterpart, Oleksiy Reznikov, for talks concerning Ukraine's prospects for NATO membership, the Ukrainian peace formula and, most importantly, the Ukrainian army's weaponry priorities to achieve victory over Russia.
The details are reported by the official website of the Ukrainian Defense Ministry. Russia is already hysterical over the visit.
According to the official report, Wallace and Reznikov discussed a number of important security issues during the talks. Among them were the prospects of Ukraine's accession to NATO amid preparations for the alliance's July 2023 summit in Lithuania and the Ukrainian peace formula.
"Of course, we discussed Ukraine's NATO perspective in the context of the upcoming NATO summit in Vilnius. Including Ukraine's vision for stabilizing peace in Europe, using the peace formula of Ukrainian President Volodymyr Zelensky," said the head of the Ukrainian Defense Ministry.
Central to the talks were Ukraine's priorities for the weapons needed to defeat Russia.
"Especially with regard to weapons that give the ability to defeat the enemy at long range, such as Storm Shadow," the Ukrainian defense minister added.
Meanwhile, Wallace recalled that Britain was the first country to transfer long-range missiles to Ukraine.
"Ukraine received Storm Shadow missiles that can be used at long ranges. These are some of the first long-range missiles provided to Ukraine by its allies. We provided this type of weaponry because of Russia's continued use of its long-range weapons, which it uses to harm civilians and civilian critical infrastructure," said Ben Wallace.
The head of the British defense ministry also sent a message to Russian President Vladimir Putin. Wallace stressed that the Russian dictator cannot win the war he has unleashed, and his partners' support for Ukraine will remain unwavering.
"President Putin must realize that he cannot win this illegal war he has waged, no matter how many Russian soldiers he sends to their deaths for his ego and imperial ambitions. He will not succeed, and the international community will only become stronger in confronting this aggression," Wallace said.
London continues to be a leader in support of Ukraine. Britain's unyielding and resolute stance on this issue has been demonstrated since the first day of Russia's full-scale invasion of Ukraine. Ukraine clearly understands the importance of this support and is grateful for it.
"The world has seen the leadership of the United Kingdom again, the world has seen real friendship again, and the world has seen that this leadership gives an advantage on the battlefield. The first deliveries of NLAW anti-tank weapons, assistance in making decisions on receiving 155 caliber artillery for Ukraine, creation of special fund on support of Ukraine and possibility to purchase weapons from different countries, arming Ukrainian fleet with anti-ship Garpoon missiles together with partners, participation in providing Ukraine with modern MLRS systems such as M270, armored vehicles of different classes and types, huge training projects for our servicemen abroad. And also for such "goodies" as Storm Shadow, and many other things that I can't tell you about yet. And all this Ukraine received thanks to Ben Wallace's personal involvement, his leadership and the efforts of his team," Reznikov emphasized.
In Russia, the Wallace visit caused quite a stir. Russians cried "zrada" in comments in Russian public blogs about the lack of strikes against Kiev and demanded that everything in the Russian arsenal, from "Kinzhal" to missiles with nuclear warheads, be launched against the Ukrainian capital.
"A nuclear missile on Kyiv", "Why the fuck doesn't this Anglo-Saxon minister have a kinzhal in his ass", "A kinzhal would do it", "Fuck up Kyiv. Let them all burn in embassies", "Why can't you fuck up Kyiv??? Why all kinds of scum move there quietly?", "Another shit has come to desecrate Kyiv", "Yuck, fuck!!! And what about us??? We didn't fuck up Kyiv????Too fuckin' faggots in the Ministry of Defense of some!!!! They (Britain) missiles for them (hohlandia) to f*cking/crushing "russia", and we didn't f*cking hit the defense minister of Russia's main enemy?!?!!;Are you fucking busy arresting the engineer????! Are you out of your fucking mind, the MoD?" - Russians of both sexes scream hysterically.
Russians are also trying to console themselves with the stale fables of Russian propaganda about "manual control" and the alleged disappearance/severe wounding/death of Valery Zaluzhny, commander-in-chief of the AFU.
"A meeting of two dickheads," "Did you say thanks for Khmelnitsky?", "Did you meet with Zaluzny? No? And why?", "Controlling the pussies", "Was it hard to fuck him? Follow Valerik," "Nazis are begging again," wrote commentators from the "most peace-loving country in the world.
They also call for the physical elimination of Wallace, wonder if British missiles will reach Taganrog, and discuss whether the West will transfer nuclear weapons to Ukraine.
As a reminder, earlier Reznikov announced a new Ramstein and voiced Ukraine's priorities. According to him, the key need of Ukraine in the conditions of constant strikes by the Russian occupants remains anti-missile and anti-aircraft systems. It is the new batch of these systems that Kyiv will ask for already at the next summit in the Ramstein format. It will take place next week.
Only verified information in our Telegram channel Obozrevatel and in Viber. Do not be fooled by fakes!