Trending:
"I wake up and lose you again every morning": girlfriend of deceased pilot with call sign Juice touched the web with a post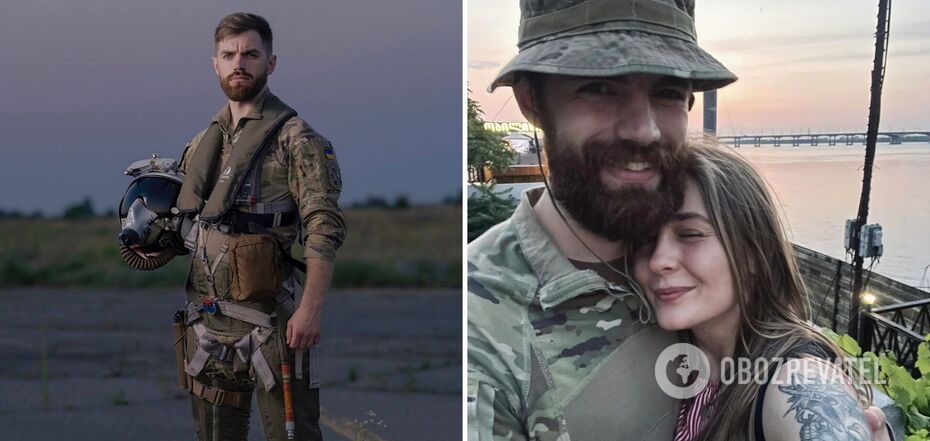 The girlfriend of the deceased pilot with call sign Juice touched the network with a post about her beloved
The girlfriend of the fallen Ukrainian pilot Andrii Pilshchykov with a call sign "Juice," Melania Podolyak, has touched the network with a new post. She admitted that she would not be able to accept her loss for a long time, that she was constantly living in her memories, and that is why she occasionally spills her emotions and overwhelming pain on social media.
A text full of sadness and extraordinary female strength appeared on Melania's Facebook page. The girl admitted that she tries to smile and even joke, as well as reassure people who don't know how to deal with her. But at the same time, she is learning to trust others and allow them to help her.
"I have to learn to say, 'I'm not feeling well, can I come to you' and always get their consent. To cry together in their apartments, cars, on the street, hugging them, their cats, dogs, relatives and friends," Melania wrote.
She said that "Kyiv is so small" because she constantly has to walk the routes where she used to walk with her beloved and where she had some "firsts."
"My route to work. The first delicate attempt to take my hand, the first kiss, the first realization that this is serious. Here is the tree near the office, under which we were first 'spotted' by my coworkers; here is the intersection where I saw you in person for the first time and thought, 'oh no, why are you so handsome, you're going to break my heart for sure'," Melania recalled, calling all these places her "little way of the cross."
She said that she continues to talk to him, argue, and apologize for the old habits she has temporarily returned to.
"My old habits, which have temporarily returned, would upset you immensely. To argue with your furrowed brow in the photo. How are you so wise and how much do you dislike it. Come here and stop me. I smile wryly to myself, asking you not to judge me. I apologize. And I cry, cry, and cry," the girl wrote.
Melania continues to "shout from every corner" about the achievements of "Juice" because she is sure that her Hero deserves it and made an extremely great contribution to the future victory of Ukraine.
"I can't take it all in, and I have to throw these thoughts out in anger from time to time. I wake up and lose you again every morning," the girl summarized with pain.
On August 25, 2023, the L-39 combat training aircraft crashed in the Zhytomyr region. The crash killed a famous Ukrainian pilot, Andrii Pilshchykov, with the call sign "Juice".
"Juice was a pilot of a MiG-29 fighter jet. He defended the sky of Ukraine since the beginning of Russia's full-scale invasion. He participated in the air defense of Kyiv.
He has been interviewed by leading Western media outlets, including The Washington Post, Financial Times CNN, Fox News BBC News. He urged the allies to start delivering American F-16 fighters and explained in detail how they would affect the advantage of Ukrainian troops over the enemy.
On August 29, "Juice" was farewelled at the Patriarchal Cathedral of the Resurrection of Christ of the Ukrainian Greek Catholic Church in Kyiv. The hero was only 30 years old.
As reported by OBOZREVATEL, in early September, Melania Podolyak reported about an act of vandalism on the grave of military pilot Andrii Pilshchykov with the call sign Juice, who died in a plane crash. Unknown people stole the chevrons left there by the Hero's comrades-in-arms.
Only verified information is available on our Telegram Obozrevatel and Viber. Do not fall for fakes!