Trending:
"Everyone has talents": actress Dasha Tregubova held a master class for children at Rinat Akhmetov Foundation's Blogger Camp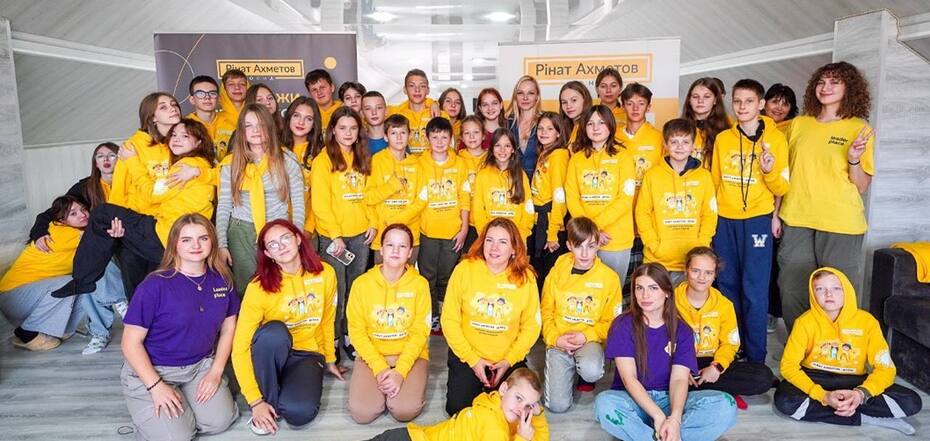 ''Everyone has talents'': actress Dasha Tregubova held a master class for children at Rinat Akhmetov Foundation's Blogger Camp
The autumn session of Blogger Camp, organized by the Rinat Akhmetov Foundation for children aged 8-15 who have suffered from the war in Ukraine, has come to an end. The guest of the shift was Dasha Tregubova, a well-known actress, expert of the project "Everything Will Be Fine", host of the project "Battle of the Psychics" and The X Factor Ukraine on STB TV channel, and award-winner.
The children met Dasha warmly and with great interest , who gave them a master class in poetry reading as a part of her author's video project #DashaReads, and shared her secrets of acting. Her daughter Polina Gromova, who is also a successful actress and has won several awards also joined them. At this camp, Polina prepared and performed a fairy tale together with the young participants.
"The kids have a very cool atmosphere here, an opportunity to forget a little bit about what they've been through, to fall out of a certain reality for ten days. And here I come and give them inspiration, perhaps for a new profession or skills that will be useful to them. I believe that everyone has talents. The children are creative, some were shy at first, and then their eyes started to light up, even if they said some tongue twisters, but in different intonations," the actress says.
Dasha believes that creativity is one of the most effective practices for overcoming the trauma that the war has caused to young and adult Ukrainians. The actress embodies a modern approach to reading poetry and teaches children to take creative tasks seriously.
"Now the whole world narrative is different. News is no longer presented the way it was in the last century: it is now infotainment. Poetry is no longer recited, a story is told. And I teach them how to tell a story. If I start doing something with children, we do it one hundred percent and seriously. For the period of time that I can, I will teach them to do it the way I think is right. And it will come in handy in their lives," Dasha is sure.
Each shift of Blogger Camp from Rinat Akhmetov Foundation gives participants the opportunity to meet people who have achieved success in creative professions - experts and stars communicate with children, hold master classes, share their secrets of skill and motivating stories.
The changes allow children not only to relax and improve their health at the children's camp in Zakarpattia, but also to develop their talents and creativity, broaden their horizons, work with war trauma together with the Foundation's psychologists, and move a lot in the fresh air. All of this gives a psycho-emotional reboot, positive emotions, forms fond memories, and returns the child's ability to dream and believe that dreams will come true.
As part of the project "Rinat Akhmetov for Children. Peaceful Recreation for Children of Ukraine" project, nearly 5,000 children from all over the country have received rehabilitation and professional psychological assistance.