Trending:
Ammonia leak in Kremenchuk: how to protect yourself from poisoning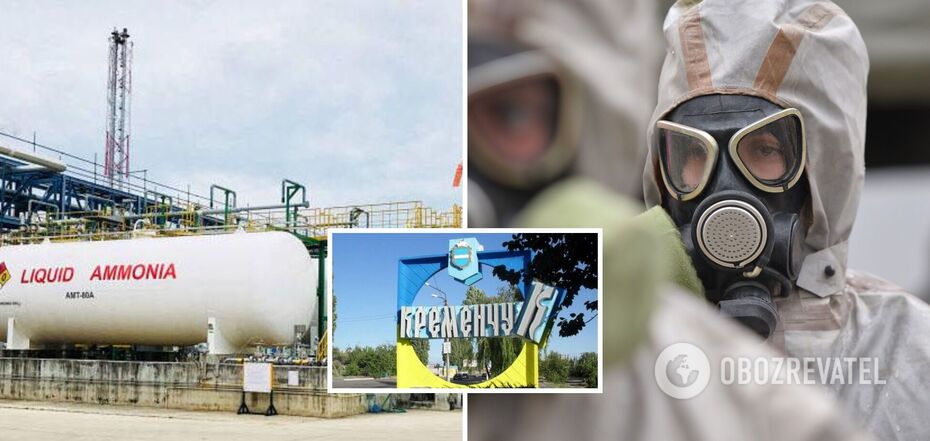 Ammonia leak in Kremenchuk
On Saturday, 17 June, an accident occurred at the Kremenchuk Meat Processing Plant in Poltava Oblast, resulting in a release of ammonia. Two workers were injured and taken to hospital with a diagnosis of moderate ammonia vapour poisoning.
This was reported by journalists of the city portal on Facebook. The emergency team successfully stopped the ammonia leak and localised the accident.
"Representatives of various services took air samples around the accident site, so no ammonia was detected in the air," said the plant's management.
Ammonia (NH3) is a colourless gas with a characteristic pungent odour and acrid taste. It is almost twice as light as air.
Under normal conditions, ammonia liquefies easily under pressure and absorbs heat when it evaporates, which cools it down significantly. This property is used in industrial and household refrigerators at meat processing plants, dairies, and vegetable depots - anywhere there is a need for chilled products. In addition, ammonia is a raw material for many chemicals, including nitric acid and nitrogen fertilisers. In recent years, liquefied ammonia and aqueous ammonia solution have become widely used directly as a nitrogen fertiliser.
Signs of ammonia poisoning:
severe coughing and choking;
stinging in the eyes;
abnormal heart rate;
redness of the skin;
irritation of the mucous membranes and skin;
frostbite, possible burns with blisters and ulcers after contact with liquid ammonia.
What to do in case of ammonia poisoning:
Take the victim out into fresh air;
breathe humidified air (warm water vapour of 10% menthol solution in chloroform);
wash skin, mucous membranes and eyes with water or 2% boric acid solution for at least 15 minutes;
put two to three drops of 30% albucid in the eyes; lubricate the nose with olive oil or petroleum jelly;give the victim warm milk with Borjomi or baking soda;in case of spasm of the vocal cords, warm the neck area, make warm baths, inhalation;
in case of skin lesions, wash it with clean water, make lotions with a 5% solution of acetic, citric or hydrochloric acid.
Earlier, OBOZREVATEL reported that in early June, during another attack by the occupiers, an ammonia pipeline in Kupiansk was damaged. The city authorities have set up a headquarters to eliminate the consequences of the situation.
Only verified information is available in our Obozrevatel Telegram channel and Viber. Do not fall for fakes!