Trending:
Zelenskyy holds negotiations with Sunak in the UK and speaks about fighter jets for Ukraine: more work to be done. Photos and videos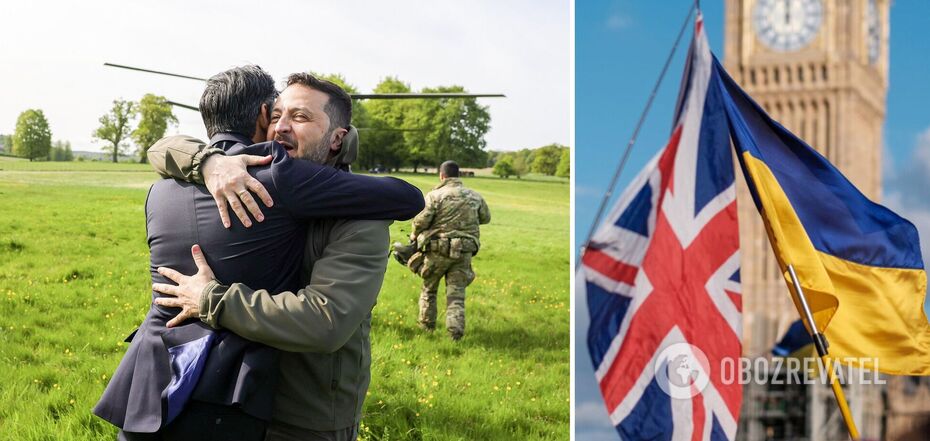 Volodymyr Zelenskyy arrives in the UK for negotiations with Rishi Sunak
This week, President of Ukraine Volodymyr Zelenskyy continued his official visits to European countries that are helping Ukrainians repel Russian aggression. On Monday, May 15, he visited the United Kingdom and met with Prime Minister Rishi Sunak.
They began negotiations, with several issues related to the war and military support being key. The British prime minister announced this by posting a photo of a warm meeting with the Ukrainian leader on Twitter (to view the photo, scroll down to the bottom of the news story).
"Welcome back, Zelenskyy," he captioned the photo, in which he greets the guest with a friendly hug.
Zelenskyy replied that he was also pleased to meet with the British prime minister again.
"We continue to work for the victory of Ukraine," his press service quoted the president as saying.
Zelenskyy discussed the supply of fighter jets with Sunak.
"I think you will hear some very important decisions in the near future. But we need to work on it a little more," he said after the meeting.
The President said he had discussed with the British Prime Minister a "jet coalition" to supply Ukraine with fighter jets.
According to Zelenskyy, this topic is very important for us because we cannot control the sky.
"We want to create a coalition of fighter jets and have talked about it. Important decisions will be made, but first, important work needs to be done in this direction. The United Kingdom is ready to play an active and key role in the creation of an aviation coalition," said Andriy Yermak, Head of the Presidential Office.
According to Rishi Sunak, his country will continue to provide the Ukrainian people with the support they need to defend themselves against aggression.
He noted that the UK is pleased to be the first country to provide Ukraine with long-range weapons, and will also strengthen our air defence and provide long-range attack drones.
We also talked about the security agreements that we need to introduce between allied countries for Ukraine in the long term.
In addition, Sunak said that the parties spoke with international partners about further support for Ukraine.
He added that the UK will be a key part of the coalition of countries supporting Ukraine, although he said that supplying combat aircraft is "not an easy task".
According to him, it is not only about providing aircraft, but also about training pilots and other aspects of logistics, but the UK "can play a big role in this".
In addition, Sunak said that the UK would be ready to help train Ukrainian pilots in the use of Western fighter jets "relatively soon", but that it is "not an easy task".
"This is not an easy thing, as we discussed with Vladimir, to build up the capacity of combat fighter aircraft. It's not only about providing aircraft, but also about training pilots and all the logistics that go with it, and the UK can play a big role in that. One thing that we will start relatively soon is the training of Ukrainian pilots, and this is something that we have discussed today, and we are ready to implement these plans in a relatively short time," he said.
Rishi Sunak welcomed the Ukrainian leader to his country residence as part of his surprise visit. CNBC writes that it follows Zelenskyy's trip to several European capitals in recent days as he tries to secure more military support ahead of the Ukrainian army's counteroffensive. It is noted that after the leaders' talks, London intends to increase aid to Kyiv.
In particular, Downing Street said that the British government would confirm the continued delivery of hundreds of air defence missiles and additional unmanned aerial systems, including hundreds of new long-range strike drones flying over 200 km.
"All of this will be delivered in the coming months as Ukraine prepares to strengthen its resistance to the ongoing Russian invasion," the statement said.
It stressed that during this meeting, Sunak will discuss with Zelenskyy what support Ukraine needs from the international community, both in terms of urgent military equipment and long-term defence.
"This is a crucial moment in Ukraine's resistance to a horrific war of aggression that it neither chose nor provoked. They need the continued support of the international community to protect them from the barrage of ruthless and indiscriminate attacks that have been a daily reality for over a year," the British prime minister said before the meeting.
As OBOZREVATEL previously reported, on May 14, President of Ukraine Volodymyr Zelenskyy travelled to Germany. In Berlin, he held a series of talks with German leaders, and in Aachen he received the Charlemagne Prize, which was awarded to him and the Ukrainian people for "defending freedom, democracy and European values."
On Sunday evening, Zelenskyy flew to Paris and later held negotiations with French President Emmanuel Macron. The two leaders discussed Ukraine's key needs and steps towards NATO, increasing pressure on the Kremlin, and called on Russia to immediately withdraw its troops from Ukraine.
Only verified information is available in our Obozrevatel Telegram channel and Viber. Do not fall for fakes!