Trending:
"We offer a successful strategy": Zelensky pointed out key challenges of the military-industrial complex and Ukraine's successes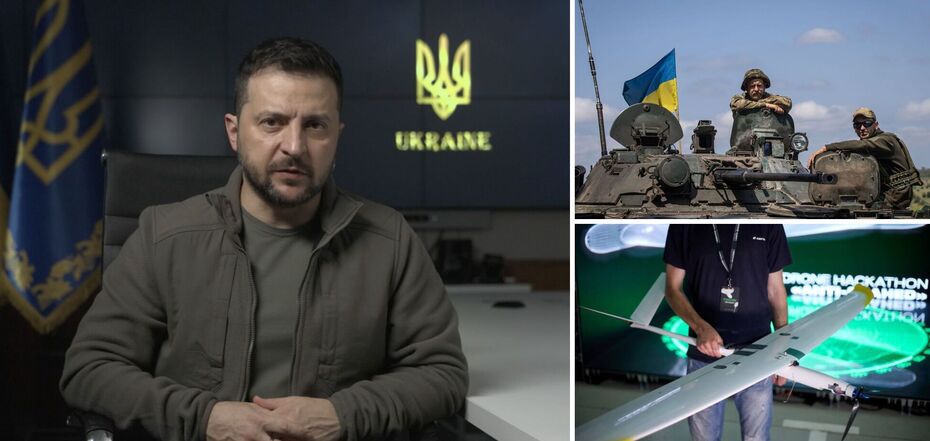 Zelensky points out key challenges of the military-industrial complex and Ukraine's successes
President Volodymyr Zelensky said that Ukraine will be able to build a long-term, reliable peace through the development of the military-industrial complex on its own and in cooperation with global arms manufacturers. The country is ready to share real combat practices with partners so that the world cannot be threatened by any aggressor in the future.
The Ukrainian leader spoke about this at the first Defense Industries Forum. The event was held in Kyiv on September 29 with the participation of hundreds of arms manufacturers from dozens of countries (to watch the video, scroll to the end of the news story).
"It is the broad coalitions that support our defense. It is the production of weapons and ammunition here in Ukraine. And it is the fact that we are implementing technologies in the defense of Ukraine, making combat practices more effective. It is real practices of moving forward and protecting people and infrastructure from Russian terror," the President explained the way to achieve peace.
He emphasized that Ukrainians have learned this on their own, and now they are ready to teach and share their practices with partners. After all, everything that serves Ukraine's defense can also serve theirs. This is what the country lays at the heart of the arsenal of the free world.
"With its criminal and unprovoked aggression against Ukraine, Russia has shown every nation that it can threaten the sovereignty and normal life of any nation on the planet. By our defense in this war, by our movement to liberate our own territory, every state understands what it needs for its own defense, including weapons, production, modern technologies, and alliances," Zelensky said.
He believes that Ukraine will show everyone who values peace on earth a successful strategy of national and collective defense by the way it has withstood the war with Russia and will win it.
The President emphasized that today powerful defense industry complexes are determined for decades to come, as well as their priorities and the standard of defense in the world. Ukraine itself is now a part of the defense "marathon". It is very important to move forward without retreating.
"This is critical. We need a frontline result every day. I am grateful to everyone who helps us ensure it. However, it would be impossible without our own production of weapons and shells, our own defense technologies. That is why I am proud that the forum includes representatives not only of leading foreign companies but also of our domestic production facilities both public and private, new and known ones. They become more powerful in times of war," Zelensky added.
He recalled the world has already seen what Ukrainian missiles and modern technologies are capable of. It was the Ukrainians who created the world's first fleet of naval drones, "which makes Russian ships meaningless and forces them to hide." In addition, Ukraine has begun to produce guns and shells of NATO caliber, which are needed on the battlefield.
According to the president, our anti-tank missile systems are more long-range, safer on the battlefield and in control than several other alternatives. Kyiv also offers its own software solutions for defense from command and control to cybersecurity. Ukraine is interested in localizing the production of equipment necessary for its own defense and each of the advanced defense systems used by the Armed Forces and producing results at the front.
"This is the kind of cooperation in the production of weapons and equipment, as well as shells, that we are already negotiating with our partners," Zelenskyy said.
Among the achievements that can be announced, he named an agreement with the United States to create a system "that will strengthen the defense of Ukraine, America and all partners."
A Defense Industries Alliance was announced to be established in Ukraine, as well as a special economic regime and a defense fund for arms manufacturers.
As OBOZREVATEL previously reported, Volodymyr Zelensky spoke about the future production of weapons and air defense systems in Ukraine. He noted that the world has a clear interest in cooperating with Ukrainians in this area.
Only verified information on our Telegram Obozrevatel and Viber. Do not fall for fakes!