Trending:
Ukraine in NATO and the EU: Spanish Prime Minister arrives in Kyiv and sends a clear message to Putin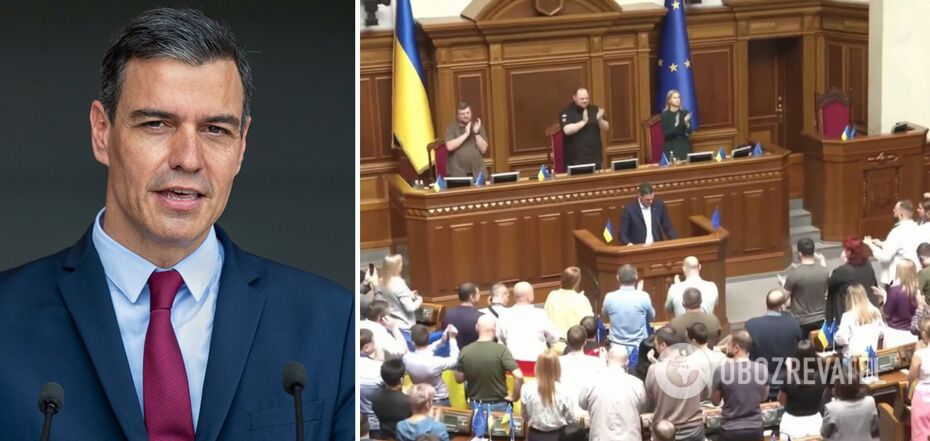 Spanish Prime Minister arrives in Kyiv for negotiations with Zelenskyy and addresses the Verkhovna Rada
Spanish Prime Minister Pedro Sánchez arrived in Kyiv on an official visit on 1 July. He assured that the whole of Europe stands in solidarity with the Ukrainian people and will support Ukraine until peace reigns in Europe.
Sánchez himself wrote about this on Twitter. During the visit, the Spanish prime minister spoke in the Ukrainian parliament and held negotiations with President Volodymyr Zelenskyy.
It is known that the Spanish Prime Minister arrived in Kyiv on the first day of the country's presidency of the EU Council.
"I am already in Kyiv. I wanted the first event of the Spanish presidency of the EU Council to be in Ukraine with Volodymyr Zelenskyy. I will express all European solidarity to the Ukrainian government and parliament. We will continue to support the Ukrainian people until peace reigns in Europe," Pedro Sánchez wrote on the morning of 1 July.
The Spanish Prime Minister began his visit to Kyiv with a speech in the Parliament.
"Today, the Prime Minister of Spain, Pedro Sánchez, addressed the Verkhovna Rada. This is his second visit and speech to the Verkhovna Rada. The last time he was here was on 23 February this year," MP Yaroslav Zheleznyak wrote on his Telegram channel, posting a photo with Sánchez on the rostrum of the Rada.
His colleague Oleksiy Honcharenko posted a video of MPs greeting the Spanish Prime Minister with applause.
During his speech, Sánchez announced that Spain was providing Ukraine with a new aid package worth €55 million. The Spanish prime minister also promised to support Ukraine "as long as it takes" and "regardless of the price".
"We want a just and lasting peace in Ukraine. Only Ukraine can determine the conditions and time for peace negotiations. Other countries and regions are presenting their peace plans. We highly appreciate their participation, but at the same time, we cannot accept them in full," the Spanish prime minister said.
Before meeting with Sánchez, Zelenskyy spoke to a group of Spanish journalists.
"Before his important visit to Kyiv, Spanish Prime Minister Pedro Sánchez spoke to Spanish journalists. Madrid begins its six-month EU presidency with a visit to Ukraine. For us, these will be crucial six months for the start of accession negotiations. We count on Spain's support in this. We have a common task: to work with the countries of Latin America and involve as many of them as possible in the implementation of our peace formula. We talked about this, as well as about the egregious situation at the Zaporizhzhia nuclear power plant, the split in Russia and our expectations from the NATO Summit in Vilnius," the Head of State said.
At around 2:50 p.m., he announced that he had met with Sánchez, thanking him for his important visit and for his support of the Ukrainian people.
According to Zelenskyy, it is extremely symbolic that the Spanish prime minister came to our country on the very first day of his country's EU presidency.
"Our common European home is definitely unimaginable without Ukraine, without our courage and commitment to freedom and justice," Zelenskyy wrote.
What the politicians discussed at the press conference
At a joint press conference with the President in Kyiv, Sánchez reminded that last week the EU approved the 11th package of sanctions against Russia, which contains a mechanism to prevent their circumvention. According to the Spanish prime minister, the adoption of the next package of sanctions against Russia and the EU's active financial support for Ukraine is a clear signal to Russian President Vladimir Putin that the EU is determined to stand united until a just peace is achieved in Ukraine.
"This will make the long list of bans and restrictions more effective. Sanctions may not have an immediate impact, but they impose heavy long-term costs on Russia. In addition, they underline that we stand united against Putin and are determined to stand firm until a just peace is achieved," the Spanish prime minister said.
Sánchez also reminded that a few days ago, the EU proposed a €50 billion package for the next four years to be used to rebuild Ukraine.
"This should, on the one hand, help to close the gaps created by the aggressive war in the Ukrainian economy, and on the other hand, it is another clear signal to Putin: Europe will stand with Ukraine for as long as it takes. This is a statement that we have been using all along, but now it is turning into a multi-year approach," the Spanish Prime Minister stressed.
For his part, President Zelenskyy said at a joint press conference with Sánchez that Ukraine and Spain had signed a joint declaration, which became the 21st document supporting Ukraine's membership in NATO.
"Our today's statement is the 21st such document with Allies, and this is the majority. We count on Spain's support for Ukraine at the NATO Summit in Vilnius, and Ukraine is convinced that today there are all the grounds to invite Ukraine to join NATO," Zelenskyy said.
The document states that Spain supports the strengthening of NATO's partnership with Ukraine, in particular through the establishment of the NATO-Ukraine Council as a platform for further strengthening and expanding ongoing cooperation to facilitate Ukraine's path to the Euro-Atlantic family in accordance with the Bucharest Declaration.
As noted, Ukraine and Spain look forward to addressing these issues at the NATO Summit in Vilnius in July 2023.
On 16 June, it was reported that Spain would provide Ukraine with dozens of armoured vehicles and four Leopard 2A4 tanks. A month earlier, Madrid decided to transfer Leopard 2 tanks and a batch of M-113 armoured personnel carriers to the Ukrainian army.
Also in late May, it was reported that Spain would not participate in the F-16 coalition because it does not have such aircraft in service. For the same reason, the country will not be able to participate in the training of Ukrainian pilots on these Western fighters.
Only verified information is available in our Obozrevatel Telegram channel and Viber. Do not fall for fakes!