Trending:
Poroshenko: The sooner Ukraine becomes 33rd NATO member, the better for the West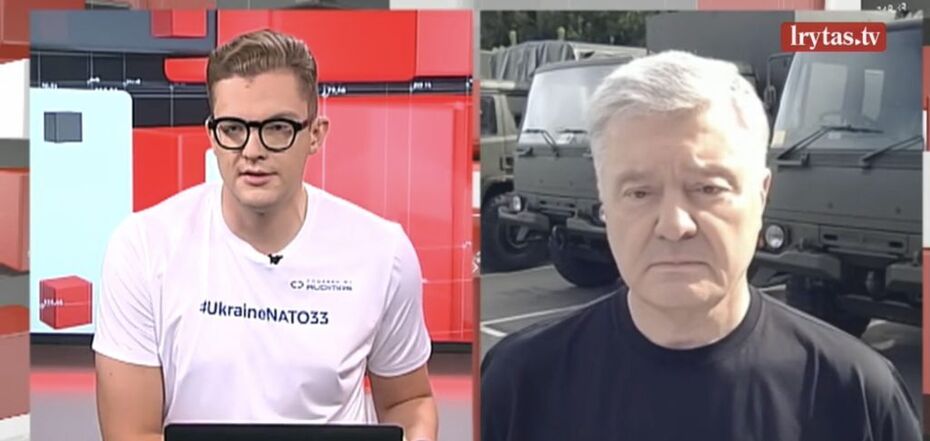 Poroshenko addresses NATO leaders on Lithuanian TV channel. Source: eurosolidarity
In an interview with Lithuanian TV channel Lrytas.tv, Petro Poroshenko called on the leaders of the North Atlantic Alliance to define specific conditions for Ukraine's membership in NATO so that our country could become the 33rd member of NATO at the next summit in Washington.
He noted that a similar mechanism had been used when Ukraine received a visa-free regime with the EU. Poroshenko also noted that Ukraine can fulfil the necessary conditions as quickly as possible, and that the Armed Forces of Ukraine is already the best army in Europe, which is de facto created according to NATO standards.
"Now it is not Article 5 of NATO that protects Europe and NATO from Russian aggression, but the blue and yellow shield of the Armed Forces of Ukraine. We are now the strongest and most effective Armed Forces on the continent that can stop Russian aggression and deputinise Russia and Europe," he said.
"I am confident that NATO countries will certainly find a solution. I am very impressed with 33,000 Ukrainian flags in Vilnius. A lot of Lithuanians and guests of Vilnius are holding a flash mob of support and a certain impetus to NATO leaders to be brave enough, not to be afraid of Putin. Do not be afraid to defeat Russia. Do not be afraid of a Ukrainian victory. We need support and maximum results in Vilnius," Poroshenko said.
"More than 90% of Ukrainians support NATO membership. It is not only about stable security on the continent. It is also about peace, because Ukraine's membership in NATO is a key condition for peace on the continent," the fifth President said.
"Ukraine should be the 33rd member of NATO, and we certainly take into account the words of President Biden and some other leaders that Ukraine should be ready for NATO membership. Therefore, it is worth using the experience of the visa-free regime, which I signed in 2017. "We had 144 conditions. We had to define the criteria for the visa-free regime. And now we should also have a full list of reforms and what needs to be done in Ukraine, it should be agreed now," Poroshenko said.
"We are ready to work hard in the shortest possible time to prepare Ukraine for membership, which should take place at the Washington summit next year. We have a very good promoter, a very good agitator who is doing more than anyone else for the future of Ukraine's membership. The name of this promoter is the Armed Forces of Ukraine. They are conducting the most difficult negotiations, they have the most powerful arguments for the future membership of the Ukrainian people," Poroshenko said.
"Putin understands only one language - the language of force. And NATO must also learn from Ukraine how to speak to Putin in the language of force. If we speak the language of power, we will definitely win, if we are afraid of him, Putin will win. This is a very clear choice. We are doing everything possible to ensure the victory of democracy and freedom. And the sooner Ukraine becomes a NATO member, the better it will be for the West," Poroshenko said.