Trending:
Orban said that "the poor children of Africa did not receive Ukrainian grain", following the traditions of the Russian propaganda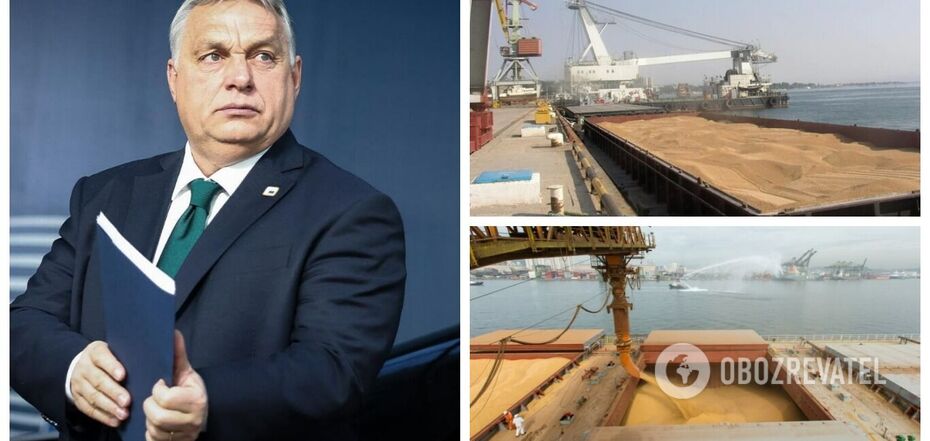 Orban speaks about grain exports in the style of Kremlin rhetoric
Hungarian Prime Minister Viktor Orban called the export of Ukrainian grain through the Black Sea a "commercial project of the United States." At the same time, the politician claimed that the products allegedly do not end up in Africa but remain in Europe.
In addition, Obran considers the export of Ukrainian grain a "fraud." He said this on Hungarian television (to watch the video, scroll to the bottom of the page).
Orban basically repeated the propaganda narrative of the terrorist country Russia that Ukrainian grain allegedly remains in Europe and does not reach African countries. The politician said that "poor children do not see bread".
"It turns out that we export grain from Ukraine, but it does not reach Africa. Thus, European traders, having cheaper grain than Hungarian, Romanian and Polish ones, started buying cheaper Ukrainian grain instead of ours. Poor African children don't see a kilogram of bread. There is obvious fraud here," Orban said.
In addition, the Hungarian prime minister accused the European Commission of "fraud" regarding the export of Ukrainian grain. According to Orban, products from Ukraine end up in Europe at low prices. Following Russian propaganda traditions, he blamed the United States for all the troubles.
"That's why we fought in Brussels. We wanted to ensure that Ukrainian grain could not be imported to Central Europe and stayed here. We have to fight such battles with Brussels every day. Brussels is simply not ready to take the side of the member states and peoples of Europe but represents completely different interests. These are not European, Romanian, Polish or Hungarian interests but rather American ones," Orban said.
As a reminder, the office of Hungarian Prime Minister Viktor Orban came up with another absurd statement about the Russian-Ukrainian war. The representative of the head of the government Gergely Gulyás said that the terrorist state Russia allegedly needs to be given a "security guarantee".
Hungarian Prime Minister Viktor Orban continues to play into the hands of Kremlin dictator Vladimir Putin, saying that the West should reconsider its relations with Russia. In particular, Ukraine's international partners should abandon their beliefs about restoring Ukraine's territorial integrity and joining NATO.
Earlier, Orban called the position of the United States, which is firmly convinced of Ukraine's final victory over Russia in its administrative territories, a lie.
As reported by OBOZREVATEL, Orban blamed the West for supporting Ukraine. According to him, Ukrainians suffer from these actions and the war cannot be stopped peacefully. To end this, there must be a "ceasefire" right now.
Only verified information on our Telegram Obozrevatel and Viber. Do not fall for fakes!