Trending:
"No one has the right to destroy food security": Zelenskyy says grain deal can work without Russia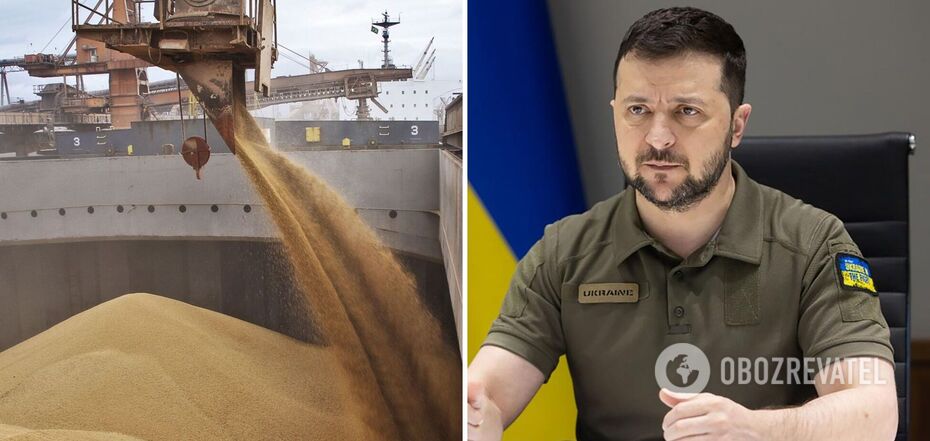 Zelenskyy speaks out on the prospects of prolonging the grain agreement
Blackmail by Russia, which jeopardises the food security of many countries, cannot be resolved. President Volodymyr Zelenskyy has sent official letters to Turkish President Recep Tayyip Erdogan and UN Secretary General António Guterres with a proposal to continue the work of the Black Sea Grain Initiative or its analogue in a trilateral format.
The Ukrainian leader said this in an evening address to the nation on 17 July. The video was published by the YouTube-channel of the Office of the President (to watch the video, scroll to the end of the page).
"Ukraine, the UN and Turkey can jointly ensure the operation of the food corridor and inspection of ships," the guarantor said.
He said that Ukraine's position is clear: no one has the right to destroy the food security of any nation.
"If a bunch of people somewhere out there in the Kremlin think that they allegedly have the right to decide whether there will be food on the tables in different states - Egypt or Sudan, Yemen or Bangladesh, China, India, Turkey, Indonesia - then the world has the opportunity to show that blackmail is not allowed to anyone," the President stressed.
According to him, the grain deal can and should continue to work - "if without Russia, then without Russia".
"The grain export agreement - an agreement with Turkey and the UN - remains in force. The only thing that is needed now is its careful implementation and the world's decisive pressure on the terrorist state," Zelenskyy said.
He also said that he had held a conference call on 17 July. "There were thorough reports. Frontline, security, supply of shells. Commanders, the head of the Security Service of Ukraine, heads of intelligence - the Defence Intelligence of Ukraine and foreign intelligence. The Minister of Internal Affairs, the Ministry of Defence. We are doing everything we can to ensure that our soldiers have everything they need for active operations," the guarantor said.
He thanked every Ukrainian rescuer, police officer, volunteer and doctor who save people after Russian shelling.
"Today's terrorist attacks on Sumy, Kharkiv, Donbas, Kherson and Zaporizhzhia regions will definitely not remain unanswered by our soldiers," the leader of the country noted.
He also thanked Sweden, which has approved a strategy to help Ukraine until the 27th year of its existence.
"This is very important - signals of long-term support. Support for life, restoration of life, support for the fact that the Russian terror is definitely losing. Mr Prime Minister Kristersson, the entire Swedish government, each and every person in Sweden - I thank you very much!" - said the President of Ukraine.
The news is being supplemented...