Trending:
No help for people, only shelling: Zelenskyy told about the crimes of Russians in the flooded part of Kherson region. Video.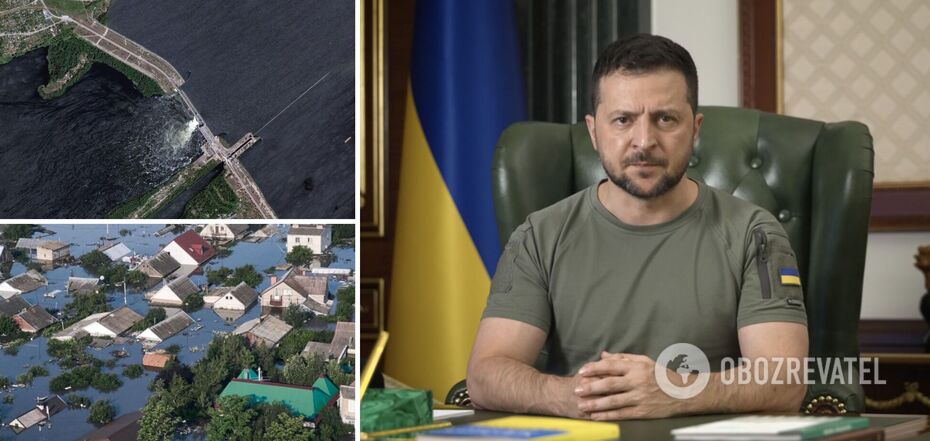 Russian shelling continues - even of evacuation points
President of Ukraine Volodymyr Zelenskyy spoke about the crimes of the Russian occupiers in the flooded part of the Kherson region. According to him, the invaders do not provide any assistance to people. At the same time, they are constantly shelling the civilian population.
The President made this statement during a video address at the end of the 472nd day of the war. The video was published on Zelenskyy's Telegram channel.
The President said that on Saturday he held talks with Canadian Prime Minister Justin Trudeau.
"Weapons and ammunition. There is a defence package, including the important 155 calibre. The coalition of modern fighters and training of our pilots is obvious progress. Moving towards NATO is also a result today. I am grateful both to Mr Prime Minister and to all Canadians for their unwavering and unequivocal support for our freedom," he said.
Zelenskyy said that the parties had discussed in detail the consequences of the Russian terrorist attack on the Kakhovka hydroelectric power station. Canada is among those who can help Ukraine recover from this disaster.
"We understand each other in the steps that are needed. And they need to be done very quickly. Of course, we will not stay away from the disaster that Canada is going through. Large-scale forest fires, enormous natural losses and the threat to people... Ukraine is ready to help extinguish the fires if Canada needs such international assistance," he added.
According to him, at some levels, the world is now simply shamefully indifferent to the ecocide and human tragedy caused by the Russian terrorist attack on the Kakhovka hydroelectric power station.
"When international organisations that are supposed to protect life on a global scale fail to form and send a rescue mission to the occupied territory even in a week, when some global actors do not dare to come out with clear and strong statements condemning this latest Russian war crime, terrorists are simply fuelled by this weakness of the world, this indifference - it encourages them. And we have to overcome this. And we will. We put pressure and encourage international organisations and international support to be in the part of Kherson region where the occupants are now," he stressed.
The Head of State noted that over 3,000 people had been evacuated from Kherson and Mykolaiv regions. But this is only the free territory controlled by Kyiv.
"In the occupied territory, only in some areas we are able to help people - Russian terrorists are doing everything to ensure that there are as many victims of the disaster as possible. Russian shelling continues - even of evacuation points. Russia is not providing any real help to people in the flooded areas - not for the sake of propaganda, but for the sake of people," he added.
The President is convinced that the Russian state and the Russian leadership should bear a separate fair and strict responsibility for this. And international organisations should work where the Defence Forces have not de-occupied our territories.
"Every life is important - the whole Kherson region, the whole south. Every town and village. We will do everything possible and impossible to help all our people," he added.
Zelenskyy thanked every rescuer, military and police, local communities and international organisations, all volunteers who are currently working in Kherson and Mykolaiv regions, as well as journalists who spread the truth and tell the world the stories of the affected people.
"Thank you to everyone who helps people after the attacks by Russian missiles and Iranian Shaheds. Odesa... My condolences to the families of those whose lives were taken by Russian terror last night... More than 20 wounded. Everyone is being helped. As every day, I am grateful to our soldiers. To each and every one of them who is on the frontline, in positions, at combat posts and on combat missions, who is destroying the enemy on the ground and defending our sky, I thank everyone who holds their positions and who is moving forward. our hero!" the President stressed.
"We will make every effort to return peace to our entire country, every city, every village, every corner of Ukraine as soon as possible. Glory to Ukraine!" - the Head of State summed up.
On the morning of June 6, it became known that the occupiers had blown up the Kakhovka hydroelectric power station, flooding dozens of settlements, including Kherson, and leaving thousands of people homeless.
President of Ukraine Volodymyr Zelenskyy called the Russian attack the largest man-made ecological disaster in Europe in decades, and Western leaders one after another called Russia responsible for the Kakhovka hydroelectric power station explosion and noted that "terrorists do not stop unless they are stopped".
According to the Ukrainian Interior Ministry, as of June 10, 27 people were reported missing as a result of the hydroelectric power plant disaster. Five were killed. Almost 50 settlements in Kherson region were flooded, including more than 30 in the government-controlled area. More than two and a half thousand people have been evacuated.
Meanwhile, as early as June 8, the legitimate mayor of Oleshky, Yevhen Ryshchuk, reported nine confirmed casualties in this temporarily Russian-occupied town alone. He added that the final losses in the occupied part of Kherson region would be much higher.
Only verified information is available in our Obozrevatel Telegram channel and Viber. Do not fall for fakes!