Trending:
"He promised Kyiv in two days, and now he cancels parades because of fear of Ukraine" - Poroshenko mocks Putin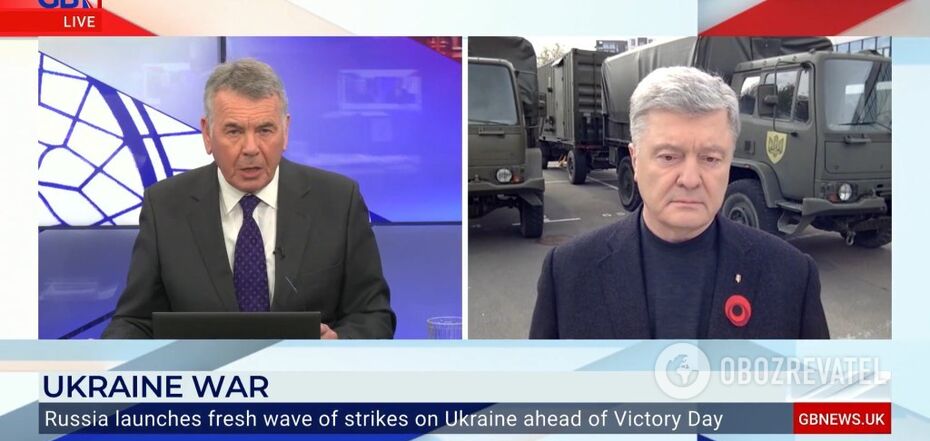 Poroshenko urges not to be afraid of Putin on GB News
Russian dictator Vladimir Putin, who a year ago expected to take Kyiv in a few days, has now been forced to cancel military parades in the regions of Russia.
This was stated by Petro Poroshenko on the British TV channel GB News. He also called on Western allies to speed up the supply of necessary weapons to the Ukrainian Armed Forces.
Answering a question about the Russian missile terror against the civilian population of Ukraine, Poroshenko said:
"We, Ukrainians, are not afraid of Putin, we are not afraid of Russia. For almost nine years, we have stood firm in defence of Ukraine's sovereignty, territorial integrity, independence and our European choice. We stand for being a member of NATO, for being a member of the European Union." In this situation, Putin cannot do anything more than what he has already done."
"He spent hundreds and hundreds of missiles against peaceful Ukrainians. He promised Kyiv in two days. And now Putin is afraid of Ukraine and the whole world, as evidenced by the fact that he cancelled their parade, their propaganda show, in many regions of Russia, because he is afraid," Poroshenko stated.
"We must maintain our unity. We must maintain solidarity and move the Ukrainian offensive to bring it closer to a new victory of the global anti-Putin coalition," the fifth President called.
"We need two things from you. First, we need weapons, ammunition, jet fighters, electronic warfare equipment, drones and training for the Ukrainian military. Thousands of Ukrainian servicemen are being trained in camps in the UK," Petro Poroshenko said.
"And we need your support for Ukraine's future membership in NATO. We expect the British government's position at the NATO summit in Vilnius this summer," Poroshenko said.
He also described the recent "drones over the Kremlin" as another of Putin's tricks.
"If the Ukrainian Armed Forces attack the Kremlin with a drone, the results will be disastrous for Putin and successful for us. This is a trick Putin is playing to mobilise his population. Nobody in the world believes that this has any connection with the Ukrainian Armed Forces or with the partisans. This is a trick of Putin's propaganda. So don't believe Putin. Putin, as a KGB officer, never tells the truth. And secondly, I repeat once again, do not be afraid of Putin. Victory will definitely be ours," Petro Poroshenko is convinced.