Trending:
When to dig up dahlia tubers: how to protect flowers from the cold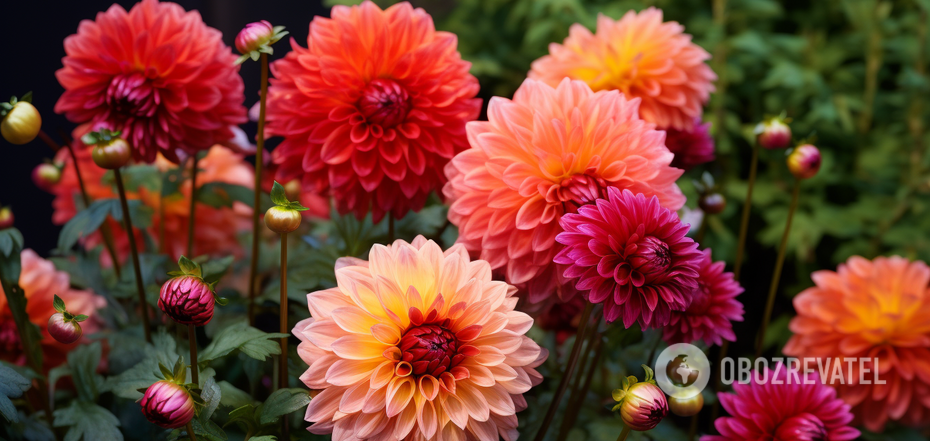 Dahlia tubers need the right storage conditions in winter
If there's one thing worth waiting for, it's the dahlia bloom season. The flowers of this plant have an amazing shape and an unusually wide range of colors. And they are quite easy to grow, but you need to make sure that they have a good winter. In particular, you need to dig up the tubers in time and correctly to move them for storage.
OBOZREVATEL asked when and how to dig up dahlia tubers. And in what conditions they should be stored until spring.
What are dahlia tubers?
In fact, the tuber from which the dahlia grows is a thickened root. It is somewhat similar to a potato. Just like this vegetable, a dahlia planted in the ground in spring can produce several new tubers over the summer. And so the flower can be propagated. Thanks to the large supply of nutrients, this type of root system makes the plant quite resistant to various conditions. But in the case of dahlias, it can't always overwinter well in frozen soil.
When to dig them up
To avoid putting the flower at risk, you should dig up its tubers immediately after the first frost. Another sign that it's time to take care of the dahlia's wintering is when its leaves begin to turn yellow and die.
How to dig up dahlia tubers correctly
When digging, it is important not to damage the tuber. Yes, it will survive a cut with a shovel or a pitchfork, but it will feel better if it remains intact. Therefore, you need to pry the tubers carefully, being careful not to hit them with the tool. After that, shake them off the soil, cut off the stem of the plant at a height of about 15 cm above the tuber, and let it air dry for 1-2 days. In this form, it can be sent for storage.
Under what conditions is it best to store tubers
It is important to store dried dahlia tubers. This will minimize the risk of decay. Then they should be placed in a cool, dry place. You can put the dug tubers in cardboard boxes filled with peat, vermiculite, or sand - this will protect them from drying out, but at the same time prevent excess moisture from settling on them. When stacking, make sure that the tubers do not touch each other during storage.
Before storing, inspect the tubers for any signs of disease or rot. Discard any damaged or infected tubers as they can infect the remaining roots.
If you are growing different varieties of dahlias, remember to label where you put which variety. This way you will avoid confusion in the spring. And make sure that they are kept cool in winter, but not frozen - dahlia tubers are not very resistant to subzero temperatures.
Earlier, OBOZREVATEL told you when to plant the bulbs of spring primroses so that they bloom as soon as the first sun appears after winter.
Subscribe to OBOZREVATEL's Telegram and Viber channels to keep up with the latest developments.