Trending:
When is the best time to fly to Thailand and features of the fall vacation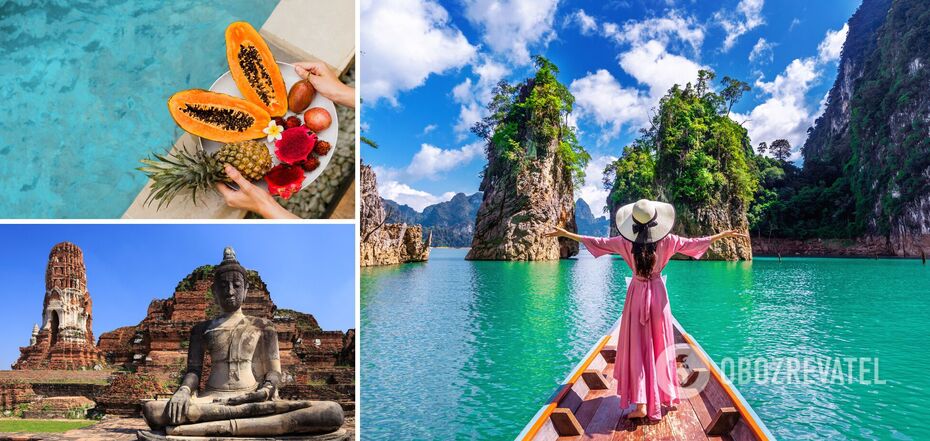 When is the best time to go to Thailand
Almost everywhere we go, we hear that Thailand is the best place to spend your vacation. A paradise that attracts tourists from all over the world. A mild tropical climate, crystal clear water where you can spend hours admiring coral reefs, delicious exotic food - what else do you need for a good vacation?
In addition, you will never see snow-covered hills and gusts of squally wind. The temperature on some islands does not drop below 18°C. And we're pretty sure you're ready to go to Thailand any minute now. But there is one small "but" that can ruin your planned or spontaneous vacation. To prevent this from happening, we have collected all the important information about the weather conditions in Thailand in one article.
When is the best time to go to Thailand?
The weather in this region, although very comfortable, has its own nuances. It can be divided into three seasons:
March through May is the hottest time, with temperatures reaching 42°C. And this is not our 42 degrees, for example, like in Odesa. The thermometer is blazing, and it seems that it is about to explode from the heat. Such weather conditions do not allow the body to cool down properly, so tourists usually prefer indoor pools or hotel rooms during the day.
From June to October is the rainy season, which can pour down like a bucket for 3 hours or more. But there is good news: precipitation usually occurs either in the morning or late at night. During this period, the temperature is moderate, ranging from 26°C to 32°C.
From November to February is the coolest time of the year for the islands, as the thermometer drops to 18°C or even less at night. And during the day, the temperature rises to a maximum of 32°C, depending on the territorial characteristics of each island.
The best time to visit Thailand depends on your preferences and how you tolerate extreme heat and high humidity. In general, you can go here at any time, but it is still worth noting that climatic conditions have a strong influence on the influx of tourists, and, of course, on the rise and fall of prices.
The most popular season begins in November and lasts until the end of February. And no wonder, because at this time in Ukraine and other European countries it becomes fresh and frosty. That's why sun and warmth lovers are happy to fly to the tropics, even though it's relatively cooler there.
The low season in the country is considered to be from March to October, when it rains regularly, and other resorts are warm and sunny. But there is a big plus: it is at this time that traveling to Thailand is the cheapest.
Of course, it's up to you to choose! There are various situations: from hot tours to unexpected offers. Therefore, below we will elaborate on each season in this area so that you know in advance what to expect from a trip at different times of the year.
Features of a holiday in Thailand in winter
Celebrate New Year and Christmas here? Why not! Many tourists choose this country to celebrate. During this period, the weather is extremely favorable and comfortable. On average, the temperature ranges from 7 to 30°C during the day and from 10 to 15°C at night. Of course, it all depends on the destination you choose. It is logical that it will be a little cooler in the northern territories and warmer in the southern ones.
But the climate is usually dry, warm, and sometimes even arid. So nothing can spoil your vacation in one of the best places in the world.
Features of a vacation in Thailand in spring
For lovers of light spring weather, Thailand will be a surprise. It is at this time that it is very hot here and there is almost nothing to fill the lungs with. The skin also does not breathe, hot air envelops the body and does not give it a chance to cool down. Being outside is difficult and sometimes even impossible. But there are places where you should stay if you really want to visit the country during this period.
For example, choose the eastern, central, or northeastern provinces, where the sun is not so hot, and frequent rains help regulate the air temperature.
Low prices will be a nice bonus to a spring vacation.
Features of a vacation in Thailand in summer
Summers in this tropical paradise are rainy and windy. Due to unfavorable weather conditions, the sea turns into a stormy and restless creature that even experienced swimmers do not dare to tame. Waves sweep away and "eat" everything in their path. The underwater currents are no less capricious, getting stronger and trying to drag as much as possible into the open ocean.
But, of course, this is no reason to refuse a trip, especially if its purpose is to get to know the country's terrain and sights. In addition, in summer there will be a minimal number of tourists - only daredevils who love Thailand in any weather. Another undoubted advantage will be the prices: when there are not so many people who want to visit the islands, the cost of services is more or less normal.
Features of a vacation in Thailand in the fall
Autumn is a transitional period in this region. At the beginning of the season, the weather can still be capricious, but not as much as in early summer. Every day it gets better and better, the temperature drops to 30°C.
It won't be long before the flow of vacationers increases several times, it becomes crowded, and the most popular season begins. In the meantime, silence and beauty...
When to go to Thailand is up to you. Take into account everything we have told you and go on your most fabulous trip of your life. Enjoy your vacation!
Earlier, OBOZREVATEL told you what to do in Thailand in early fall.
Only verified information is available on our Obozrevatel Telegram channel and Viber. Do not fall for fakes!