Trending:
"What was that?" A mysterious incident in German football caused a stir online. Video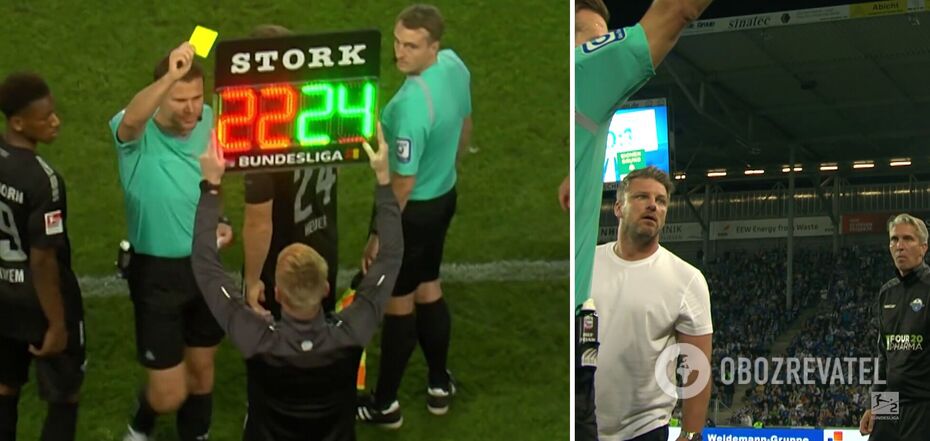 The moment occurred in a match of the second Bundesliga
An unusual situation involving a referee occurred in the match of the 10th round of the second Bundesliga. In the match between Paderborn and St. Pauli, the chief referee Martin Pedersen allegedly showed a yellow card to the fourth referee, who was standing with a digital scoreboard and making substitutions.
In the 81st minute, the home coach decided to make changes to the lineup. Two players were already waiting near the touchline to enter. Behind them was a man with a distinctive light panel with the players' numbers. Suddenly, referee Martin Pedersen came over, pointed to him and showed him the yellow card.
This moment sparked a heated discussion online. Fans did not understand how it was possible that one referee gave a warning to another.
In a few days, the video garnered about a million likes and more than 2,000 comments.
Some users explained what happened by saying that the person on the scoreboard was not a referee, but a member of the Padeborn coaching staff.
It is the receiving side that is responsible for the technical support of substitutions. The real fourth referee is behind the scenes and only at some point his right hand is visible in the lower left part of the screen.
All things considered, the referee from Stuttgart believed that the Paderborn player was deliberately delaying the game and therefore penalized him. At the time, Paderborn was losing 1-2, so it would have been absurd to deliberately delay the game.
However, the situation had a motivating effect on the hosts, as they tied the score at 2-2 just a minute later. Philippe Bilbao scored a goal, assisted by Cirold Conte, who had just come on the field. The result did not change until the end of the match.
Only verified information on our Telegram channel OBOZ.UA and Viber. Do not fall for fakes!