Trending:
What to feed winter garlic with before planting and how to grow large heads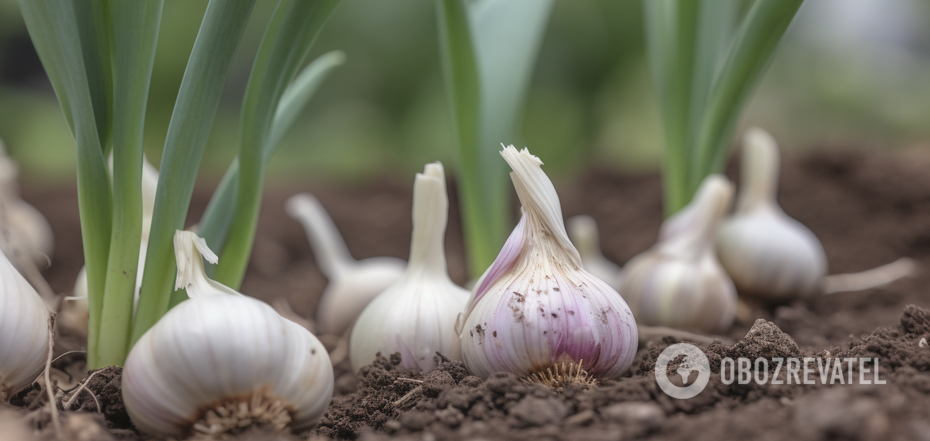 Winter garlic loves phosphorus and potassium and does not like to be planted at great depths
October is the last month when winter garlic can still be planted in the ground. This will speed up next year's harvest. To make the heads larger and juicier, feed garlic before planting.
OBOZREVATEL asked gardeners about the secrets of how to plant a vegetable in the fall. They spoke about fertilizing and planting methods to get the best results.
Fertilizing
Winter garlic needs primarily phosphorus and potassium fertilizers. These substances can be found in ordinary wood ash. You can simply scatter it over the garden bed before digging it up. You can use 100-200 grams of dry matter per square meter of area.
You can also prepare a liquid fertilizer based on ash. To do this, pour ten liters of water over a kilogram of ash and leave it to stand for two to three days, stirring from time to time. This infusion is used to water the bed at the rate of 10 liters per square meter.
Planting
Garlic, especially winter garlic, does not like to be planted at great depths. It is enough to bury small cloves at 5-6 cm, while large ones are planted at 8-10 cm. You can even bury less, it will not harm the plant.
To prevent the seeds from falling to a depth on their own, they are planted in dense soil and laid strictly vertically. Loose soil will sink and the garlic cloves will be at too great depths. Planting at an angle reduces yields.
Do not cover garlic with mulch too much. It is a frost-resistant plant that tolerates natural winter conditions. Therefore, mulching the garlic bed should be very moderate.
Earlier, OBOZREVATEL shared how to plant winter onions to avoid mistakes.
Subscribe to OBOZREVATEL on Telegram and Viber to keep up with the latest news