Trending:
Tyson Fury was knocked down but still won the fight against Ngannou. Video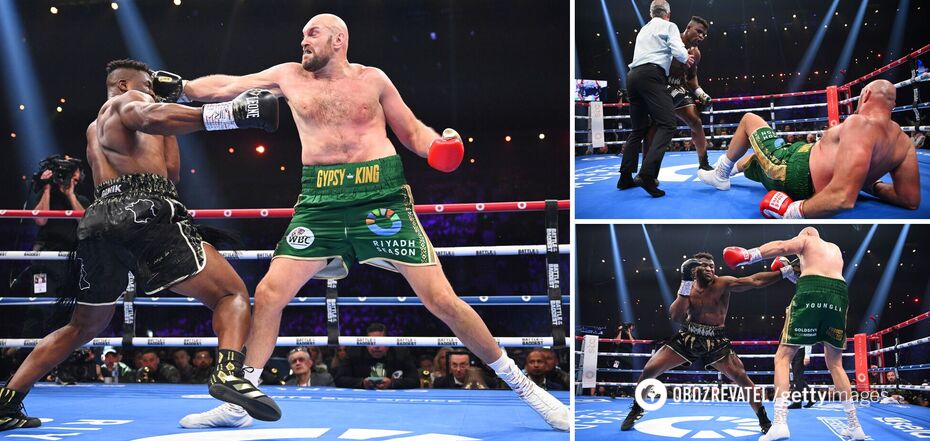 Boxing match took place in Riyadh
World Boxing Council (WBC) heavyweight champion Tyson Fury (34-0-1, 24 KOs) defeated former Ultimate Fighting Championship (UFC) champion Francis Ngannou (0-1, 0KOs). The 10-round boxing match in Riyadh ended with a split decision of 94:95, 96:93, 95:94.
The fight started without reconnaissance. From the first seconds, Tyson checked his opponent's head with a sidehead kick. Ngannou took the center of the ring, trying to break through the British defense with a jab.
It seemed that Fury was playing with his opponent, not investing in his punches. Only a few times did Tyson hit the 37-year-old Cameroonian's jaw.
Tyson Fury showed great speed, easily avoiding the Cameroonian's kicks. Ngannou was focused on the fight as much as possible, while the WBC champion was boxing for fun.
In the third three minutes, the boxers were aiming for a long time without punching to try to knock out the opponent immediately. Unexpectedly, a minute before the bell rang, Tyson missed a left side to the temple and was knocked down. Ngannou did not build on his success, calmly waiting for the bell.
In the fifth round, the Cameroonian began to get tired and Fury gradually increased his advantage. The Briton hit his opponent in the head several times.
At the equator of the fight, the former UFC champion almost stopped on his feet. Ngannou was breathing heavily, but his rare punches still posed a danger to the Gypsy King. Tyson himself looked noticeably fresher.
In the 7th round, Fury went on the attack, but Ngannou dodged and the Briton stumbled back to the canvas, this time without a knockdown.
In the 8th minute, the boxers continued heavy fighting. Tyson missed several punches to the head, visibly "floating". The Cameroonian boxer tried to build on his success, but it didn't come to a knockdown. Fury calmly withstood all the hardest hits to the head. The 9th round took place in positional "dances", Ngannou stood in the center of the ring, and Fury was "fluttering" around him, taking aim.
The 9th round was a positional "dance" with Ngannou standing in the center of the ring and Fury flitting around him.
The last three minutes were also slow. In just 30 seconds, the boxers tried to throw away the punches, but the audience never saw a knockout.
Since the 37-year-old Cameroonian-Frenchman did not participate in boxing ratings, Fury's title was not at stake, but the winner still received a special belt from the WBC. It was Ngannou's boxing debut.
Only verified information on our Telegram OBOZ.UA and Viber. Do not fall for fakes!