Trending:
Top 7 interesting Halloween looks for 2023 that everyone can repeat. Photo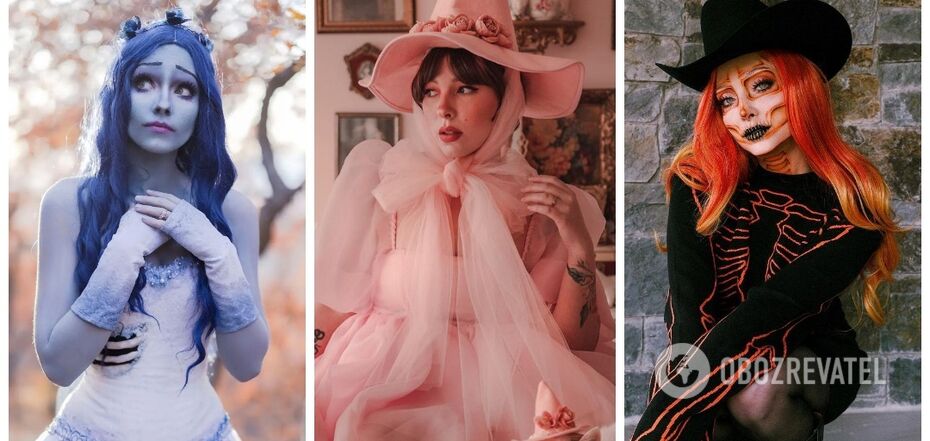 Scary looks for Halloween 2023.
In the fall of 2023, there will be a lot of beauties in the image of Barbie, which was promoted by Margot Robbie in the summer. Do you want to follow the trends? Make your own outfit in the same style. There's also a chance that girls will copy the pale-skinned and depressed Wednesday Addams, as the series about her was released last year after the horror holiday. So, yes, you will not be original if you come to a party in these costumes.
If you want to create a unique outfit, you'll have to get creative. And for inspiration, take a look at the ideas in the OBOZ.UA article.
1. Peter Pan
Do you remember Peter Pan, a character in the books of Scottish writer Sir James Barrie? He is a boy who never grows up and can fly. Try to recreate his image for Halloween. Although it will not be in the horror style, you will be able to be a fairy-tale hero among monsters and ghosts for one evening.
2. Corpse bride
Take a light, fluffy dress that you don't mind changing for Halloween. Cut out a piece of fabric in the waist area and glue polymer clay ribs to this place. Wear the outfit over a black long sleeve so that the "bones" are better visible against the dark background. The image of the character from Tim Burton's cartoon Corpse Bride is ready!
3. Countess Dracula
It's too trite to go to a horror party as a vampire. Fortunately, there is an interesting alternative - the Countess Dracula costume. How to do it? Draw a spine with ribs and arm bones (shoulder, radius, elbow, hand, and phalanges) on paper. Cut them out and glue them to the fluffy black dress. Another option is to draw the same elements on the dress using special paints that can be purchased at art stores.
4. Glamorous witch
Since this year's trend is for a Barbie-esque aesthetic (pink in everything: nails, eye makeup, lips, hair color, soft hoops, jewelry with pink stones, etc.), adapt the witch look to it. Put on a pale pink dress and apply light makeup in a similar palette. Complete the look with a pink cone hat.
5. Inspired by cowboy style
Everything is simple here. Put on a bright red wig, a cowboy-style hat, cowboy boots, and a silhouetted black dress. Use acid-colored paint to draw a skeleton on the outfit. Finally, apply bright makeup and paint your nails with dark varnish.
6. The Queen
If the evil stepmother-queen from Snow White really existed, she would definitely love Halloween. Try on this look for yourself. Put on a black maxi dress and decorate it with stripes of shiny fabric, and decorate your head with a luxurious black crown. If you have a daughter, have her dress up as Snow White.
7. Clown
Find a silver or gray dress in your closet. Sew three large pom-poms to the chest area and mesh ruffles to the sleeves. Complete the look with red shoes, a red wig and a red ball (instead of an accessory).
Earlier OBOZ.UA wrote about the top 7 non-standard hairstyles for Halloween 2023.
Only verified information is available on the OBOZ.UA Telegram channel and Viber. Don't fall for fakes!