Trending:
"The world is falling into the abyss": Medvedev throws a tantrum over Biden's statement on Ukraine and decision on UOC-MP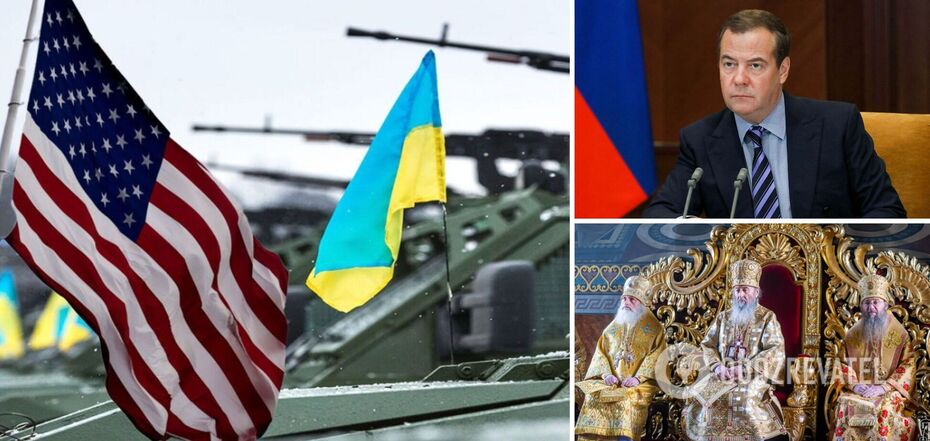 Medvedev furious over additional funds for Ukraine
Deputy Chairman of the Russian Security Council Dmitry Medvedev was once again furious over Biden's statement, who called aid to Ukraine a smart investment and announced the allocation of a record amount of money for Ukraine and Israel. The Russian politician was also outraged by the ban on the Moscow Patriarchate in Ukraine, saying that it was "a dirty policy involving cocaine and Satanism."
The former Russian president's inadequate statements and threats were published in one of the Russian Telegram channels. Medvedev also threatened to use nuclear weapons in response to Ukraine's supply of the latest Western weapons.
The inadequate politician, outraged by the allocation of additional funds for weapons to Ukraine, spoke of an "irreversible mental disorder" and "loss of the remnants of conscience" in Western society. He also added that the world, allegedly led by the United States, is "falling into the abyss."
"Biden called it a 'smart investment' to spend money on the deaths of other people far from the United States. We are talking about purchasing additional weapons worth tens of billions for Ukraine and Israel. Investing in the deaths of unnecessary people is smart and good. There are no words for it. This is beyond good and evil. And this is not just the dementia of an old fool, but the entire philosophy of their state life for centuries," Medvedev wrote.
He also called the decision of the Verkhovna Rada of Ukraine to ban the Moscow Patriarchate in Ukraine "cutting off the Orthodox from the cradle of the mother church" and "dirty politics." After that, the Russian dictator's henchman began to hurl insults at the Ukrainian government and president. In the end, he traditionally tried to threaten to use nuclear weapons.
"The ban on the original church in Malorossia is a dirty policy, heavily mixed with cocaine and Satanism... The church will be revived, but through the blood and suffering of the civil war. And sooner or later, the quantity of weapons supplied will turn into quality. High explosive, cumulative, incendiary and high-explosive charges will turn into nuclear charges," Medvedev said.
Earlier, Medvedev said that the Hamas terrorists who attacked Israel had allegedly obtained Western-style weapons that were originally transferred to Ukraine. However, even before this post was published, the GUR reported that Russia plans to use the Hamas terrorist attack on Israel as a pretext for a large-scale provocation against Ukraine.
Only verified information is available on our Telegram channel OBOZ.UA and in Viber. Do not fall for fakes!