Trending:
The main color of this fall is red: how to wear and what to combine it with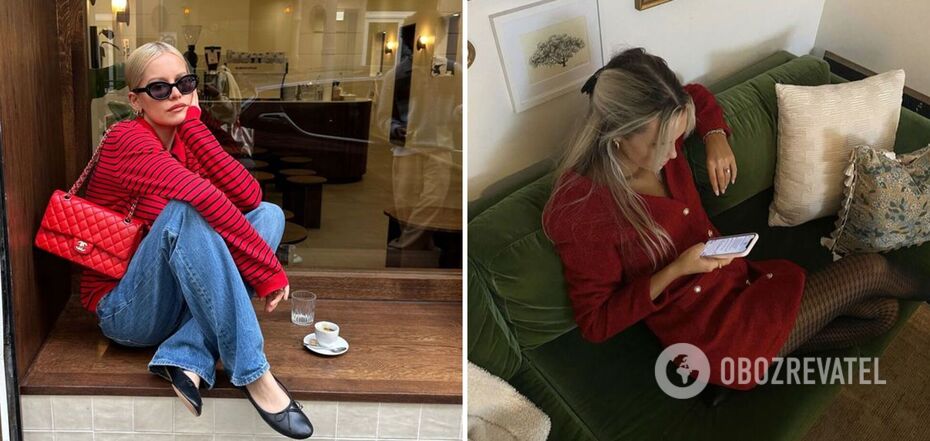 Red is the hit of this cold season. It can be easily integrated into your wardrobe. Source: Pinterest
One could see nothing but a passionate red color in dozens of collections of the fall-winter 2023 season. Some designers, such as Ferragamo, showed red in completely different variations. Other brands, such as Tibi, used it as an accent in the form of a bright cardigan or pointed-toe ballet flats.
Marie Claire magazine claims that red has overtaken pink in popularity, despite the huge success of the Barbie movie. Red will make any outfit more interesting, becoming a bright highlight of the look. This color can be easily combined with brown, beige, blue, or gray.
"I believe that red is a fashionable fall variant of the pink Barbiecore, as people want to continue to feel a sense of dominance, power, and enthusiasm in their wardrobe," says Shakayla Forbes-Bell, a fashion psychologist.
Red and health
"Red is a long-wavelength color,'" she continues, "and when we are exposed to long-wavelength colors, the neurons in our autonomic nervous system (ANS) are activated. This means that activity in the parts of our body that are affected by the ANS increases, such as the liver, stomach, heart, or lungs. This, in turn, has an impact on our behavior, as we become more "attentive or active".
Forbes-Bell points to studies that have shown that "people get more aroused when their partner wears red makeup or clothing. It has also been found that athletes are more aggressive when they wear red uniforms." Thus, if you're feeling strong in red, there may be a scientific reason for it.
Red and luck
"For me, it's a color that symbolizes good luck," says Caroline Maguire, Fashion Director at Shopbop, "It has great energy and is perfect for the fall 2023 season.
What to combine red with
"Red is a versatile color," she says. "It goes well with neutrals like khaki, olive, gray, or even ivory, but you can also be bold and combine red with other bright hues like hot pink.
Adding one red piece to a neutral look is also a super easy way to update your wardrobe for the new season. You don't have to wear this shade from head to toe to look fashionable. Sometimes one accessory can instantly change your look.
Accessories
If you're looking to wear red for the first time, start by adding bright accessories like scarves, sunglasses, or handbags to your fall outfits. They add a pop of color without overwhelming your look, The Gray Details writes. Another way is to get a bold red manicure to start!
Monochrome
Feel the boldness of red with a monochrome outfit. Try mixing different shades to create a chic, eye-catching ensemble. Combine items like a red sweater with a red skirt to add depth to your look.
Accent
Make red the centerpiece of your outfit with a striking red coat, pair of boots, or handbag. It's a great way to instantly transform a simple pair of jeans and a T-shirt into a stylish fall look.
Neutral shades
Balance red with neutral colors such as black, white, or chocolate brown. For example, a red skirt with a white blouse and chocolate brown boots will create a timeless and balanced look.
Layering
Use red for layering. A red cardigan over a neutral top or vest will keep you warm this fall.
Earlier, OBOZ.UA wrote about 10 things that the most stylish fashionistas in London are wearing this fall.
Only verified information is available on OBOZ.UA Telegram and Viber. Do not fall for fakes!