Trending:
The brain blocks it: the color of the bra that perfectly matches white clothes has been named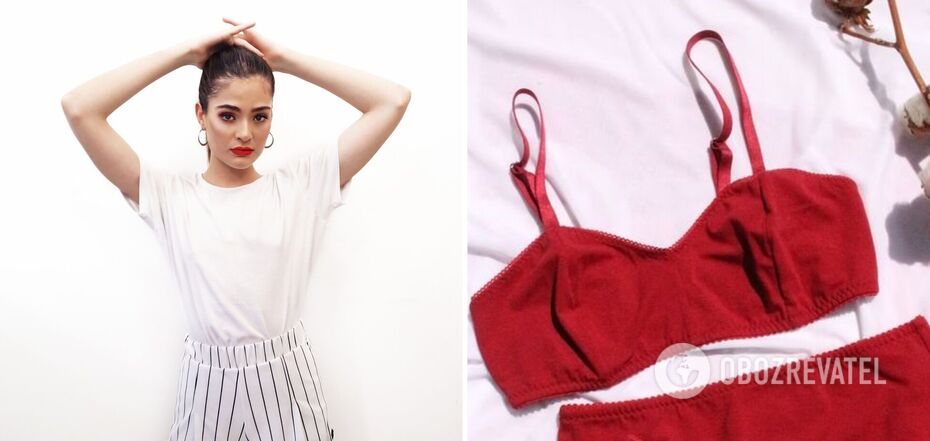 A red bra will be an ideal option for white clothes
If you wear bras, you probably know that there are many aspects to this underwear. It's not always easy to find the right size: 80% of women make mistakes when choosing a bra, according to a study published in Chiropractic & Manual Therapies.
Of course, there are less serious inconveniences, Women magazine writes: for example, choosing underwear for white shirts or dresses. There are two opinions on this matter. Some believe that a white bra under a shirt will be the best option. Others think that it is better to wear nude-colored underwear so that it is invisible under the clothes.
So what color bra is best to wear under white? The answer will surprise you - red.
Thanks to the Internet, people have come up with what they call the "red bra". As tiktoker Madison Anne said in her video: "Red is considered a universal nude color under white," adding that magenta or brick red can also work.
Madison went on to explain that the reason for this is that "the brain subconsciously blocks, for example, blood vessels under our skin that have red hues. So, when we wear something red under white, it merges with our skin and the brain simply does not notice the color. Although there are other arguments in favor of this life hack.
How it works
No matter how light or dark our skin is, we all have blood flowing through our veins and arteries. It may seem like a strange concept, but matching your bra with the shades of our blood creates a flawless look. "The skin has red hues, so red bras often work well with a white shirt," says style expert Adrienne Coleon Gaskell.
"The trick of wearing a red bra under a white top is a stylish life hack that French women have been using for years," says Josie-Anne Le Diouron, bra marketing expert and coordinator of the French lingerie company Empreinte. "The red fabric actually absorbs light in such a way that it merges with the color of the skin," he explains.
According to ColorVisit, red is very close to the middle of the light spectrum, meaning it cannot be labeled as light or dark, and is actually seen as both at the same time. It is this happy medium that gives red its ability to be neutral under white, especially when it comes to skin tones.
What you should know
While this is a trick that works for many, there are some caveats: you need to match the red to the skin tone. In other words, a bright color is not suitable for those with very light or very dark skin. However, it will suit those whose skin tone is closer to medium.
"People with dark skin tones can use burgundy or a darker wine [bra]. For those who have medium tones, like me, a real red of the middle range will do. And for women who are lighter, a less saturated color will do," says Jada Schumacher, a color expert and professor at the Fashion Institute of Technology.
Of course, a red shade will not work under a transparent white one, and the texture of the bra will also play a role in its visibility. But apart from these two points, the life hack with a red bra works.
Earlier, OBOZ.UA talked about 5 models of jeans that are already outdated or will soon lead anti-trends.
Only verified information is available on our Telegram channel OBOZ.UA and in Viber. Don't fall for fakes!