Trending:
She hid a fugitive oligarch and fell in love with a circus performer: what men were chosen by famous Ukrainian gymnasts?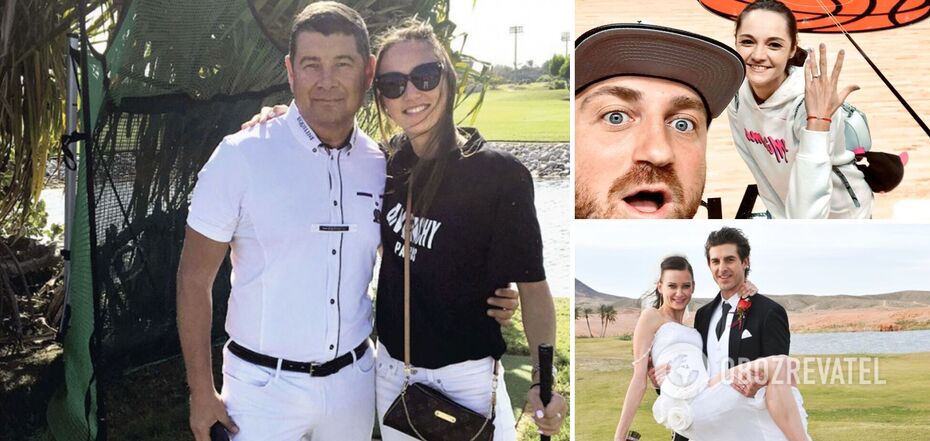 She hid a fugitive oligarch and fell in love with a circus performer: what men were chosen by famous Ukrainian gymnasts?
Starting with Iryna Deryugina, Ukrainian women have been setting the tone in rhythmic gymnastics for decades, enchanting millions of fans around the world and breaking men's hearts. The rich and influential sought meetings with the graces, but, for example, Anna Bezsonova linked her life with a fitness trainer, and Kateryna Serebryanska found happiness in the UK.
OBOZ.UA decided to tell you who managed to conquer the stars of Ukrainian rhythmic gymnastics - Anna Rizatdinova and Anna Bessonova, Kateryna Serebryanska and Olena Vitrichenko, Irina Deryugina and Tamara Erofeeva.
Ekaterina Serebryanskaya. The absolute world and European champion, gold medalist of the 1996 Olympics, attracted the attention of many men. But in 2000, she gave birth to her first son, Yevhen, in proud solitude and, as she later admitted, experienced the whole bouquet of public condemnation for having a child out of wedlock.
The media reported that the father of Serebryanskaya's son is an influential businessman, but the gymnast never disclosed his name. According to the champion, the man did not marry her, but took an active part in the upbringing of her son, who was educated in Austria and sought to build his own business.
For more than four years, Kateryna was in a relationship with TNMK leader Fagot (Oleg Mykhailyuta). It seemed that things were getting close to a wedding, and the musician got along well with the gymnast's son. But at the end of 2009, the couple unexpectedly broke up.
It was only 10 years later that Kateryna admitted that she was the one who initiated the breakup: "Four years, I think, is a family by and large. There came a time when one of us had to make a decision to move forward. Oleg may not have been ready at that time. I, in turn, did not really want to wait for something."
Soon after breaking up with Fagot, Kateryna disappeared from the social scene and TV screens and moved to London, where no one knew her, in search of herself. It was in the UK that she finally found her personal happiness and got a full-fledged family.
Having understood herself, she recognized the love of her life in her old friend. In 2015, the athlete married a businessman whose name she does not disclose. At the age of 39, she took a chance and gave birth to her daughter Maria, and at the age of 42, to her son Kostya, despite all the horror stories about late pregnancy.
Anna Bezsonova. World champion and two-time Olympic bronze medalist Anna Bezsonova has always kept her personal life a secret, while the media has been marrying her off to one influential admirer or another. For a long time, her alleged affair with her partner on Dancing with the Stars, the famous choreographer Alexander Leshchenko, was discussed. But it didn't lead to anything.
However, in April 2018, the gymnast could no longer keep her lover a secret, having received an offer right during an NBA game in Miami.
Bezsonova's choice was the popular Ukrainian fitness trainer Dmytro Momot. In Kyiv, Dmytro worked at the premium club "5th Element", where he was also presented as an economist, teacher, manager and professional athlete who tries everything: motorcycling, American football, paintball, snowboarding...
Around 2017, the couple moved to the United States and settled in Miami. In April 2018, Dmytro proposed to Anna on the floor of the Heat's home arena. In November 2020, the 36-year-old athlete became a mother for the first time, and in October 2022, Bezsonova gave birth to her second son and simultaneously manages to develop her own school overseas.
Elena VITRYCHENKO. The absolute champion of Europe and the world, the bronze medalist of the 1996 Olympics, Olena Vitrichenko was a real audience favorite. She even had her own stalker. But she had no time for relationships during her sports career, and after leaving the mat in September 2001, Olena found her love.
The gymnast received a call from the poet and composer Yevhen Rybchynskyi, who said that a young man would like to meet her. Olena reluctantly agreed because she doesn't like such "matchmaking," but then she decided that she had nothing to lose. The date took place in a Kyiv restaurant. Two days after meeting, Vitrychenko had to fly to Berlin.
"We had lunch with Lesha one more time, and he took me to the airport. Then he started calling every day. From Germany, I went to my mom's house in Spain, where she worked as a coach. One night, Lesha called and asked, "Do you mind if I come over and have coffee with you?" My mom and I had some free days, so I agreed," Vitrychenko recalled.
The man turned out to be Oleksiy Borovikov, the president of Kyiv's Arsenal, who was nominated by the Karpaty football club for the position of president of the Ukrainian Premier League in 2008. Olena admitted that her first meeting with Oleksiy did not excite her, but he was persistent. He flew to Spain to see her, and a little later he met her at Boryspil airport with a huge bouquet of roses and a wedding ring!
"My wife is an extraordinary, special woman, a great athlete! I clearly realize how lucky I am!" admitted Borovikov, who arranged a gorgeous winter wedding for Vitrichenko in December 2001 in Helsinki.
The wedding took place in one of the oldest European Orthodox cathedrals, built in 1868. The gala dinner was organized in a castle with gilded mirrors, silverware from the 18th century, and waiters in antique livery.
After the wedding, Olena and her husband decided to settle in Spain, where her mother was already coaching under contract, and open their own school, Vitry. In Catalonia, Vitrychenko became a mother three times. And while her sons David and Caesar chose swimming and wrestling, Aurora followed in her mother's footsteps and took up rhythmic gymnastics. And she is already winning her first victories, albeit under the flag of the United States, where the family later moved after cancer took her mother in 2010.
Anna Rizatdinova. The relationship between world champion and 2016 Olympic bronze medalist Anna Rizatdinova and odious oligarch Oleksandr Onyshchenko has not been discussed except by the lazy. When they met, the former Party of Regions MP was married to Miss Ukraine-1997 Ksenia Kuzmenko and a number of famous mistresses, including top model Snizhana Onopko and, according to rumors, former world number one Martina Hingis. But Anna had no time to build relationships.
The gymnast and the businessman first met at a sporting event, then talked online, and later went on a date: "I saw him as a completely different person... Not the way they write about him. For him, I was young: pure, honest, real, not spoiled by life and money. He grabbed hold of me and didn't want to let go. It seemed that Oleksandr did not believe that such women really existed."
However, due to the scandalous reputation of the former president of the Equestrian Federation of Ukraine and the 24-year age difference, Hanna hid her relationship. She knew that she would be misunderstood, but she did not expect such a negative reaction, even from her friends and family.
As Rizatdinova told 1plus1, they were first noticed at a fashion show in Paris, and the information got to the media: "After that, my friends and even my closest friends came up to me and asked: "Are you really with him? Tell me it's not true. At the time, I felt like I was alone on the planet! Only my mom supported me. And my father could not believe that I, his pride, could love someone like Oleksandr. We didn't talk for over a month."
But despite the general condemnation, the gymnast married the oligarch and gave birth to his son Roman in Spain in 2017. Oleksandr couldn't return to Ukraine because of a case of embezzlement in gas production and sales, which caused the state to suffer losses of UAH 3 billion. Onishchenko was on the run, and as a result, the athlete's marriage could not withstand the ordeal.
In 2019, the couple divorced, according to Anna, at the initiative of the oligarch: "We lived with the belief that things would soon get better. But then everything changed. He gave up and realized that he was hindering me. In Ukraine, I was no longer treated as an Olympic medalist, but as the wife of a scandalous oligarch. So, on the one hand, his act was noble."
In an interview in 2021, Rizatdinova admitted that Roman does not see his fugitive father, who has settled in Germany. However, the oligarch helps him financially. In October of the same year, Onyshchenko gave birth to a daughter from a new relationship.
In the summer of 2022, Anna also admitted that she had a boyfriend: "We started communicating on social media. He wrote to me and then helped me open the academy. It all started with a conversation about work, but after the first meeting I realized it was him."
The lovers were even going to get married, but decided to wait until the end of the war, as the young man remained in Ukraine and helped the Ukrainian Armed Forces. Anna moved to Spain, but eventually the relationship ended: "We tried to live at a distance, but it didn't work. I was torn between my child, love, and academia. We are no longer together."
Tamara Yerofeeva. After her career, the world champion Tamara Yerofeeva performed for two years at Cirque du Soleil, but she was tired of living out of her suitcases. Then she auditioned for a show in Las Vegas, got a job at The Ultimate Variety Show, and successfully performed a hoop show. The future husband of the Ukrainian woman, Bulgarian circus gymnast Stoyan Mechkarov, also worked in the United States for Cirque du Soleil.
"The busiest time is during the Christmas holidays, when we have three performances a day. At the end of 2007, Stoyan took part in the New Year's Eve gala performances with me. A Bulgarian by nationality, he moved to America with his parents when he was a child. We fell in love with each other. A few months later, Stoyan asked me to marry him. We celebrated our wedding in Las Vegas. And since then, I have been thanking God every day for giving me such a man. I have never met a kinder man than Stoyan in my life. He literally carries me in his arms," Tamara admitted.
On October 9, 2010, the couple had a son, Oleksandr, who, according to the athlete, further strengthened their love. And then he followed in his parents' footsteps and took up acrobatics seriously.
Victoria Mazur. World and European championships winner Victoria Mazur got married in August 2017. The gymnast's fiancé, Volodymyr Panchenko, is a Donetsk resident who has lived in Kyiv since 2005 and was far from sports professionally, promoting his business project.
According to Victoria herself, she met her future husband on Instagram. Just 4 months into the relationship, she wanted Vova to propose to her, and 7 months later, the lovers got married. According to the athlete, she has found support in the person of Volodymyr and is very happy.
"He is my number one fan! I never thought he would be interested in gymnastics. Before I can even get to my bag with the items after the performance, I already have an SMS on my phone with my score and, of course, comments about my performance. I even watch football on TV with more interest than my husband," Victoria admitted to kp.ua.
Mazur became a mother for the first time in December 2019: the "artist" gave birth to her son Oleksandr in a Kyiv hospital,.
Iryna Deriuhina Irina Deriuhina, the only two-time absolute world champion in the USSR, was the leader of rhythmic gymnastics in the 1970s and was considered one of the most beautiful athletes in the Union. And the more medals Deryugina won, the bigger the "mountain" of broken men's hearts grew. Although Iryna herself never considered herself beautiful.
And the winner of the Golden Ball, the legend of Dynamo Kyiv, Oleg Blokhin, managed to win the spectacular brunette. Albina and a serious injury played a key role in this. Iryna was just recovering from a torn ACL, and her mother insisted that she consult Blokhin, who had recently recovered from a similar injury.
After that fateful phone call, the Soviet Union stars began dating, and Oleg proposed to Iryna soon. Deriuhina married the USSR national team striker in 1980, and ended her career in 1982
Soon after, the couple had a daughter, Irina, but after 19 years of marriage, the athletes divorced. Their feelings could not stand the test of distance. After the collapse of the Soviet Union, Deryugina stayed to work with her mother in Ukraine, while Blokhin trained football players in Greece. "I couldn't be around such a strong personality. It was hard for me with Irka," Blokhin once admitted.
Earlier, OBOZ.UA told you where the famous gymnast Vitrichenko, who fought Kabaeva on the carpet, disappeared and what she looks like.
Only verified information is available on the OBOZ.UA Telegram channel and Viber. Do not fall for fakes!