Trending:
Shawarma salad for a snack, without mayonnaise and in just 10 minutes: no need to cook or fry anything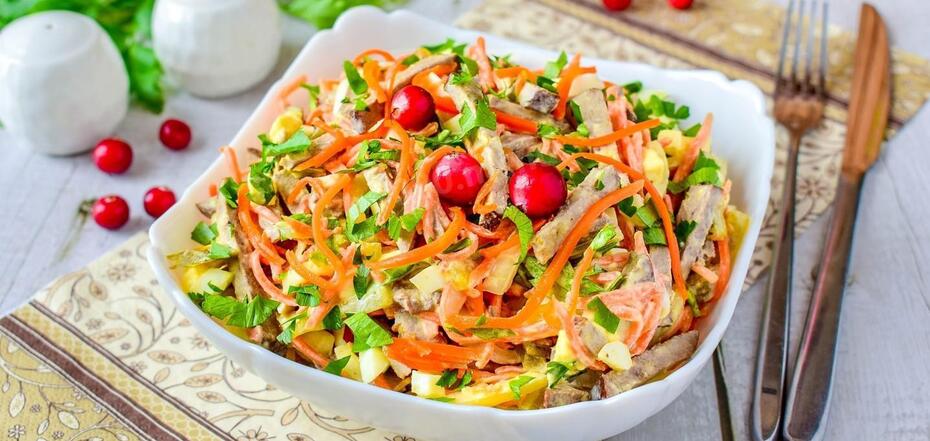 Salad recipe. Source: 1000.menu
A vegetable salad is an ideal dish for lunch, dinner, and a festive table. It is worth noting that in autumn and winter, salads are best prepared with seasonal vegetables, such as beets, carrots, pumpkin, and cabbage.
Cook Valeria shared on Instagram a recipe for a delicious and very easy-to-prepare salad with vegetables, fillet and sauce.
Ingredients:
Smoked, baked or raw chicken fillet - 1 pc
Pita bread - 1 pc
Cucumber - 1 pc
Tomato - 1 pc
Korean carrots - 2 tbsp
Chinese cabbage - 1/4 pc. from a large head of cabbage
For the sauce:
Sour cream - 1 tbsp
Mayonnaise - 1 tbsp
Mustard - 1 hour
Garlic - 1 clove
Ground pepper
Method of preparation:
1. For the sauce: mix all the ingredients.
2. Cut the pita bread into squares and dry in a dry frying pan.
3. Cut the fillet into cubes, add the spices to the chicken, mix, and fry until golden brown.
3. Put the Chinese cabbage, Korean carrots, chopped cucumbers and tomatoes, fillet, pita bread on a dish, pour the sauce over it - you're ready to serve!
You can also find recipes on OBOZ.UA: