Trending:
Serhiy Syvokho was "buried" in Russia: who launched the news of his death, what ailed the showman, and where he disappeared to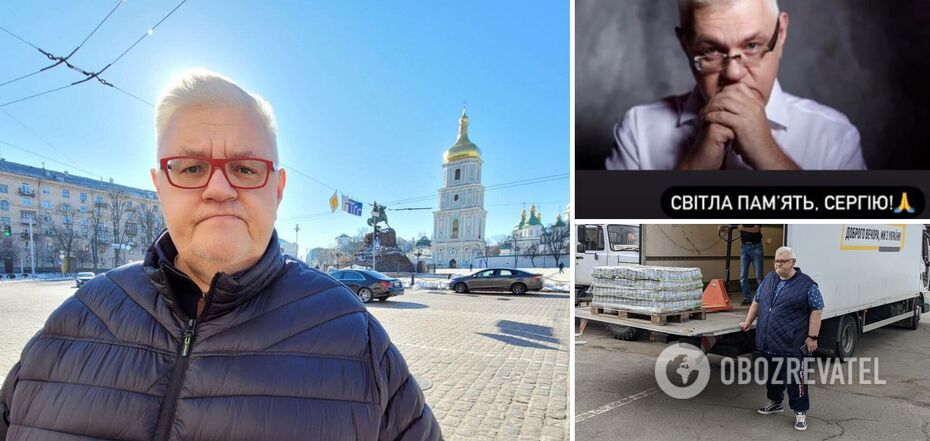 Serhiy Syvokho was ''buried'' in Russia
On the night of Tuesday, October 17, Russian media reported the death of Ukrainian TV presenter, former KVN player and former National Security and Defense Council Secretary Serhiy Syvokho. The propagandists claimed that his life ended at the age of 55, allegedly in the temporarily occupied Donetsk.
The information was even spread by some of the showman's colleagues in Ukraine, and later the original sources themselves denied the information, stating: "Syvokho is alive, but in extremely serious condition. OBOZ.UA tells about who spread the news about the death of the actor and TV presenter, what he was ill with and where he disappeared to.
How Syvokho was "buried" in Russia
The first to report the death of the 54-year-old Ukrainian showman was his compatriot, a member of the DPR Writers' Union and the so-called Public Chamber of the Russian Federation, Anna Revyakina. This was immediately replicated by the Russian media and propaganda publics on Telegram.
Syvokho's Ukrainian colleague, TV presenter Oleksiy Sukhanov, also expressed his condolences on Instagram.
However, Revyakina soon said that the showman was alive, but doctors were "ready to disconnect him from the life support system" and allegedly suggested that the family "say goodbye to Serhiy." According to her, Sivokho "developed multiple organ failure" on the background of sepsis.
Some online publications, referring to his family, also wrote that the man was alive, albeit in a very serious condition.
Who is Serhiy Syvokho?
Serhiy Anatoliyovych Syvokho was born on February 8, 1969 in Donetsk. He graduated from the Donetsk Polytechnic Institute with a degree in metallurgical engineering and received a second degree in economics and legal counsel. He also graduated from the Donetsk Institute of Entrepreneurship with a degree in Organization Management.
Syvokho became famous for his play for the Dream Team. After KVN, he started acting in movies. In the 2000s, he hosted the entertainment program Hidden Camera on 1+1 TV channel. From 2011 to 2013, he was a creative producer of the program "Big Difference in Ukrainian", he programs "How to Become a Star" and "My House is on the Edge". Later, he became a producer at Kvartal 95 and accepted an offer to coach the first season of The League of Laughter.
In 2019, Syvokho began his political career. He ran for parliament from the Servant of the People party in a constituency in Donetsk Oblast, but was unsuccessful. From October 21, 2019, to March 2020, he was a freelance adviser to the Secretary of the National Security and Defense Council on reintegration and restoration of Donbas.
On March 12, 2020, a presentation of the National Platform for Reconciliation and Unity was held in Kyiv, which turned into a scandal and lawsuits for Syvokho. After all, he called the war in Donbas an "internal Ukrainian conflict," which led to him being surrounded by ATO veterans. During the fight, Syvokho fell down, and one of the veterans was arrested. The showman later filed a lawsuit against the veterans.
Also in 2020, Syvokho launched the National Platform for Reconciliation and Unity, which he renamed the National Platform for Recovery and Unity after the start of the full-scale invasion. The organization provides humanitarian aid to Ukrainians affected by the war with Russia.
Syvokho also conducted interviews with famous Ukrainians for the YouTube channel Novyi Mir - European TV Channel in Russian. Over the past year, he has spoken with actor Volodymyr Horyansky, TV presenter Andriy Bednyakov, businessman Andriy Palchevsky, and doctor Yevhen Komarovsky.
What is known about Syvokho's disease?
In 2021, in the Star Trek program, Serhiy Syvokho said that since childhood he had been suffering from bronchitis with an asthmatic component, which caused him to be overweight, and to have constant shortness of breath and cough.
"My father is an athlete, and my mother was also slim. I've never been complex about it. And you know, until I was quite vigorous, that is, until recently, I didn't even feel these pounds," he said.
In 2017, Syvosa, who weighed 195 kilograms, was diagnosed with a stomach ulcer. The showman felt very weak and did not understand what was happening, and it turned out that he was losing blood. On the advice of doctors, he began to lose weight and at the age of 51 lost 50 kilograms, but his health problems did not end. Due to his sedentary lifestyle, fluid accumulated in his lungs. Doctors had to put him in an artificial coma.
"Something happened to me in the hospital and my foot went off. That is, I can't feel the foot on my left leg, so I have such small problems with movement," he said.
Syvokho also admitted that only with the support of his friends he managed to pay for his long-term treatment.
Where did Syvokho go?
After the full-scale invasion of Ukraine by Russian troops, Serhiy Syvokho disappeared from the media. His last interview with famous people on the aforementioned YouTube channel was published eight months ago.
Periodically, the star posted old photos and congratulations on religious holidays on his social networks, but it was not known where he was.
It was assumed that Syvokho focused on the activities of the National Platform for Restoration and Unity. It was from the page of this organization that he regularly reposted. For example, his last post on Facebook was on October 6, 2023, stating that the platform was sending aid to residents of Donbas and Kherson region. Judging by this, the showman could have been in Ukraine at the time.
As OBOZ.UA previously reported, in the short term of his political career, Serhiy Syvokho has scandalized with his statements about the war in the east. On the air of the propaganda TV channel "Nash" (now closed), the showman said that Ukraine is experiencing an internal conflict, and on social media he called on politicians "not to divide people into separatists and Ukrainians" but instead "to unite and be able to apologize." Moreover, Syvokho provoked a wave of outrage by claiming that the Ukrainian army was "looting in Donbas."
Only verified information on our Telegram channel OBOZ.UA and Viber. Do not fall for fakes!