Trending:
Scientists explain why it is hard to stop eating chips and fries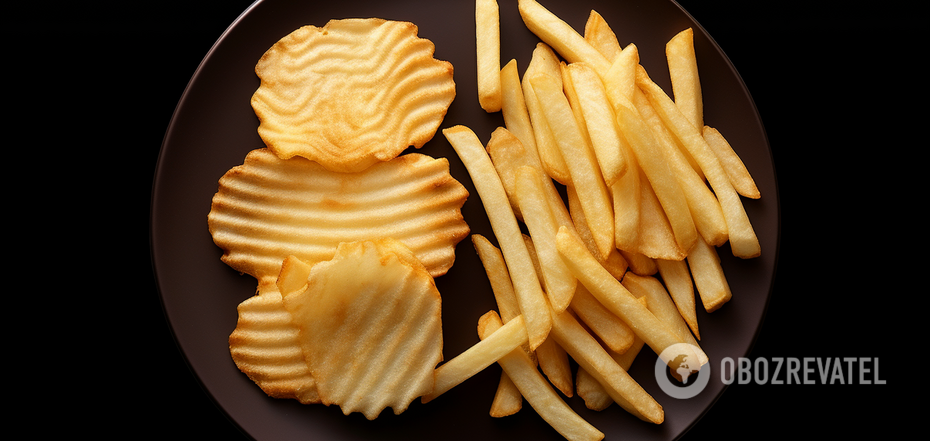 The combination of salt, carbohydrates, and fat creates a food experience that is almost impossible to resist
Have you ever made a promise to yourself that you're going to eat better, and then you see a bag of chips on the store shelf or French fries on the menu and give up instantly? Well, at least you're not alone in this. Many people find it hard to resist salty foods. It's also a combination of carbohydrates and fats i.e. easy-to-digest energy that makes the temptation almost irresistible.
Scientists have an explanation for this. It was made by Dr. Emma Davis, a food chemistry researcher for the BBC's Science Focus.
According to her, small portions of salt work as a flavor enhancer. It removes the unpleasant bitter aftertaste and increases the feeling of pleasure we get when eating. If you combine salt with fat and carbohydrates, you get a real flavor bomb. That's why salty foods are so attractive to us.
Doctors warn that we should not abuse it. Sodium chloride (which is the composition of table salt) is necessary for our body to perform various functions. However, the body has to excrete it adequately, so the formation of excess should be avoided. It can cause water retention in the body and increase blood pressure.
Researchers are now working to create proteins that have a salty flavor. They should act on the receptors of the tongue that perceive sodium ions responsible for salinity. These proteins will be able to be consumed without fear of blood pressure. But for now, their development is a matter of uncertainty. Therefore, salt intake will have to be controlled in the future.
Earlier, OBOZ.UA shared why drinking water with lemon on an empty stomach in the morning can be harmful.
Subscribe to OBOZ.UA on Telegram and Viber to keep up with the latest events.