Trending:
Russian media came up with another fake about Usyk and Fury-Ngannou fight: all the details of the "fight of the toughest"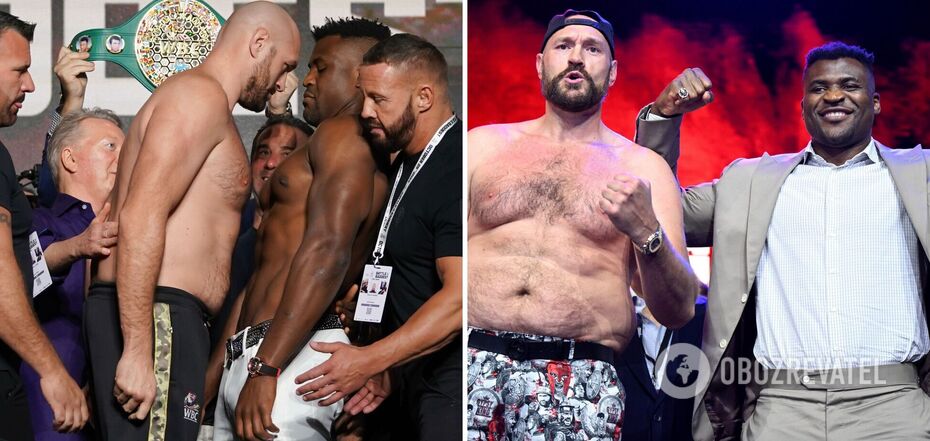 Fury to fight Ngannou
On Saturday, October 28, British boxer Tyson Fury (33-0-1, 24 KOs) will fight his first fight since December last year. The Gypsy King, as the Manchester native is known, will face former Ultimate Fighting Championship (UFC) champion Francis Ngannou.
The fight under the banner "fight of the Toughest" is being held in Riyadh, Arabia. OBOZ.UA is broadcasting the Fury-Ngannou fight online. The main event of the boxing evening starts at 00:40 on Sunday, October 29, Kyiv time. The 10-round fight will be attended by Ukrainian Oleksandr Usyk (21-0, 14 KOs).
LIVE STREAMING OF FURY-NGANNOU
Boxing. Super heavyweight
Fight for the WBC Riyadh Champion belt
Riyadh, Kingdom Arena
Tyson Fury (33-0-1, 24 KOs, Great Britain) - Francis Ngannou (0-0, 0 KOs, France)
__________________________________________
12 HOURS BEFORE THE FIGHT. By the way, the day before, the Russian media began to push a fake that Usyk had requested a residence permit in Spain. Of course, this is nonsense. Here Oleksandr will prepare for the fight against Tyson.
12.5 HOURS TO FIGHT. Usyk says the fight with Fury will take place on December 23.
13 HOURS TO FIGHT. Another video of Tyson and Oleksandr's joint performance. In Ukraine, we say, "the bigger the wardrobe, the louder it falls," Usyk commented.
13 HOURS BEFORE THE FIGHT. Usyk and Fury met on the sidelines of the fight the day before. It turned out to be epic.
13 HOURS TO FIGHT. Congratulations to all boxing fans. Tyson Fury will hold the 35th fight of his professional career today.
PROMO FURY-NGANNOU
WHERE TO WATCH FURY VS NGANNOU
In Ukraine, you can watch the fight on the DAZN video platform. A monthly subscription costs 370 UAH.
The broadcast will also be available on TNT Sports and the broadcaster's app. In the UK, the show will be broadcast by BT and Sky Sports, as well as the Virgin Media video platform.
In addition, boxing fans will be able to watch the broadcast from Riyadh on the American TV channel ESPN+.
FORECAST FOR FURY-NGANNOU
Tyson is the clear leader of the fight. Bets on the victory of the British heavyweight are accepted at odds of 1.07.
The draw is estimated at 21.00. And the success rate of the boxing ring debutant reaches 8.00.
FEES OF FURY AND NGANNOU
The opponents will receive some of the biggest fees in their careers. Ngannou will earn a record-breaking $10 million.
Fury will receive about 50 million in American currency. However, these figures do not include the percentage of advertising and TV sales.
WORDS BEFORE THE FIGHT
Tyson Fury, WBC champion:
- I think he's a big fat sausage. What can he do against me? Absolutely nothing. It's like if a table tennis champion meets Djokovic in the Wimbledon final. Boxing is a gentleman's sport, a great sport. I will knock Ngannou out.
Francis Ngannou, former UFC champion:
- If I beat Fury, which of course I would like to do, I would give him a rematch. If he wins, I would like him to give me a rematch. And I think, to be honest, a fight with Fury is a better fight for me right now than a fight with Usyk.
Oleksandr Usyk, WBO, WBA and IBF champion:
- For Tyson Fury, this is a bread and butter fight. This is my opinion. I'm speaking purely from a boxing point of view. People say that Ngannou can get hit and Fury can get hit. Yes, he can do that. But how can you do that with a two-meter giant who has 20 years of boxing behind him? This is a guy who doesn't have a single round of boxing.
FURY-NGANNOU WEIGH-IN
The Gypsy King turned out to be slightly heavier than the former UFC champion. Tyson showed a little over 125 kilograms on the scales. In turn, Ngannou weighed in at 123.3 kilograms.
As reported by OBOZ.UA, Tyson Fury asked to "let Usyk worry" about the fight against Francis Ngannou. And WBC President Mauricio Sulaiman set his condition for the British boxer to fight the Ukrainian.
Only verified information on our Telegram OBOZ.UA and Viber. Don't fall for fakes!