Trending:
Reynolds dumped a pile of manure on the building, and Banksy encouraged people to steal clothes: 5 celebrities who took revenge on their offenders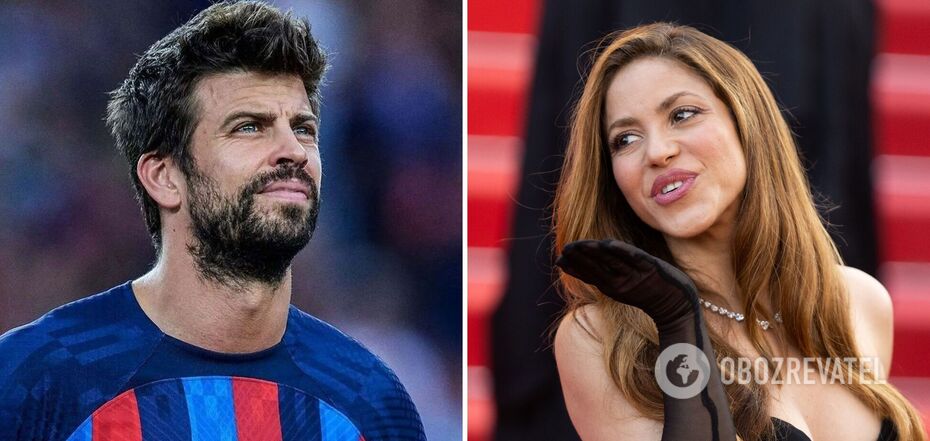 Shakira took revenge on Gerard Pique for cheating.
In 2023, Miley Cyrus ' hit song Flowers became the loudest and most scandalous. The celebrity released this song on the birthday of actor Liam Hemsworth, her ex-husband, with whom she had been married for 2 years. Is it a coincidence?
From Cyrus' video, it became clear that this is revenge for numerous betrayals. In some shots, the singer danced in her ex's costume, in which he publicly admonished Miley on the red carpet to behave. The video also shows the house where Liam allegedly had fun with his mistresses and a golden dress that looks too much like the outfit worn by actress Jennifer Lawrence at the premiere of The Hunger Games (she was suspected of having a secret affair with Hemsworth). Read about other celebrities who took revenge when they were wronged in OBOZREVATEL's article.
1. Shakira
Singer Shakira and Spanish footballer Gerard Pique were together for 12 years, and in 2022 they shocked their fans with the news of their separation. At the time, there were rumors that Pique was cheating on his girlfriend, and two months after the breakup, he revealed his new girlfriend, 22-year-old Clara Chia.
In January 2023, Shakira released the track Out of Your League, where she sang in Spanish "I'm worth two 22-year-olds," "you traded a Ferrari for a Renault Twingo; you traded a Rolex for a Casio," and "you spend so much time in the gym, but maybe it's better to train your brain a little bit." That's how she decided to take revenge on her ex for his infidelity.
What was Gerard's reaction? Shortly after his ex's song went viral, he responded: "Casio is a great watch. It can last a lifetime." He also announced that the Casio brand would become a sponsor of the Spanish media league Kings League. Later, the footballer arrived at work in a Renault Twingo. Obviously, this is no ordinary car for one of the highest paid sports stars in the world, and his message was clear. While parking, he smiled broadly at the paparazzi.
2. Banksy
The notorious English underground graffiti artist, political activist and filmmaker Banksy publicly took revenge on the American clothing company Guess. Why? The store had a painting of the artist's graffiti called Flower Thrower. The mannequins also wore clothes with Banksy's drawings. The author was angry that the company was using his designs without permission, so he shared a photo of the store in London on Instagram and wrote: "Attention all thieves: please come to GUESS on Regent Street. They used my artwork without asking. It's not right! How about you do the same with their clothes?"
So, Banksy encouraged fans to shoplift with his post. Guess glazed the storefront and posted security guards at the entrance. The company then purchased Banksy's artwork through a third party, namely Brandalized, which licenses graffiti artists' projects.
3. Susan Serendon and Julia Roberts
In 2015, the Cannes Film Festival was criticized after some women were not allowed on the red carpet by the organizers because they wore flat shoes instead of heels. According to Screen Daily, the festival confirmed that heels are mandatory for ladies and gentlemen. Some celebrities took these statements in stride, while others were angry. For example, American actress Susan Serendon put on ballet flats in protest, and her colleague Julia Roberts went even further - in 2016, she appeared on the Cannes red carpet in a maxi dress, which she later lifted to show that she was completely barefoot.
4. Burt Reynolds
The American actor Burt Reynolds was one of the most successful and highly paid stars in Hollywood in the late 1970s. In 1984, he broke his jaw during filming, which caused him to lose a lot of weight. Then journalists from the National Enquirer began to spread rumors that Burt had AIDS.
"I was treated like a leper in Hollywood, and it was the worst time of my life," the actor told The Guardian in 2017. His revenge was unforgettable: "One Christmas Eve, the pilot and I loaded my helicopter with manure from the ranch and flew over the building (National Enquirer - Ed.). Dumping manure on the National Enquirer felt great. They've been writing shit about me for years and years, so I thought it was only fitting."
5. Revenge of the costumers
In 1993, the movie Carlito's Way was released. One of the roles went to the American actress Penelope Ann Miller.
Earlier, OBOZREVATEL wrote about 5 celebrity couples who accidentally revealed their secrets with their body language.
Only verified information is available on the Obozrevatel Telegram channel and Viber. Don't fall for fakes!