Trending:
Relatives did not know he fought in an assault company: a marathon runner who was not recruited into the Armed Forces because of his health died at the front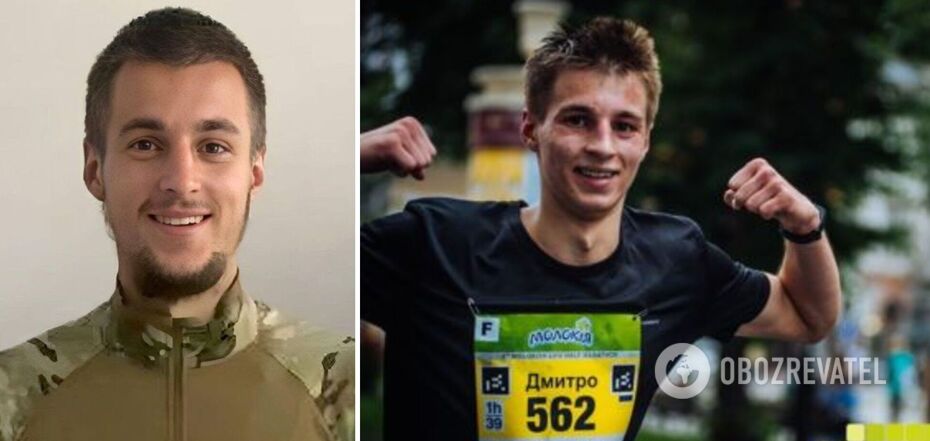 Dmytro Odynets rushed to the front, despite refusals
A 23-year-old Ukrainian swimmer, runner, and coach, Dmytro Odynets, was killed in the battles with the Russian occupiers in the Kharkiv region. The resident of Rivne wanted to serve from the first days of Russia's full-scale invasion in February 2022. At first, he was not accepted due to health problems, but later he was accepted to the assault company "Honor" of the battalion "Da Vinci Wolves".
Dmytro was born on March 4, 2000, in Rivne, where he graduated from Lyceum 25. After graduation, he moved to Kyiv and entered the National University of Life and Environmental Sciences of Ukraine. In the capital, Odynets took up sports seriously. As a member of the NUBiP team, he won the 1000-meter swimming competition in Odesa and was a silver medalist in the 5000-meter race in Minsk.
Dmytro was also a keen runner, taking part in half marathons all over Ukraine and running the full Kyiv marathon. And in 2019, the future defender became the winner of the Run Ukraine Running League among men in the 18-22 age group, having scored the most points in six races.
"According to the results of both Kyiv and Dnipro, I ran pretty well, and Lviv was my best start. It was a surprise for me. After all, I usually run in Kyiv, and Lviv is a completely different city. But by running in different cities, I discover Ukraine for myself," Odynets said.
"I draw a lot of conclusions from each start, and my training changes. You realize your mistakes and try to avoid them in order to achieve better and better results," the athlete believes.
While studying in Kyiv, Dmytro also found another vocation for himself - teaching children to swim. He enjoyed working as a coach. After graduation, he found a career in IT, but continued to compete.
After Russia invaded Ukraine in February 2022, Dmytro was eager to defend Ukraine, but he was unfit for service due to health problems and heard only rejections at military recruitment offices. Unable to get to the front, he helped at the headquarters of the Solomiansky Kotyky charity foundation from the first days of the full-scale war. However, he was simultaneously looking for options to join the Armed Forces.
Odynets was even selected for Azov, but he was not accepted for health reasons. And after many months of rejections, in July 2023, the guy's dream finally came true. Dmytro was not only allowed to serve, but was accepted into one of the most famous and effective units - the assault company "Honor" of the battalion "Da Vinci Wolves", which held the last road to Bakhmut in the spring.
At the front, Odynets received the call sign "IT" because of the field in which he worked. However, even his family did not know that Dmytro was fighting in one of the most difficult areas of the Ukrainian front.
"Our hero told his family almost nothing about being on the front line. His sister Veronika says that they even thought he was just a drone operator, but Dmytro was actually a member of an assault platoon," the Rivne City Council responded to the death of their countryman.
The 23-year-old athlete and defender's heart stopped beating on October 16 during a battle with the Russian occupiers near the village of Sin'kivka in Kharkiv region. An RPG-7 grenade landed in the trench where Dmytro was stationed.
His family and friends remember Dmytro with love and warmth, as always an open and sincere guy who was ready to help at any moment. They said that during his life, the young defender was a "lucky man": he always succeeded in whatever he started.
Earlier, OBOZ.UA reported that a young gymnastics coach was killed while holding back the Russians in the Svatove direction.
Only verified information is available on the OBOZ.UA Telegram channel and Viber. Do not fall for fakes!